We're excited to present our listing of the best gymnastic beams for homes in 2023!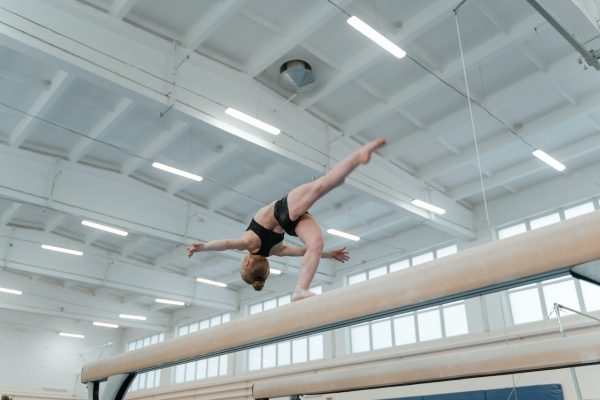 Chances are, you are in a serious beam hunt if you ended up here. Well, fear not. In this article, we'll introduce some amazing home gymnastics beam options and where you can buy them.
The gymnastic beams for home are introduced in this article:
ACON Gymnastics Beam
AAI 3' Practice Mini Beam
The PRO Series by The Beam Store
Brianna Balance Beam
AAI Adjustable Club Balance Beam
Without further ado, let's leap to the beam!
Best gymnastic beam options listed
Below, we've collected several beam options for you to choose from. Naturally, the selection of home gymnastics beams is much wider, but we've done our best to cover them all. Enjoy reading!
Best for Beginners and Kids play: ACON Gymnastics Beam
Is your little one just getting started in gymnastics or are you looking for a home gymnastics beam that is close to the floor? The ACON Gymnastics beam is the right choice for you. This piece of equipment is designed for beginner-level gymnastics who want to start improving their balance skills and practice in a safe way before attempting any tricks (or even standing) on a high beam. This product is also perfect for kid's play – imagine how fun it would be to add it to an obstacle course!
Regardless of its beginner-level suitability, this equipment, like all ACON products, is of quality.
Suitable for indoor and outdoor use, you can buy the beam as is or together with a folding gymnastics mat. By getting it with a mat, you can also benefit from the gymnastics mat as the beam is detachable. To see ACON's home gymnastics beam products, go to us.acon24.com.
Best Mini-Beam: AAI 3′ Practice
Need a beam that can fit into a small space? Well, you're lucky since the AAI 3' Practice beam is there for you. This small beam lifts only a bit to the air, making it suitable for beginners as well. Due to its size, the gymnast can take this beam basically anywhere, be it in a park or practice room.
What is nice about this beam is that it has the same sanded fabric cover that is on competition beams. Therefore, no matter how young and how beginner you are, you get the right feel for the 'real deal' right from the start. Moreover, it has the standard beam height, width, and shape, so you know that you can use this product even as your skills develop. Perfect for polishing individual moves, this beam is available at gymsupply.com.
Best Combo: The PRO Series
Prefer to get an all-in-one solution for your kid's gymnastics needs? A combo product including low profile beam and high bar may just be it. The PRO Series set available at The Beam Store is a great example of a combo product on which the kid can practice and develop their skills in various areas of gymnastics. The set comes with a high bar (including leg extensions), a folding mat, a balance beam and another folding mat for the beam.
The real fun starts, however, with customization as this set can be customized according to your needs and wants. The customization process is fun for your kid as they can make it their own. Note that this combo comes with a two-year basic warranty and has certain limitations to it.
Best Extendable: Brianna Balance Beam
Looking for a beginner-level beam that can extend as years go by? Many parents tend to opt for the Brianna Beam. This beam is a low gymnastics balance beam that has a real feel to it. Great for both home and gym use, this product is perfect for families that don't have too much space available in their homes.
What is also loved about this product is that the assembling process does not need any tools! And, once your little gymnasts require more space to practice their beam tricks, the assembly process of the extension is smooth and tool-free as well. It can also be slightly raised by purchasing a separate piece to it. For more information, here (https://www.tumbltrak.com/brianna-balance-beam/).
Best Professional and Adjustable: AAI Adjustable Club Balance Beam
Do you have plenty of room at your home or even a separate room or space for practicing? This professional-level product is designed for those who are serious about gymnastics. While it's not necessarily made for home use, a real pro (or someone aiming towards that) would need a proper gymnastic beam for home.
Meeting USAG, NCAA®, and NFHS competition specifications, the beam is not for small kids but for those who have trained for years. Covered in slip-resistant materials, the beam can be adjusted in terms of its height; a feature that not all beams have. Click here to request a quote on the price.
What to take into consideration when choosing the beam?
As seen by the selection introduced above, the options for gymnastic beams for home is nearly endless. What is more, there are usually pros and cons to each and every type of beam. A beam that is perfect for total beginners may become outdated and an adjustable one may not be necessary after all.
The most important thing is to think about what you need now and in the near future. If you go to gymnastics classes, you can also request help from your coach. However, it's good to check the following aspects before committing to any purchase:
Skill level
Height
Portability
Materials
Warranty
Naturally, other things, such as the design, price, and compatibility may have an effect on which beam you end up going for. However, by taking these factors into account, you can make an informed and solid decision on which home gymnastics beam is right for you or your family.