SkinPro Bellapulse
Advanced Pusar Techonology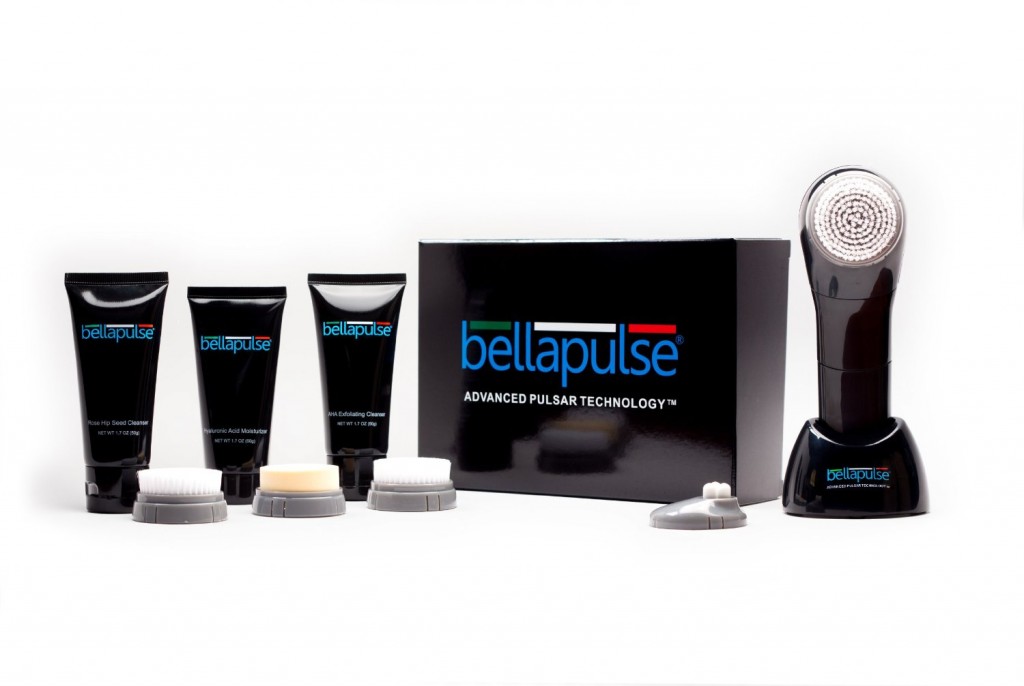 WHAT?  SkinPro? 
SkinPro is a science inspired cosmeticeutical company that is focused on discovering, developing, and commercializing novel products and ingredients for skin care, anti-aging, weight management, and other cosmetic applications.  I have reviewed two of SkinPro's products previously on The Review Broads (Elite Serum RX and DNA Serum) and after 4 months of the Elite Serum and 1 month of the DNA Serum I am happy to report I have happy skin. When asked to review SkinPro's Bellapulse, an exfoliator that uses high frequency pulsar cleansing, I jumped at the opportunity.  I have very fair, sensitive skin and am picky, picky, picky about what products I use.  I use sunscreen every day and in Utah, the air quality is the worst in the United States.  Without realizing it, my skin accumulates dust, dirt and dead cells – and looks dull and uneven.
A glowing face with fewer wrinkles in tow makes me – HAPPY!
Why do I like SkinPro so much? 
BECAUSE their products WORK.  They do not abrade my skin, cause any skin sensitivity and are very easy to use.  I know if a product is complicated, I tend to stop using it.  Bellapulse could not be easier!
The Bellapulse system comes with the Bellapulse body handle that attaches to the system.
Bellapulse® includes 4 Unique Brushes for Exfoliation, Cleansing, Massaging and Product Application:
The exfoliating hard brush exfoliates the skin.
The cleansing brush is for routine skin cleansing.
The massaging sponge massages moisturizer into the skin.
The massaging applicator relaxes facial tension and increases circulation.
Also included is the Pulsar Powered Wand, Storage Cradle, a Full User Guide and Battery Pack for Wireless Operation.
Also included for a Limited Time is the 60-Day 3 Piece Exfoliating Cleanser Set ($99.95 value) which contains the Rose Hip Seed and AHA Exfoliating Cleansers along with a custom designed Hyaluronic Acid Moisturizer.
So how does it work? 
First of all, the system is very simple, and the hand held wand has one on/off switch.  The batteries are supplied.  After applying one of the brushes to the handheld wand, you simply push on and start from the forehead down.  I used the wand and brushes in the same way as if I was applying makeup:  strokes across the forehead, around the nose, under the eyes and upward from the cheeks to the chin.  The brushes are easy to put onto the wand.  Included for a limited time are 2 cleansers, the Bellapulse Rose Hip Seed Cleanser (A.M. use), the AHA Exfoliating Cleanser (P.M.) and one moisturizer, the Hyaluronic Acid Moisturizer (P.M).   You can use your own products, however, when you run out, or easily reorder the Bellapulse products from Amazon.  You can also join the replacement system, where you receive the three products and new batteries every 45 days.
It is that simple.
The Rose Hip cleanser is tintillating and wonderfully scented, and made my skin feel like a new day.  The moisturizer feels smooth and crisp, and I love going to bed with tingling,  refreshed feeling skin!  The moisturizer (P.M.) is applied with dab on the sponge head, a touch of water, and a little pressure.  Easy as pie.
From the SkinPro website:
Bellapulse is a sonic dermabrasion device that uses advanced oscillating technology to cleanse the epidermal layer of the face.  This device uses high frequency pulsar cleansing technology to remove cell debris.  This assists in exfoliating and resurfacing the skin which causes reduced fine lines and wrinkles and reduced pore size. All of this leads to a more youthful appearance. Bellapulse is designed to be used in combination with a cosmeceutical exfoliating set that has been specifically designed for use with the device.

Using the oscillating technology better prepares the skin to absorb our skin care treatments by deeply cleansing pores and between the folds of fine lines and wrinkles.  Exfoliating the epidermal layer thoroughly primes the skin for deep absorption of our products, which maximizes their effectiveness.  Bellapulse is gentle enough to use as part of a daily cleansing and treatment regimen.

Our proprietary and patent-pending technology makes use of two levels of bristle intensity for maximum efficacy.  The exfoliating brush is for deep, penetrating cleansing and exfoliation.  The cleansing brush is for a gentler overall cleansing and light exfoliation.

The advanced bristle brush heads are removable and replaceable and each Bellapulse comes with four brush heads and batteries.  All of the brushes have micro-fiber bristle heads that are designed for use on sensitive to normal skin types.  To ensure maximum cleansing, these brush heads are bacteria resistant and non-porous.  Bellapulse is water-resistant for use in the shower, and features a cordless design and non-slip grips.

Using Bellapulse, in combination with the exfoliating set and other SkinPro products, results in skin that is cleaner, firmer, smoother, and more radiant.
Review by Broad "A" – Ava
We received product to facilitate this review. All opinions are our own
DETAILS
For more details and to purchase go to: Bellapulse.com