Misikko Hana Elite Flat Iron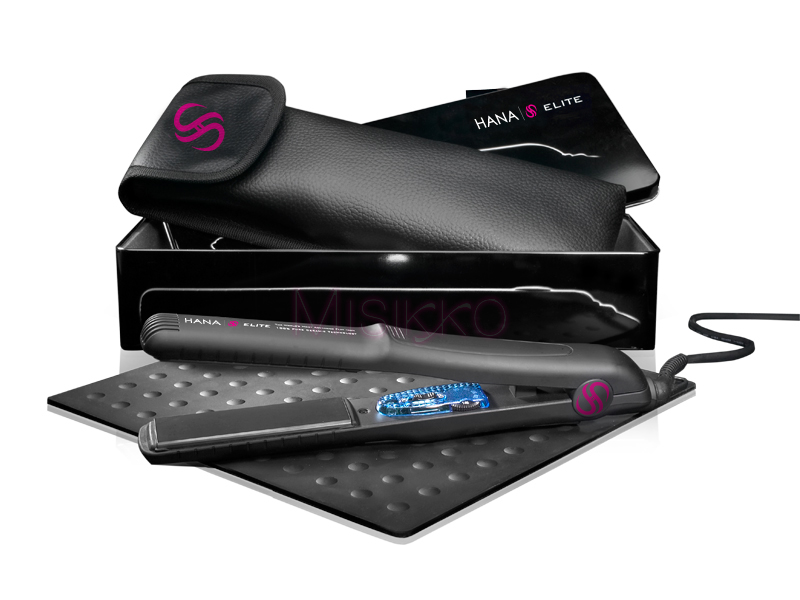 Which is one of the reasons that I keep it so short. If I have to go out, I simply put some goop on my hands run it through the roots and tszuj (jujj, jooj, whatever) my hair and if it doesn't do what I want, I just hang my head upside down and spray the roots with hairspray. Otherwise, I simply wash & blowdry without even running a brush through it.
If it weren't for my hairdresser Shana at Blown Away in North Palm Beach I'd probably look like a street urchin. It's for THAT reason that I asked her to review the Misikko Hana Elite flat iron that they wanted to send to ME to review. It's too dangerous in my hands…LOL. I'll leave THIS ONE to the professionals.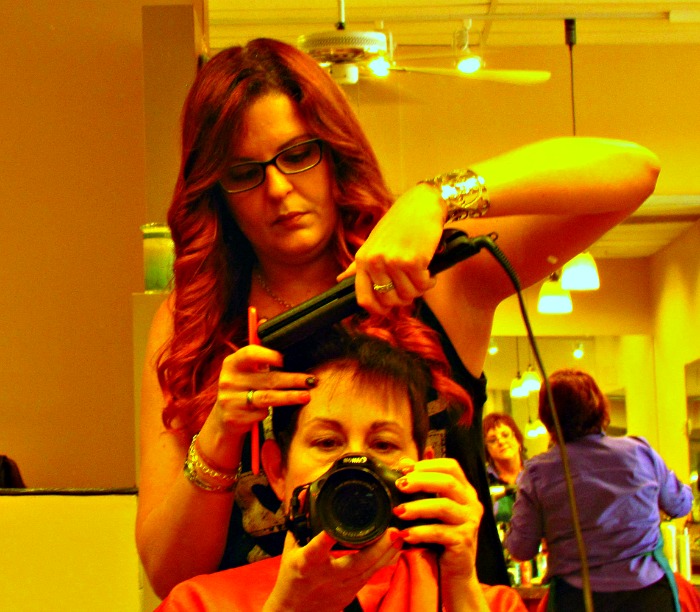 It seems that not only has Shana been using the Hana Elite flat iron at home, but it's been in use at the salon since she received it.
Great on both dry AND damp hair, this 100% ceramic iron has mirror smooth plates and offers some of the best heat distribution. One of Shana's favorite features is the LED indicator light, that stays on when the iron is heating up blinks when it gets to working temperature, so there's NO GUESSING. The wide plates makes it so much easier for her to get her clients hair done in less time.
She was even able to use it on MY SHORT HAIR without issue. Just LOOK.

While this the Misikko Hana Elite is a HOME product, it has stood up to Shana using it in the salon on a daily basis (even though I TOLD her it was supposed to be reviewed for home use).
Hana Elite Features:
100% Solid Ceramic Plates Never Peel or Degrade
Tourmaline infused into the heating elements for maximum thermal protection
Large Integrated Ceramic Heaters with Full Plate Coverage for the Most Consistent, Conditioning Far Infrared Heat Possible
Ceramic is naturally hygienic, protects color & retards fading
Unique black ceramic plates won't discolor with use of products or hair dyes
Adjustable Temperature Dial – 5 Settings from 140-450° F for All Hair Types
Flash Heats in Seconds with Instant Compensation for Heat Loss
Safe to use on Damp to Dry Hair
Beveled Edges mean Easy Curled, Flipped, Spiked or Straight Styles
Ergonomic Handle Design with No-Slip Grip
Smooth Grooves Keep Hair Strands Separate and Snag-Free
Sleek luxury matte finish
Tangle-Free Salon Quality Cord Swivels 360°; Convenient Hanging Loop
Energy Efficient at 38 Watts
Independent On/Off Switch
Includes Luxe Heat Proof Storage Pouch, Heat Proof Silicone Mat, & Special Edition Tin Case
Two Year Warranty
Overall, Shana thought this was a good solid flat iron. The only negative was the price at $239.99, since she says that she's used professional products that cost less. However, she's STILL using this in her salon so….
Ratings are based on a 5-star scale
Overall:  4
Review by Broad "S" – Shana
We received product to facilitate this review . All opinions are our own
You can order the Misikko Hana Elite Flat Iron directly from their WEBSITE.