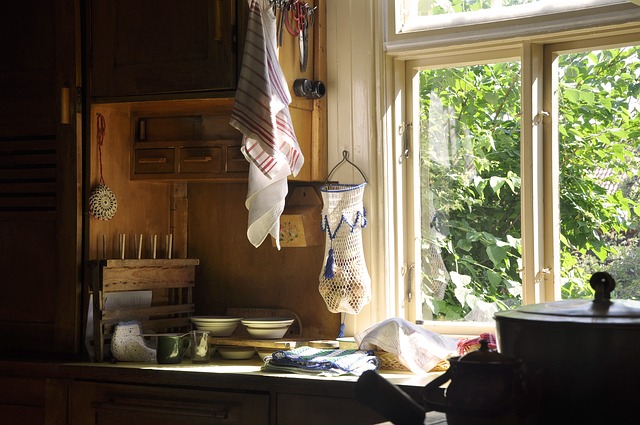 The kitchen is one of the busiest places in most homes. You do a lot of things there—cooking, baking, eating, and even experimenting on new recipes or DIY projects you want to try. It's only natural that it's one of the places in the house that accumulate the most clutter.
A cluttered kitchen is not only a cesspool of icky things of all kinds, from pests to bacteria; it's also a source of stress. Don't wait until you or your family gets food poisoning before you clean and declutter your dirty kitchen. Try these clever tips to minimize clutter in your kitchen.
Keep the Kitchen Counter Clear
The counter should be for doing things not for storing stuff. Keep your counter space clear by storing your pots, pans, cutlery, and food ingredients inside the cupboard, on the kitchen shelves, or in the drawers.
If you must have things on your counter space, limit the number of items you put on there. Or you can use space-saving organizers, like a multilevel cake stand or a tiered spice rack, to store more things without taking a lot of space.
Have your go-to kitchen tools, like cooking knives and spatulas, at hand without cluttering your countertop by installing a magnetic knife strip or a line of hooks on the backsplash.
Put Stuff Where They Belong
Everything has its place on earth, and that includes the stuff cluttering your kitchen right now. Your cooking pots and pans have their place in your cupboard or cabinets while your utensils belong in the drawers or shelves.
The fruit and vegetable peels should be in the compost bin. The opened canned goods and half-full water bottles belong in the fridge.
You can have an ingenious organizer or an elaborate system to store your kitchen things, but both will be for naught if you don't put things back where they belong after you use them. Unlearn the habit of putting things down and leaving them for later.
Chances are you won't remember to put back everything until the clutter has accumulated. Make cleaning easier for yourself, and start returning stuff as soon as you're done with them.
Make sure everyone in the family knows what are inside bottles and containers and where to put things back. You customizable container labels meant for beer and wine bottles to avoid misplacing items and using something you're not supposed to.
Make Your Go-To Items Accessible
The earlier tip will be easier if you store your go-to kitchen tools and ingredients somewhere convenient. As mentioned earlier, you can install a magnetic knife strip or a line of hooks to hang your usual cooking tools.
Place the herbs, spices, and condiments you use on a multilevel cakestand or tiered spice rack so you have them at arm's length when you're cooking. Add one or several floating shelves on an open wall space near your counter to have a convenient place for your favorite pots and pans too.
Aside from installing convenient organizers, you should also create a system to organize your kitchen efficiently so you don't have to rummage through a pile of things every time you need something.
Maximize Cabinet Space
Maximizing your cabinet space is essential to create an efficient organization system. No, piling pot lids, pots, and pans one on top of another inside a cabinet is not an efficient way to organize your kitchenware.
Make the most of your storage space by adding organizers like tension rods, shelves, and racks inside. Arrange pot lids and pans in neat rows using tension rods as dividers. Or use tension rods to create a hanger for mugs and cups.
Install more shelves in roomy cabinets to make more space for pots and pans. Take advantage of the area behind cabinet doors. You can install racks to store spice bottles and food ingredients or hooks to hang utensils.
Add Dividers in Drawers
Drawers are the usual dumping place of things when you're in a hurry and can't be bothered to return them to their proper places. If you open your drawer, you will likely find random items stored inside, even ones that shouldn't be there.
Keep all your drawers (or at least most of them) organized by adding dividers to create a space for everything. This way, you won't have to dig under a pile of things to find what you need.
Dividing drawer space also makes it easier to organize your utensils and kitchen tools. You will be less inclined to stuff things inside a random drawer, knowing that everything has its own place. But to make things easier on yourself, you can leave one all-purpose drawer for items that you can't categorize.
Ventilate Your Kitchen
Air quality in the kitchen can quickly decline, with all the smoke and the different smells produced when cooking. Turn on the exhaust fan, and leave it on for at least 15 minutes after you're done cooking to let out the smoke and strong odors.
If you're at home, leave the windows open, and pull back the curtains to let in fresh air and natural light. You can use convenient holdbacks or tiebacks to secure your curtains and make sure they don't get blown away by a strong breeze and knock out stuff on your counter or windowpane.
Letting in some sunlight may not clean and declutter your kitchen, but it can enhance the warm and cozy atmosphere so you can soak in some needed vitamin D while drinking your morning coffee and start your day right. Also, having more natural light means you don't need to turn on as many lights, saving energy and money.
Declutter as You Go
Don't wait for the "right" time to clean and organize your kitchen. The best way you can keep it clutter-free is to declutter as you go. If you wash dishes as soon as you're done using them, you won't have to deal with a pile of dirty plates and utensils at the end of the day. Similarly, you won't clutter drawers with random things if you return them to where they belong.
Doing a little cleaning every day can also significantly reduce your load when you do all your chores at the weekend. It's less of a hassle for you and creates a healthier and more orderly kitchen environment.
Try this daily, weekly, and monthly kitchen cleaning checklist to keep the place clean and clutter-free all the time.
Final Word
If there's a place in every home that should be clean and clutter-free at all times, then it's the kitchen. The kitchen is where your food is located (the things you put into your body and affect your health in major ways). Plus, there are lots of dangerous things there (knives, for example).
Ensure that you and your family are eating clean and healthy food, and avoid accidents in the kitchen. Keep everything clean, and secure kitchen tools, especially sharp and dangerous items, in their proper place.