You love Italian everything. The food, the culture, the spirit, the wine. Finding the best Italian hotspots in the states is not always easy. It often requires lots of sifting through wannabes and mimicry. Where can an Italian lover visiting Las Vegas find the best Italian spots that offer a truly authentic experience? Here we'll show you 4 spots you need to visit if you're passing through Las Vegas.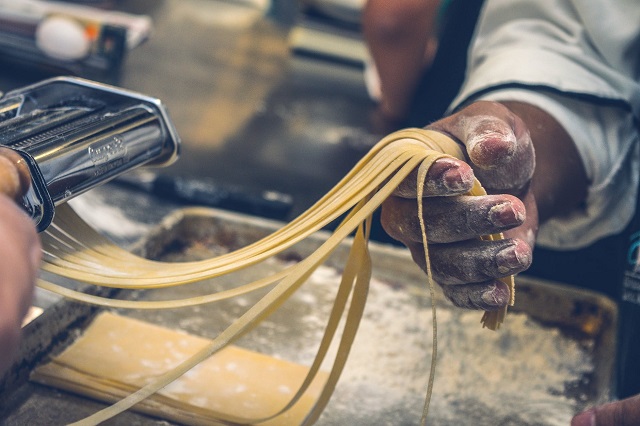 1. Bottiglia
With a 4.5/5 star rating on both Google Reviews and Yelp, Bottiglia is an amazingly popular Henderson Italian restaurant, being one of the top-rated Italian restaurants around the Las Vegas area. Seated in the beautiful Green Valley Ranch in Henderson, NV, just a few miles from Las Vegas, the restaurant has been charming customers with its Italian charm for years, and will be for many years to come.
Offering an authentic Italian experience via their Tuscan-style cuisine, prepared by the acclaimed Chef Brian Massie, a warm and inviting environment, and reasonable pricing, Bottiglia is coming highly recommended by its patrons. Only the freshest and highest quality ingredients are served at Bottiglia, giving it a well-deserved reputation.
Bottiglia also offers a unique wine list for any pallet, boasting bold reds, smooth whites, sparkling wine, and even rose wine. Many of the wines are from Italy, while some are also sourced from the United States (California) and even France.
If you're headed to Las Vegas, be sure to make the trip out to this wonderful Italian escape and experience the rich atmosphere and one of a kind menu.
2. Ferraro's Italian Restaurant & Wine Bar
Located in the heart of Las Vegas, Ferraro's has been operating for over 30 years and has excellent reviews on Google Reviews and Yelp. Family owned and operated, the restaurant uses only the finest fresh ingredients for maximum authenticity and taste. Their menu comes highly rated by their patrons.
Whether you're looking for some pasta to fill you up, veal braised in red wine, or even just pizza, Ferraro has something for everyone's taste buds. You won't leave dissatisfied.
Thirty years in the business means the family has had plenty of time to perfect their craft. The atmosphere of the restaurant adds to the effect, with a quiet and reserved ambiance, your experience will be as relaxing as it is rewarding.
Ferraro also offers catering services for your event, along with banquet rooms should you also want to host your event in a family-friendly environment.
Not feeling the desire to go out, but still, want that authentic Italian taste? No problem! Ferraro also offers a delivery service, sending their fresh Italian cuisine directly to your home or workplace. The delivery fee is only $3.99!
When you visit Ferraro's, don't forget to visit their world-class wine bar. The wine list is so extensive, it takes up a 72 page PDF document just to view. Everything from whites to reds to specialty wines and champagne by the glass or by the bottle, if you're a wine lover, Ferraro's is sure to have something for you.
3. Sinatra (Inside Encore)
Sinatra is a truly unique restaurant, offering a tribute to the man himself, Frank Sinatra, or otherwise known as "Ol' Blue Eyes". The restaurant is situated inside the famous Encore resort in the heart of Vegas, making it a perfect destination for your Las Vegas trip.
Forbes' Travel Guide gives the restaurant a 4-star rating, and it has achieved 4.6/5 stars on Google Reviews and 4/5 stars on Yelp!. The restaurant boasts authentic Italian cuisine with a modern twist, headed up by Chef Luke Palladino.
Sinatra is only open for dinner from 5:30 pm to 10 pm, and generally, a reservation is required to eat there. Business casual attire is expected, with no shorts, sports apparel, or open-toed shoes allowed, and no children under five are permitted.
The atmosphere is very Rat-pack-esque, with a light atmosphere that brings Sinatra's era to life alongside the authentic Italian food he loved. Featuring stunning decor and architecture, this restaurant is sure to capture the attention of your imagination as well as your pallet. The menu is extensive and includes an excellent wine list and everything from pasta to lamb.
4. Piero's Italian Cuisine
The final destination on our list, but certainly not the least, is Piero's Italian Cuisine, located on Convention Center Dr. in downtown Las Vegas. With a 4.4/5 star rating on Google Reviews and a 4/5 star rating on Yelp!, Piero's is highly recommended.
For 33 years, Piero's has charmed its customers with a calm and reposed atmosphere, and authentic Italian cuisine that would make even the most skeptical critic proud. Its best-known dish, the osso bucco is the top-selling item on Piero's extensive menu, and for good reason. The beef is simmered for four hours each day, giving it sinfully tender texture and sumptuous flavor.
Piero's gained national attention when it was shut down for a few days in 1995 to film a few scenes for the film Casino, starring Robert DeNiro. This skyrocketed the restaurant into the national spotlight, and it has managed to keep a distinct reputation ever since.
The restaurant also offers live musical performances on certain nights of the week, giving the already inviting atmosphere a little more flair. With an extensive wine list, a large menu, and an atmosphere that's sure to stimulate the senses, Piero's takes its rightful place in the top 4 spots Italian lovers need to visit.