When it comes to getting a good night's sleep, having a comfortable and supportive mattress is key. If you're in the market for a new mattress, there are some things you'll want to keep in mind. That said, here are four key considerations when buying a new mattress.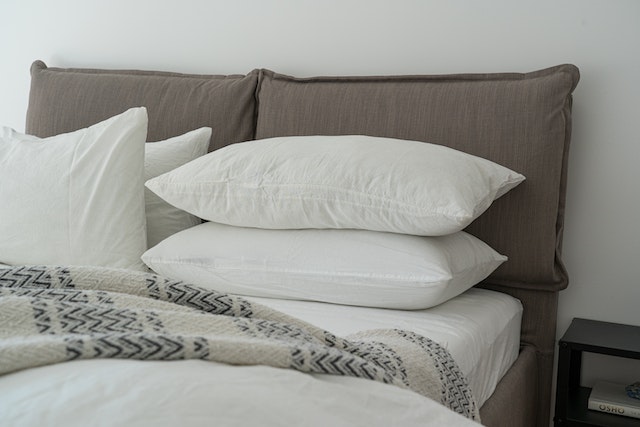 Mattress type
There are a variety of mattress types available, from innerspring to memory foam and everything in between. First, consider what type of mattress will best suit your needs. Innerspring mattresses are the most common type of mattress and tend to be less expensive than other options. They're also generally more supportive, making them a good choice for people with back pain. However, they can be less comfortable for side sleepers.
Memory foam mattresses conform to your body, providing support and pressure relief. They're often recommended by doctors for people with chronic pain conditions like fibromyalgia or arthritis. However, they can retain heat, and some people find them too soft.
Hybrid mattresses combine the features of both innerspring and memory foam mattresses. They typically have a supportive coil layer with a layer of memory foam or latex above it. This can provide the benefits of both types of mattresses in one.
Firmness
Mattresses also come in a range of firmness levels, from very soft to very firm. Again, this is a matter of personal preference. Some people prefer a softer mattress for added comfort, while others find that a firmer mattress provides better support. If you have back pain, you may want to opt for a firmer mattress.
If you share your bed with a partner, you may want to consider getting a mattress with adjustable firmness levels. This way, each person can adjust their side of the bed to their preferred level of firmness.
Some mattresses also have different levels of firmness on each side. This can be helpful if one person prefers a softer mattress while the other prefers something firmer. Try out different mattresses in a store to get an idea of what firmness level you prefer. You can also ask for a mattress with a trial period so you can test it out in your own home.
Sleep position
Your sleep position can also affect what type of mattress is best for you. Side sleepers may want a softer mattress to support their hips and shoulders. Back sleepers usually prefer a firmer mattress to keep their spine aligned. Stomach sleepers usually do best with a medium-firm mattress, so they don't sink in too much and strain their neck and back.
If you switch between sleeping on your side, back, and stomach, you may want a mattress that's adjustable or has different levels of firmness on each side. This way, you can adjust it to whatever position you're sleeping in at the time.
Mattress toppers
If you're not ready to replace your whole mattress, you may want to consider getting a mattress topper. Mattress toppers are thinner than mattresses and go on top of your existing ones. They can provide extra cushioning and support and are available in a variety of materials, including memory foam, latex, wool, and down.
Mattress toppers can be especially helpful if your mattress is too firm or soft. They can also add extra warmth in the winter or cool in the summer. If you have allergies, look for a hypoallergenic option, and be sure to read the full review before making your purchase.
In conclusion, there are a few key things to keep in mind when you're shopping for a new mattress. Mattress type, firmness, sleep position, and mattress toppers are all important factors to consider. There's no one perfect mattress for everyone, so it's important to find what works best for you. With a little research, you can find the ideal mattress to help you get a good night's sleep.