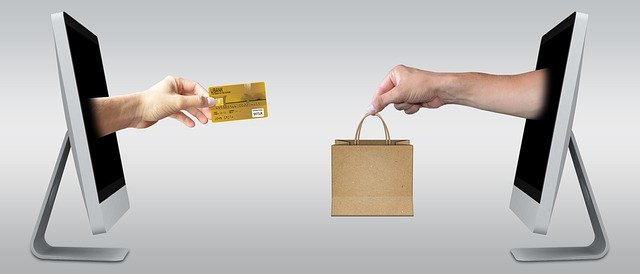 Online retail is popular. So popular, in fact, that it is predicted that online retail will surpass the high street in less than a decade. Buying from online stores is very convenient. You simply find the items that you are looking for them, and then with a few clicks you can add your card details and buy the items. A few days later, they will get delivered to you and you never even need to leave your home! What could go wrong?
Well, quite a lot actually. 
While on the whole, online retail is safe, there are lots of problems that occur in e-commerce transactions. For example, items that are ordered may arrive late or not at all. Some companies are not legitimate and instead take payments for items that you won't receive. Other companies may only exist to steal personal details which they will exploit at a later date. 
In addition to scams, there is always the risk that your account may be accessed by hackers or criminals. You could have your login details stolen on public wi-fi, or you may fall victim to a phishing scam. 
So, how can you protect yourself from falling foul to some of these scams?
In this article, we'll share some great tips for staying safe when you are shopping online. 
Read Online Reviews 
The first thing that you should do when it comes to buying online is to read reviews of any companies that you are using. A company may fill their own website with online reviews as this can be helpful to them when they are trying to make the sale, but you have to wonder whether the reviews are genuine, or whether they have handpicked a few good examples. 
It is far better to look at an impartial review site. That way, you'll be able to get a clearer picture of what the company you are using is like. Take a look at these PayPal Reviews to get an idea of the type of impartial review site you should be looking at. 
Often, when people have had a bad experience of a company, they are all too happy to share the information. Look out for reviews that start alarm bells ringing about the company. 
If It Appears To Be Too Good To Be True- It Probably Is!
Does the company have an irresistible offer that you just can't turn down? Are they much cheaper than anyone else? Often, when a deal seems to be too good to be true, it is because it is just not true. 
Ask yourself how an unknown brand can buy in products to sell at such a low price. 
Stick To Brands That You Have Heard Of 
There are plenty of major high street brands that operate online too. In addition to that, there are major online retailers who have spent years building their name. By choosing these brands that you know and love you will know that you are in safe hands. 
Due Diligence Will Save You From Getting Scammed 
Do your research. If you haven't come across a company before, you will need to do a little bit of digging to find out more about them. 
Head to social media and see if they have an account. If they do have one, check how many followers they have and whether people are interacting with them on their profile. There may be reviews or comments on social media that give you an indication of the legitimacy of the company. Do a Google search of the company and see whether anything has been said about them anywhere online. They may have been mentioned on forums somewhere. 
Use Your Credit Card When Making Payments 
Whenever you buy anything online, you should always pay using your credit card. This is because you get greater protection when you buy using a credit card than you would with a debit card. You'll get protection if the item shows up faulty and if it doesn't show up at all. If you do have a problem with the transaction, get in touch with your card company and they will be able to issue you are refund. 
Use a Virtual Credit Card When Making Payments
Some card companies offer the ability to use a virtual credit card when it comes to making payments. With a virtual credit card, you could have a different card number associated with your card for every transaction that you make. The number will expire meaning anyone who does steal that card number and who tries to use it again will have no luck in doing so. 
Beware Of Public Wi-Fi Connections 
Free public wi-fi is everywhere these days. Very often, you don't even need to have a password to access it. It can be very useful when it comes to getting online when you need to, however, it does have its limitations. You shouldn't make any purchases when you are using public wi-fi, this is because hackers using the same network can quite easily hack your device when you are on the same network and gain access to any personal details that you are passing such as login credentials and credit card details. 
Use a Virtual Private Network 
If you must make a purchase using a public network, then be sure to use a virtual private network (VPN), this will ensure you cannot be seen by any hackers who are on the same network. 
Set Strong And Unique Passwords 
Your login credentials are important and you should ensure you keep them safe at all times. Set strong passwords that cannot easily be guessed. Passwords should include capital letters and lowercase letters, symbols, and numbers. Avoid using any real words, and don't use anything like your favourite colour as your password. 
The password that you select should be unique. This means that you shouldn't have used the same password on multiple accounts. If your account is breached, then the hackers will have the ability to log into most of your online accounts. 
Check Your Credit Card Statements 
Get into the habit of checking your credit card statements. If you have been the victim of fraud, then you will spot this sooner, and you will be able to get in touch with your credit card company and have the transaction looked into. You could also sign up to have text alerts that let you know if and when there is any suspicious activity on your account. 
Look For A Website's Security Features

 
When you visit any online retailer's website you should look out for a number of key features that tell you whether or not the site is secure. 
Firstly, does the site have a small padlock symbol next to the URL? This is the SSL symbol and it shows that the site is secure. 

Secondly, is the web address http or https? If there is an 's', then this means that the site is secure. 
If the site is not secure, do not put any personal details into it. 
Be Aware of Phishing Scams
Phishing scams are designed to steal your credit card details and login credentials. They often come in the form of an email from a reputable company whose name you will recognize. You will be encouraged to click on a link and to log in to your account. This link will then take you to a fake page where your login details will be stolen. 
Avoid clicking links in any emails that you get. Instead, visit the site from your web browser and login that way. 
Keep Transactional Information Safe 
Once a transaction is complete, make sure that you don't delete any important emails with receipts, delivery details, or any order confirmations. These emails may come in useful if you run into any problems. Having order numbers will make it easier for you when you contact customer services about your issue. 
Don't Give Out Unnecessary Information 
When it comes to buying online, there are certain pieces of information that you should never be asked for. For instance, you should never need to give your social security number. Beware of any sites that seem to want too much information from you. 
Take Action If You Don't Get Your Order Delivered
If any items that you have ordered don't arrive, then you should get in touch with your credit card company as soon as possible. Get in touch with the customer service department of the company that you have made the purchase from, but if you get no luck from dealing with them, then you should contact your credit card company. 
Report Any Scams To Your Credit Card Company
If you believe that you have been the victim of a scam, then you should immediately contact your credit card company. Your information may have been breached and you may be the victim of future fraud. Your credit card company needs to know this so that they can investigate any strange activity on your account.