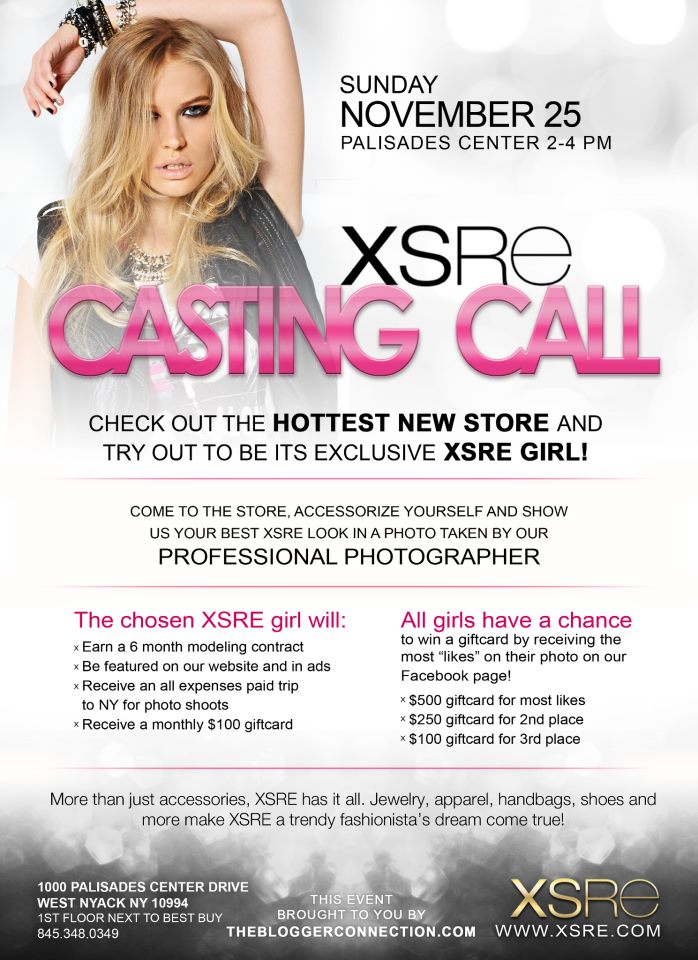 It's "A" here and you know that I love nothing more than trying to keep up with "Z" in the fashion department. Those are big shoes to fill, but this weekend I'm going to give her a good run for her money, and so can YOU. As a matter of fact we can ONE UP her.
We know that we have hoards of readers near the Palisades Mall (West Nyack, NY) who'd be PERFECT for this opportunity to be the XSRE Girl for the Palisades Mall XSRE Store.
What the heck am I talking about?
XSRE Stores are having the GRAND OPENING of the most fashion forward store around and they're looking for ONE girl to represent EACH of their stores as that store's XSRE Girl.
How do you get involved?
Come visit the all new XSRE Strore in the Palisades Mall at 1000 Palisades Center Dr., West Nyack, NY this Sunday, November 25th at 2:00 PM. The store is located on the first floor right next to Best Buy.
What's the big deal?
First of all – XSRE ROCKS with the most fun accessories and clothes ON THE PLANET! Whether you're into the Rocker Chick look, like to glitter and GLAM it up, or even want to do the CLASSIC preppy look – they've got the jewelry, shoes, handbags and EVEN CLOTHES at prices that won't have you feeling like you have to leave something behind.
Second of all – you can TRY OUT to be the Palisades Mall XSRE Girl RIGHT THERE. There will be a professional photographer, great accessories to put on for your shoot and more. Come dressed with hair and make-up ready to WOW!
DEETS
Where: Palisades Mall – 1000 Palisades Center Dr., West Nyack, NY
When: Saturday, November 25, 2012 at 2:00 PM
What: You can win a 6-month MODELING contract, be featured in XSRE's advertisements and even win a PROFESSIONAL photo shoot in New York, all expenses paid.
Plus: The Palisades Mall XSRE Girl gets a $100 gift card – EVERY MONTH!
And: There are prizes for your photo getting "likes" on the XSRE facebook page, including a $500 XSRE gift card for the MOST likes, $250 XSRE gift card for 2nd place, and a $100 XSRE Gift Card for 3rd place.
BRING YOUR FAMILY, FRIENDS AND NEIGHBORS:  Everyone who attends will have a chance to wi
This post was compensated by The Blogger Connection, all opinions are our own.