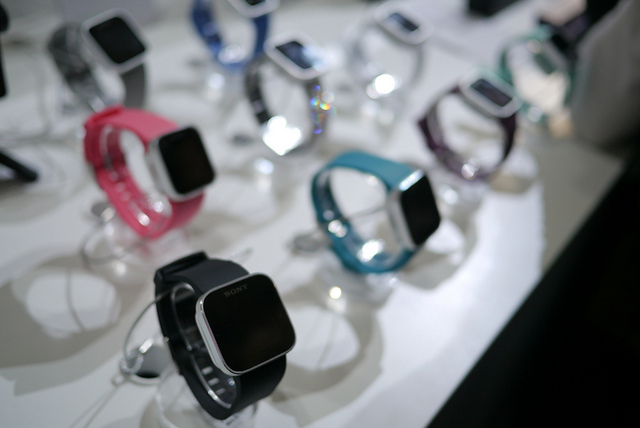 There's no release date yet available for the rumored Apple iWatch although Bloomberg reports have stated that 100 designers are working to bring this piece of tech artwork to life. However, there are watches available on the market at the moment for those looking for an ultra-chic watch with social media capabilities.
Social networking on your wrist
If you don't want to actually take your smartphone out of your pocket then the latest smartwatch android smartphone accessory will be ideal. Companies such as Sony have developed watches that can link up to your smartphone for hands-free social networking. The touchscreen phones allow you to receive Facebook and twitter updates as well as listen to music and receive texts and emails.
Bluetooth wireless technology permits devices to connect to each other without wires up to a distance of 10 metres, and the touchscreen is ultra-responsive and works smoothly. With the flick of the wrist you can check out who is calling your connected smartphone via the caller identification.
Next generation smartwatches
Sony is already updating its version of the smartwatch with a new release due out in September 2013. The Sony Smartwatch 2 allows you to see who is calling via caller ID and you simply press the phone to answer and talk to the caller via a wireless headset. You can even use the smartphone to call someone and start a conversation.
These smartwatches have practical uses but are also fun and you can buy hundreds of apps from Google play including entertainment and productivity tools. The high resolution screen does look pretty amazing and when you are finished checking emails or reading Facebook updates you can simply switch the multi-function screen to a stylish watch face.
Connectivity on the go
You might be asking why you would want a smartwatch when you can simply take your phone out of your pocket or bag. Smartwatches will be particularly useful for people who enjoy sports such as running or for those who spend a lot of time driving. When you are at home you can leave your smartphone in another room or in the garden and still be connected.
Check out a video of the Sony SmartWatch at the Sony website.
Image by Janitors used under creative commons licence