Toy Best in Show
VTech has come out with some darling dinos that transform into intriguing vehicles this fall, and my grandkiddles, 3 and 8, fell in love with them. Me – I was so glad not to have to look or listen to Transformers for at least ONE weekend, as I hate the exposure of violence to Mari and Kai – that I did a somersault when I saw their grins at BROK the brachosaurus, SPAN the spinosaurus, and ATTILA the Ankylsaurus! We had just spent a day at the Museum of Natural Science and my little ones were hot on the trail – of their new dinosaurs!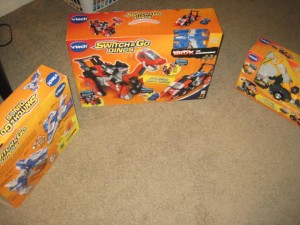 These new (awesome) toys switch from vehicles to dinosaurs, and have sounds, actions, flashing lights, and are beautifully made to match kids' natural curiosity and need to be imaginative. Attila is a truck with a loader, dump trailer, crane, swing tail; Span turns into a jet with fighting sounds, a tail that thwacks back and forth, a jet hook for lifting food (included in the 7 accessory pack) and even includes a baby dino and dino cage! And Brok the Giant launches a race car that shoots a pterodactyl into the stratosphere (ok but it launches quite a distance!).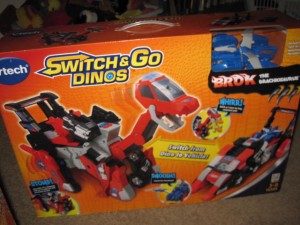 Mari and Kai loved the sounds, the control panels that changed eyes, drivers, etc., the vehicle and dino duality, and especially, the baby dino. Mari grabbed Span and started feeding the baby dino the food discs that launch out of the launcher. They went on a jet ride to Paradise Island to find Span's family – for hours Mari played happily creating dino/jet scenarios. And Kai – well after he decided that Brok had more going for him than just a BABY DINO – loved the race car launching capability, the 80 sounds and phrases that Brok announces loudly, and especially Brok's stomping feet (a trademark of Kai's to announce he wants something – he related well to Brok!). And when he launched the pterodactyl off the race car ramp, you could hear his grin all over the house. Brok also has an action button to move his neck, an electronic control panel that in Vehiclemode turns on the lights, an amazing facts button about cool dino facts (I loved that the best) and a realistic sound button with fun sounds.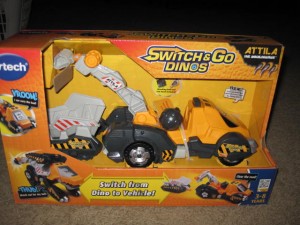 The interactivity of these VTech toys created an arena for us to get out our books on dinosaurs and have quite a round robin talk about creatures from the past that were present right there in our living room. And the transforming from dino to vehicle kept them occupied for hours. We even went onto the internet to find out more facts about dinosaurs! FUN as well as educational!
I cannot honestly say that I found anything I didn't like about VTech's new line of dino/vehicle toys. It was so refreshing to be able to interact with my kids about creatures that actually lived on the earth instead of watching inanimate toys trying to kill each other!
Great job VTech – you have my heart!
A great Christmas idea – or anytime idea – to create curiosity and family time with your kids. AND I have to say – you can't buy just one! What would I change? I would ask VTech to continue to make great toys like this one!
WANT TO WIN?
VTech is running the Show & Tell with Switch & Go Video Contest on their Facebook page. 
Ratings are based on a 5-star scale

Overall: 5

Review by Broad "A" – Ava
I participated in a campaign on behalf of Mom Central Consulting for VTech. I received VTech Switch and Go Dinos product samples for facilitate my review.