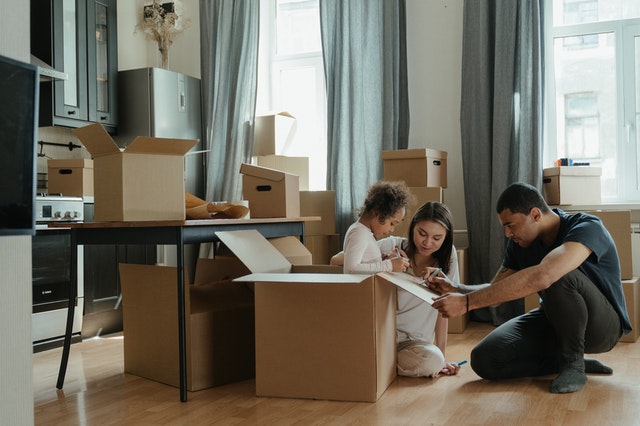 Moving into a new home is a big undertaking and also an exciting time in your life. You're leaving the old and getting ready to make a fresh start. You may have a lot on your mind and are unsure of what needs to be addressed next so that you can get settled in.
Packing and moving likely took a lot out of you mentally and physically. Therefore, it's normal that you'd want to rest and relax for a few days. However, when you're ready, you should begin to tackle the to-dos and tasks that come with settling into your new home so you can truly enjoy it and make it your own.
Unpack Your Boxes
A wise place to start when settling into your new home is to unpack your boxes. Work on getting organized right from the start so you can find and use your belongings and feel less stressed out. Hopefully, you labeled them so you know where your stuff is and can distribute it accordingly. Take your time and spread out this task so that you don't become overwhelmed with it. It's best that you unpack as much as possible and don't leave a lot for another time because you may forget about it and live with packed boxes in your new home for years to come.
Clean it
You want to make your new home yours and make it feel special and unique to you. It's a good idea to clean it and remove any dirt, germs, and grime that were left behind. Get settled by tackling each room and making sure you perform a deep clean in all your spaces. You'll feel much more comfortable living there and more at ease when you know the entire home has been disinfected and cleaned up. If there is carpet in any of the rooms then you may want to think about having it professionally cleaned as well.
Paint, Decorate & Furnish it
Get settled into your new home by personalizing it and making it look and feel like a home. This includes painting, decorating, and furnishing it inside and out. Remember to not only furnish the inside but the outside and patio or porch as well. Picking out the right furniture can be tricky and challenging sometimes so be sure to read this teak outdoor furniture buying guide to help you succeed with this to-do. Your new home will feel comfortable and look beautiful when you take the time to spruce it up and add the finishing touches. 
Get to Know the Area
Another tip for settling into your new home is to get to know the area better. You may have toured it or looked around previously but now is your chance to truly dive in and learn more. Maybe you celebrate moving in by going out to dinner or for ice cream at a nearby place or shop. Get to know the area by heading out shopping or take your kids on a walk and visit a park that's close to your new home. Look around and take it all in so you can figure out where you'll go next and where you may want to spend most of your time in the future.
Map Out Your Commute
You're uprooting your entire life when you move houses and enter a new area and neighborhood. One aspect that may have changed is how you get to work. Settle into your new home by figuring out the best and fastest way to get to work each day. For example, it may require you to drive and take a new route to the office, or maybe now you have the option of jumping on the train or a bus and using public transportation. In either case, make sure you map it out in advance and know where you're going and how you'll get there when Monday morning rolls around.
Meet Your Neighbors
You can get better settled into your new home and area by reaching out and meeting your neighbors. See if they come to you initially and if they don't then be willing to go out of your way to say hello and introduce yourself and your family. You'll enjoy living in your new home more when you feel a part of the local community and get to know those who live around and near you. Find out if any association or neighborhood meetings are coming up that you can attend or if there will be an annual block party so you can get involved. Be friendly and open-minded and see how quickly you're able to connect with those around you.
Secure Your Home
It's also important that you change your locks as soon as you move into your new home. You don't know who has a key from the previous owners and want to feel safe in your new space. Take the proper measures to secure your home all the way around it and make sure you and your family members are the only ones who have access to it currently. Consider installing a new fence or cameras for additional security and privacy measures if you desire. Find out if there's a neighborhood watch program and contact the local authorities if you see any suspicious activity.
Organize Your Finances & Paperwork
Buying a home requires a lot of paperwork and signatures. You may be overwhelmed by it all and have thrown it all in a box without going through it yet. Therefore, get settled into your new home by taking the time to organize your finances and paperwork. You're also going to have to pay your new mortgage and other bills such as utilities and cable so make sure you know how much they are and when they are due. You want to avoid having any missed or late payments and ending up with penalties on your accounts.
Boost the Curb Appeal
Another tip for settling into your new home is to work on boosting the curb appeal. Consider it a blank slate and a chance to add your personal touch and taste to the outside of your home. There are many ways to do so including replacing an old mailbox, power washing the siding and driveway, and planting new flowers and trees. Also, decorate your front porch and consider painting your front door a new color that you enjoy looking at. It's your chance to show the neighbors that you care about your new home and want to ensure you keep your property looking presentable and welcoming. Keep up with your yard work and pick up your belongings and outdoor area each night before bed.
Review the Home Inspection Report
There may be repairs and updates you either need to make or want to make to your new home. Sit down and review the home inspection report and figure out what's a priority and must get done right away and what can wait. Create a to-do list and budget and begin to tackle each project one by one. Now that you're the owner, it's your responsibility to maintain your new property and make sure it remains in good condition. It may help to make a seasonal maintenance list and home improvement projects wish list so you remember to stay on top of it and keep up with it over time.
Throw A Housewarming Party
Moving into your new home should be a happy time in your life and cause for a celebration. Therefore, consider throwing a housewarming party as a way to get settled into your new home. You can wait a little bit until you feel like it's ready and presentable and then send out invitations to your closest friends and family members. Think about if you want to keep it small and throw a dinner party or if you prefer to host a larger party and outdoor cookout. The choice is yours and up to you. It depends upon the time of the year, how much you want to spend, and the type of event you feel comfortable hosting. A housewarming party will force you to get settled quickly and the place decorated. It's an opportunity to reconnect with old friends and family but you might also want to extend an offer to your new neighbors if you want to get to know them better.
Conclusion
These tips for settling into your new home will ensure that you get off on the right foot and focus on the right areas for creating a comfortable place to live. Take it one day at a time and remember to stop and take breaks and rest when you're feeling tired or stressed out. Moving is a lot of work and a major life transition so go easy on yourself as you adjust to your new space and neighborhood. You'll soon be personalizing your space and getting settled into a point where moving in will now be thought of as a moment from the past. Look forward to creating new memories with your loved ones in your new space and showing off your new home to visitors.