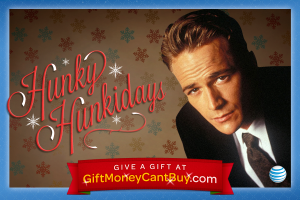 What the heck do I get for Sam? Sam is my cousin. Sam's mom and I grew up as sister's (our families shared a summer home), and we've grown to be more than just cousins. We're the best of friends. So buying for Sam has to be like buying for my own son Ben.
Sam called me the other day to ask what he should get for his mom. Luckily, I had read about the new AT&T site A Gift That Money Can't Buy that allows teenagers to give their parent a one-of-a-kind digital gift. The site will also nudge the recipient in the right direction of what to get for their kids, which is (hint hint), the latest and greatest AT&T smartphone – specifically a Nokia Lumia 920. Seems like a win-win situation to me (especially since Sam has been ASKING for a smartphone and my cousin is so busy that she hasn't had time to look into them yet).
 Check out the great gifts available:
A Very, Very, Very Personal Greeting From Luke Perry
A Guitar Solo from Richie Sambora
An uncut fashion tip from Joan Rivers of E!'s Fashion Police
A joke handed down from comedian Richard Lewis
A cameo in this month's "The Onion"
A Guitar Solo from Richie Sambora

Each week throughout the holiday season AT&T will be refreshing the site with new gifts like A Holiday Feast Prepared By A Celebrity Chef and A Top Secret Golf Tip from a Pro…just for starters.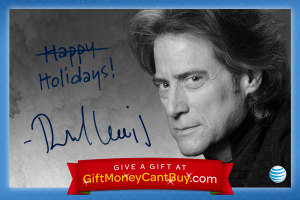 My cousin would ADORE a joke from Richard Lewis (as would I), so I'm calling Sam back this afternoon and have him look over the A Gift That Money Can't Buy site to see which HE would pick for his mom. Oh, and I know he'll be THRILLED when he sees the suggestion that she buy him an AT&T Nokia Lumia 920.
If you have a teen that has NO IDEA what to get mom, dad, Auntie, etc. Send them to  A Gift That Money Can't Buy!
I received a Nokia Lumia 920 from AT&T to facilitate this post. All opinions are strictly my own.