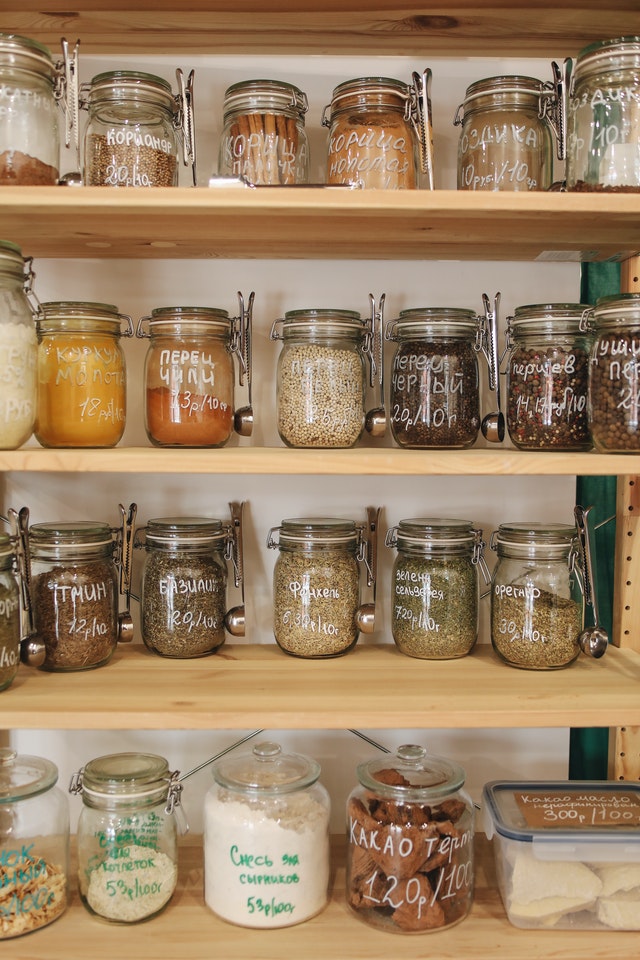 If you don't have a pantry at home, you're missing out. Not only is it convenient to be able to easily access all of your dry ingredients, but it can save you money and even make you a better cook. Having a good supply of things like herbs and spices, jars and tins mean you always have ingredients on hand to whip up exciting, inexpensive meals even when you're low on fresh food. During lockdown, many of us felt the worry of being short on food where shops were selling out of everything, and getting to the shops became stressful and difficult due to long queues. It's not to say that we need to hoard food, but this has shown many of us that it doesn't hurt to be prepared with our ingredients, and having some things on hand to make meals in a pinch will never be a bad thing. Here's how you can go about setting up a storecupboard/ pantry at home. 
Finding a space
If you're lucky, your kitchen will already have a pantry or at least a suitable cupboard that can easily be fitted out. However, if this isn't the case, there's no need to give up on your dreams of pantry perfection. Have a think about other places where you might be able to create a pantry; how about the space under the stairs in your hallway, or a boiler cupboard that's only filled with junk anyway? Maybe there's a corner of your kitchen that you could have a cupboard built, or a nook somewhere downstairs, in your garage or perhaps a cellar if it's not too far away from your kitchen. You might need to use your imagination but turning dead space into something usable in the home is always going to be a good thing. So consider where you could put a pantry!
Prepare the space
If you're using a cupboard or other area which hasn't been utilized in some time (or ever) it might need a bit of prep work. Check carefully for any signs of dampness or mold, and be sure to treat these to make sure it doesn't lead to your stored food spoiling. Another thing to check is for signs of pest activity, this could be anything from rodent droppings to snail trails, dead beetles, or crumbling bricks or wood. Minor pest issues you might be able to resolve yourself, although a company offering comprehensive pest control services is likely to be your best bet. They can make sure that pests are properly got rid of, and it prevents you from being stuck in a cycle of them coming back. Carefully fill and seal any small gaps, cracks, or holes and give the area a thorough clean to prep it. Wipable and anti-mold paint can be a good idea and enable you to keep the pantry clean without much fuss. 
Fit it out
Once you have your cleared nook, cupboard or whatever area you're using, your next step is to add shelving. This will maximize any space that you have, so even a small pantry can fit lots of items and provide you with a really useful storecupboard space. Consider the types of storage containers and items you'll be putting on your shelves to ensure they're spaced out correctly, and once it's all planned go ahead and put them up. You might also want to add things like hooks to the back of the door, a wall mounted spice rack, and other clever fixtures to make the most of the space. It will all depend on the size and type of pantry you're creating, so have a browse on Pinterest for ideas. It's full of clever organizational systems and might give you some ideas. 
Purchase good storage containers
Once the space has been allocated and shelving, hooks, and other storage have been fitted, your next step is to find storage containers. It's always worth putting things into a sturdy airtight glass or plastic containers, even long-life items like grains will last better this way. It keeps any moisture off them and prevents pests from being able to get in as well. So not only do storage containers look great but they're practical too. 
Add labels
Finally, when you've decanted all of your ingredients into storage containers, don't forget to label them. It's easy to get things like different kinds of flour mixed up with no labels! You'll also want to include the use by date and any other important information from the packaging too. You could get a label maker if you want your pantry to look Pinterest perfect, otherwise, just purchase some inexpensive sticky or chalkboard labels and write on them.