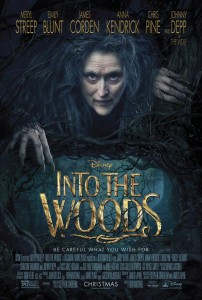 This is the one that Broad Z has been waiting for. Sondheim and Disney together on the big screen, and while the movie has been Disneyfied a bit to make it more family friendly, I'm still excited to spend Christmas Day at the movies being transported to that wonderful blend of Grimms Fairy Tales into one FANTASTIC musical story.
You'll be charmed by Cinderella, Little Red Riding Hood, Jack and the Beanstalk, and Rapunzel and of course a witch….all mixed together with a baker and his wife.
I hope that you enjoy this sneak peek at what's in store for moviegoers this Christmas. Will YOUR wish come true in the woods this December?
Mine will!
INTO THE WOODS opens in theaters everywhere on December 25th!