Smith & Vandiver Aromatherapaes
Spa Shower Tablets and Other Products
A Swish and Swizzle of Citrus in the Shower
It's spring!  Uh oh.  It's 30 degrees here in Utah, but I caught spring in my shower this morning.  I don't take baths.  (DON'T ASK!!!)  So when I opened by Spice Goodies Basket of samples provided by Smith & Vandiver I immediately put an Energize Spa Shower Tablet in my shower under indirect water and – the peppermint, and orange citrusy smell wafted up into my hair then down to my toes.  There are a lot of aromatherapy products out there so here is my way to see if I like one:
Upon opening the BOX they came in, the odor is magnificent and intense
The ingredients – are they REALLY oils?
The essence of the product: do they really work, and do I feel good after I open them and use them
Would I give them as a gift to my most beloved friends?
High five to Aromatherapae!!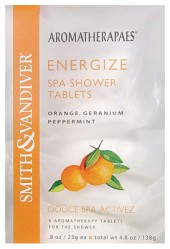 The tablet fizzed and fizzled diffusing scent all  over my body. The tablet left a residue of pure oils.  The next shower I took, I still smelled the scent and the entire bathroom smelled it too!  This is the power of aromatherapy when done right!  And the Aromatherapae line from Smith & Vandiver fulfilled its promise and then some.
Next I tried the revitalizing shea and sugar scrub with honey and almond.  My skin is so thin that it bleeds easily, and it is very sensitive.  This scrub is gentle and kind, sweet and tender.  As I gently massaged circles all over myself, I felt renewed and soft and regenerated.  And that is what I want in a product.
These are a natural line of products and they have a darling website.  I really wanted a cupcake fizz for my bathtub along with my yellow duckie.  This is a great line for kids and in the Utah desert dryness, my grandkids LOVED the thought of such a great idea.
All of the Aromatherapaes line contain oils like safflower seed oil, sweet almond oil, honey extract, coriander fruit oil, orange oil peppermint oil; whatever product you buy, the oils are real.  AND they are especially affordable.  Their website lists the ingredients for all of their products.
MOISTURE – yes! 
The jasmine and bamboo moisturizing lotion made my day.  I apply moisturizer four times a day or more, and the scent made me feel like I was on a lagoon surrounded by jasmine.  My skin felt ooh la la.
I believe in this product and loved the sheen of oil that adhered to my skin, just enough for a glow and a lovely scent as I traveled to work feeling like a flower.
Let's go Spring!  With Aromatherapaes!
Ratings are based on a 5-star scale
Overall:  5
Review by Broad "A" – Ava
We received a copy of this title for our book review. All opinions are our own
Pick up Smith & Vandiver Aromatherapies at their online STORE
Keep up to date with them on Facebook at: facebook.com/SmithVandiver