Happy Dog Box
A Monthly Gift to Your Pet
Personal Shopper for Your Dog(s)!!
I was SO excited to be able to receive a free Happy Dog Box for review, and I opened this box with such excitement, as many of my friends have signed up for a monthly Happy Dog Box at $21 per month. I spend so much more than that on treats and toys for my dogs, and I thought: wow, a personal shopper for my DOGS! Now I have made it to big time Diva! Clem and Bella, my dachshunds went a little wild, as you can see. This is not only a super shopping saver, but all the treats were made in the USA or New Zealand and they are top brands that I find in the ultra safe dog shops where I shop. None of these are on the RECALL list, you can be sure. And this was of prime importance to me, for so many owners buy at the grocery store for their dogs, and in my opinion this is a DO NOT DO – I don't trust the treats in the grocery store as the RECALL has shown us all.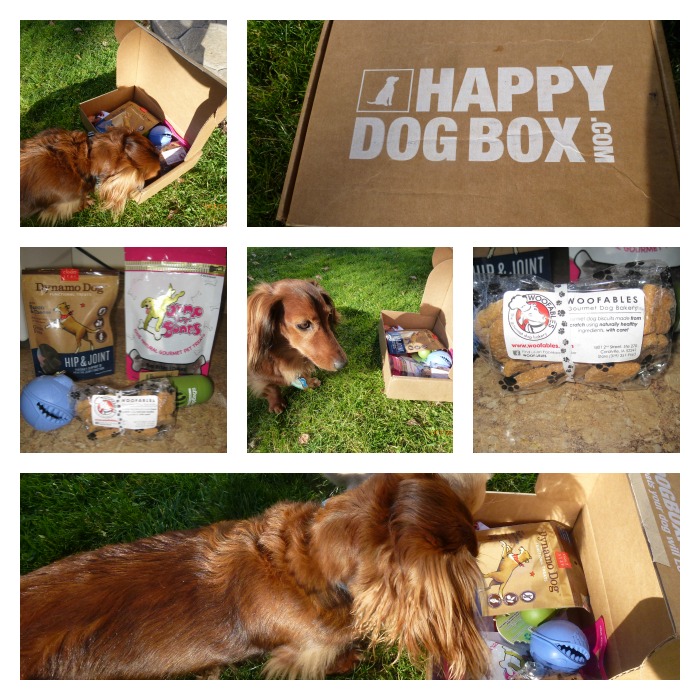 This month's box included
Barkworthies 

in an all natural grass fed beef chew treat. That lasted all of one minute!

An

Earth Rated  wrist poop bag filled with high quality poop bags scented with lavender and it made all the difference, as I am constantly forgetting poop bags and have to go back home and get them! These are nice and long and with the wristlet, you have them at hand in an instant.
JYB Pet Treats  Jump Your Bones 100% natural kangaroo dehydrated treats, which I happen to use anyway. They are called ROO BITES and are from Australia (a safe country for dog treats to far). Clem adores them.

Woofables Bakery

  handmade biscuits which I have never fed before. I ate one (I always try out my dogs treats first) and it was delicious. These crunchy treats are as healthy as they are tasty. Each biscuit is cut by hand in different shapes and sizes.
Cloud Star  Dynamo Dog Functional Treats, grain free and gluten free and made in the USA. Cloud Star has long been one of the best dog treats available today and I have bought them for years. These treats were bacon and cheese for hip and joint and Clem has been eating them for 2 weeks now and loves them.
Jolly Pets  a hard rubber ball where you insert a treat for your dog to try to get out. It bounces in unpredictable ways and kept my dachshunds amused for hours – not easy to do! I loved it! They loved the Cloud Star treat I put in the mouth of the ball!
Treats change MONTHLY, so your dog gets to try new goodies each month.
I am a pet nutritionist, and I am very careful where I buy and what I buy my dogs. I felt astounded at the quality of the treats and toys and bags that were included in this Happy Dog Box. Not only that, these are treats and companies I buy from anyway, so I KNOW THAT THEY ARE SAFE. This is not only a wonderful idea, but a wonderful box of safe fun for my pets. It is also TOP on my list for Christmas giving!
Single boxes at: $25
3 month subscription at: $25 per box
6 month subscription at: $21 per box
Always FREE SHIPPING
Thank you Happy Dog Box, you have me and my dogs instant fans!!!!
We received a Happy Dog Box for review. All opinions are our own
To order a subscription or for a GREAT holiday gift for your pup or a friends, go to: HappyDogBox.com