Sturdi Products Single Car-Go Shelter
for Dogs on the Go
As a doggie mom, I am always on the lookout for good car seats, and carrying crates as safety is my first concern with my little dachshund, Clem. This size was a tad too big for my little Toyota and is made for SUV's but I absolutely loved its convenience and maneuverability around the house, and for camping and visiting: Clem does not play well with other dogs and this kept him safely confined. If you are in the Show Ring with your dogs, this is an essential item.
I have used a car seat with a harness for Clem for years; however, I know he might go flying if I was in a serious accident. When I saw Sturdi Products I realized that an enclosed car seat makes much more sense when safety is concerned! Also, this is a great carrier for cats when taking them to the vet in the car or taking them on trips. I read all three reviews for the Single Car-Go Shelter and all reviews gave it a high five for durability and use – one reviewer had used it for 6 years and it was still in great condition~!
That says a lot to me!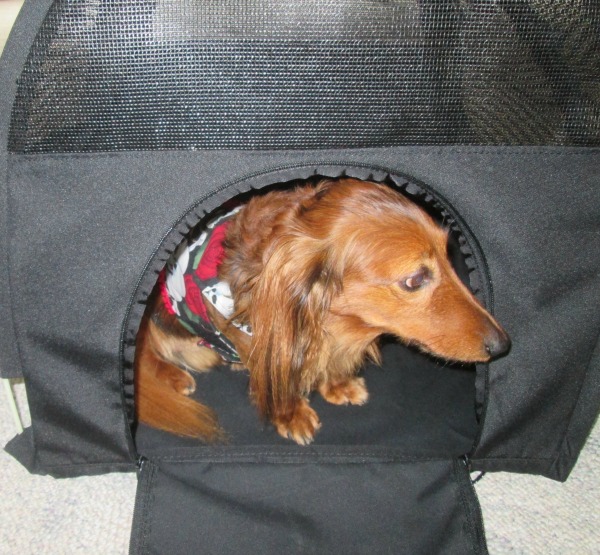 Very light, the Sturdi Products Single Car-Go Shelter twists open and closed. It comes with its own bag and can be fit nicely into a suitcase or in the car. It is mesh and a sturdy canvas and I love that it allows dogs to see and the air to flow through as it gets very hot here in Utah. There are loops for toys inside, a bottle carrier loop, outside pockets and a grommet holder for your halter strap so that your dog is safe inside. The Car-Go also has seat belt holders on the outside where you can strap seatbelts safely around the crate in your SUV or truck. The top can be pulled up and attaches so that you can leave it open.
I don't recommend this for little puppies unless they are crate trained except for a safety seat in the car. My friend's little 10 pound mini dachshund got in and tipped it over on the floor! This crate comes in lots of beautiful colors and is so easy to use, no putting it together, just twist and go!

From the Sturdi Products website:
The Single Car-Go Shelter makes it easy to bring your pet's home with you while traveling. Use it in the car, in hotels, or while camping. Also use it to keep fluffy out from underfoot at home! The Single Car-Go is designed to fit on the back seat of most cars and SUVs. The Single Car-Go comes complete with an oversized carrying case that has plenty of extra storage room for shelter accessories, food, water, medications, vet records, toys and other essentials when traveling with your pet. No assembly is required! Simply remove from the case, give it a shake and it pops open! Oversized carrying case with shoulder strap and storage pockets.

No Assembly required — shake out and pop-up!
Made of durable 600 Denier Polyester.
Double zippered front door.
Smaller side door entry allows optional use of a Large SturdiBag as "Extra Room".
Interior Rings for optional hammock and pet toys.
Fit on the back seat of most cars and vans.
Built in storage pockets.
Vinyl water bottle pocket with grommet for spout.
Seatbelt safety straps.
Optional accessories include: shelter comfort pad, hammock & vinyl liner
Dimensions: 18D x 18W x 18H inches • 3.3 lbs || 52 D x 48 W x 46 H cent • 1.5 kg
I loved the convenience and comfort of this nicely dimensioned safety car-go crate and its numerous uses allow you to buy one crate for all your traveling needs!
Perfect for Clem as we go to the Uintahs to hike!
Ratings are based on a 5-star scale
Overall: 4
Review by Broad "A" – Ava
We received product to facilitate our review.  All opinions are our own
SturdiShelter Car-GO Single Black Portable Pop Up Carrier
 is available at Amazon.com Sturdiproducts.com, and other pet retailers.