The Review Broads Veg Out with The Dachshunds Zigoo's new toy, the VEGGOUT
"The Veggout is designed to stimulate and hold a dog's attention, but with a healthy twist. When stuffed with baby carrots, this boredom combater presents a healthy challenge for dogs to get the carrot out. Baby carrots are great, but you can stuff the Veggout with other type of treats as well.  Puppies, adults, and senior dogs are all welcome to Veggout".
 This dog toy is a true find in the world of my dachshunds! 
First of all they won't eat carrots.  Secondly, peanut butter puts weight on them –my little guys and most little breeds gain weight with very little encouragement!  So even though the Veggout has a great idea with carrots and peanut butter filling, I tried something different.
My dachshunds always bring their natural chew bones to me to hold as with their little legs they cannot position the chewie so that their mouths can chew on them.  I put the bully sticks in the Veggout and they went to town!  Bella, the puppy, spent hours playing with her Veggout and Clem loved his too.  The plasticity of the toy is conducive to chewing on it so do not give this to aggressive chewers and always watch them when they chew on anything.  Clem and Bella will not touch Kongs, no matter how many I buy or what I stuff them with.  They cannot get the Kongs in their mouths as the Kongs are not pliable.  I loved that The Veggout is pliable and even without anything in them, my dogs adored chewing on them.
Dachsunds are pretty good chewers and my two little dachshunds did not even put a dent in their toys.  They bounced when I thew them and simply played with them all day!  I might try carrots next time – one never knows with dachshunds – but Iwas simply ecstatic with Zigoo's Veggout.  I buy tons of dog toys.
This is probably the first "container" like toy that is so versatile that every breed would love it.  A high five on my part for Zigoo – and I will be purchasing more of these toys for gifts.
LOVED THEM!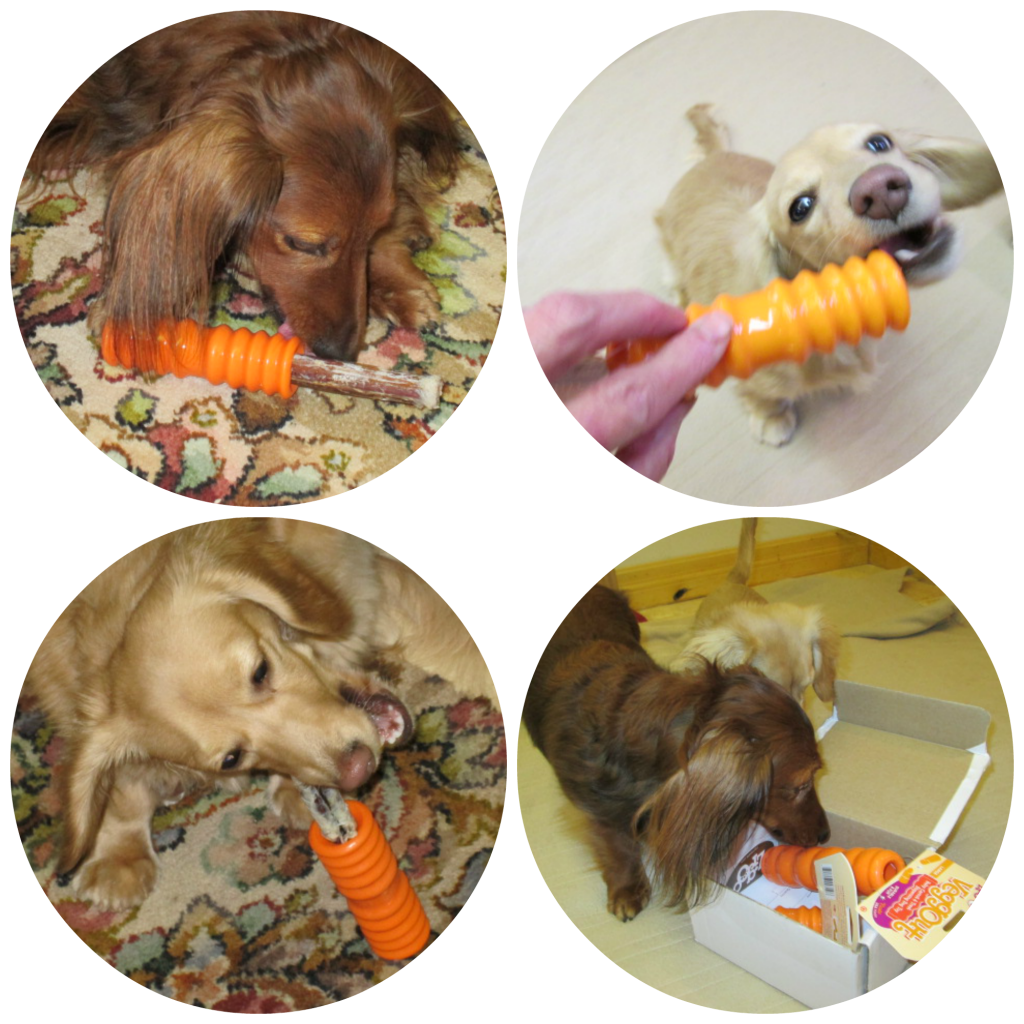 From the Zigoo dog site online 
Overview
Helps normal chewers reduce anxiety and fight boredom
Perfect for dogs who love carrots as treats
Flexibility to stuff other forms of treats including peanut butter and yogurt
Freezer-safe
Easy to clean; just place it in a dishwasher without the dry cycle
Softer material is easy on their mouth making it perfect for senior dogs
Floats and bounces for more playing options
Made in the USA
Available in two sizes: Small & Large
Recipe
Place two baby carrots inside the Veggout. Push 1 tsp of peanut butter into the openings. Place it into the freezer overnight (optional).
Tips
The Click
When the large Veggout gets wet inside the toy, it can make an awesome, addictive clicking sound.
 Durability
No dog toy is indestructible. Supervised play is recommended anytime your dog plays with Veggout. This toy is not meant for aggressive and destructive chewers. Replace immediately if there is damage to the toy. Please understand what type of chewer your dog is before you purchase a Veggout.
Zigoo makes other dog toys also.  Check out their site!
Ratings are based on a 5-star scale
Overall: 5
Review by Broad "A" – Ava
We received product to facilitate this review. All opinions are strictly our own.
For more information about this product