We received our honeymoon from MSC Cruises to facilitate this post. It was the BEST honeymoon anyone can imagine. All opinions are strictly our own.
As-if planning a wedding isn't hard enough, then comes the fun part – planning a getaway with your new partner for some much needed rest-and-relaxation. Whether you're looking for some adventure, romance, down-time to just read a book or catch your breath – MSC Cruises has everything you're looking for, and then some.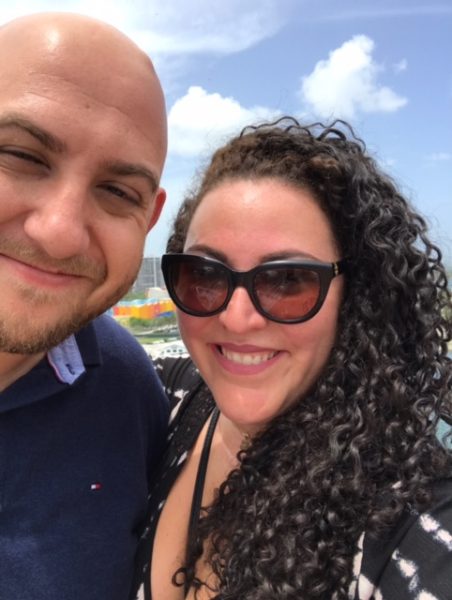 With our goal being to turn off our cellphones for a week and disconnect, we thought we were heading out on an ordinary cruise. My husband had never been on a cruise before, but his mom was kind enough to give us the 411 on the best way to unwind – a cruise with amazing food, great port stops, and plenty to do onboard. We're a cruising family, and our unparalleled experience with MSC will definitely keep us coming back for more.
Usually, onboarding can be a real bummer. All you want to do is get.on.the.boat. Check-in was a literal breeze, going faster than I've ever experienced before. We maybe spent about 20 minutes total from port, to ship. Everyone seemed to know we were on our honeymoon and kept congratulating us, which would be an amazing and heartwarming theme for the remainder of the time.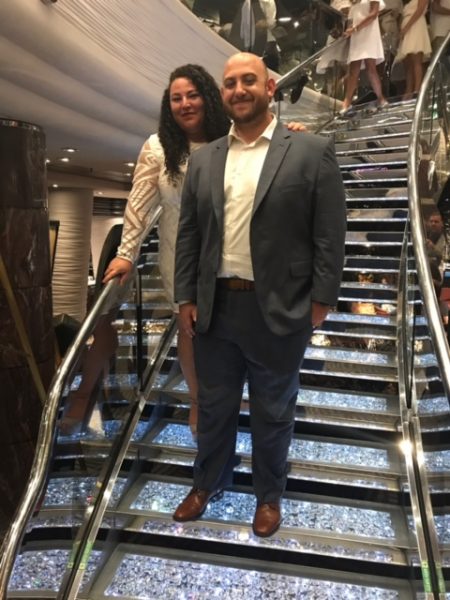 The MSC Divina is gorgeously done. Each detail on the ship (we were told) was designed and put together with extreme care by the owner of MSC's wife. Sculptures are scattered throughout the ship and bring a sense of culture and elegance to the ship. We were super excited to roam the ship, and started to take note of everything we "had" to do. Before we set out, we stopped by the room to find a personal welcome from the Captain, a bottle of prosecco and some chocolate covered strawberries. Obviously, we were already very much in love with MSC.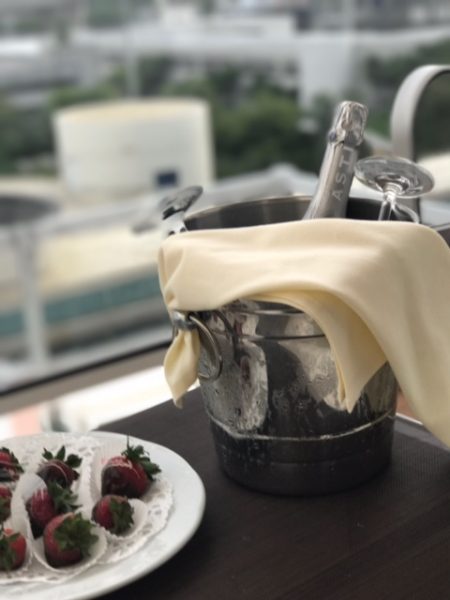 I'm going to try not to drone on too much, but when you're on the ship, I'd love to tell you the can't-miss experiences that we find ourselves missing now that we're back on land.
THE FOOD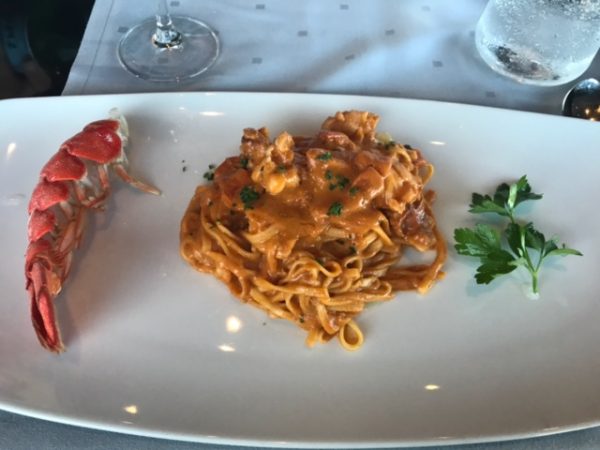 Everywhere you turn, the MSC Divina has endless delicious options that could keep even the most picky of eaters coming back for more. We made reservations at Eataly onboard, to try all three signature restaurants onboard.  Both my husband and I cannot express our extreme gratitude for the amazing staff who keep that well-oiled machine running. Each night was better than the next. The Galaxy Restaurant  was where we started, eating amongst a full 360 view of the water. We were the first ones in the restaurant and spent time chatting with our amazing wait staff (big shout out to JOHNNY!) and laughing while we pretended to have the whole place to ourselves.  The food was incredible (we had surf and turf and it cooked to perfection), the setting was romantic, and we were off to a fabulous start.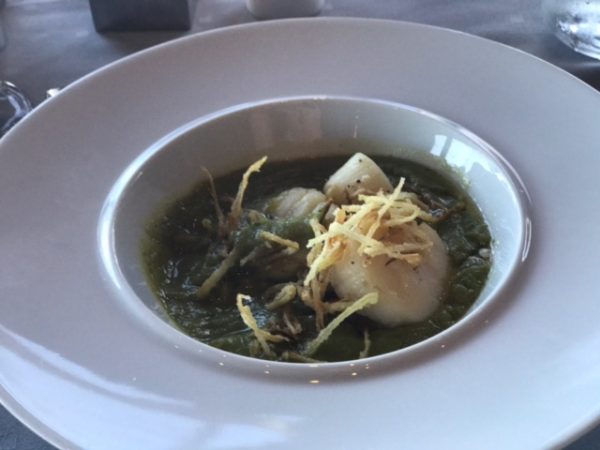 Eataly is on the ship, which means we knew we were in for some amazing Italian craftsmanship. If I tell you that we STILL think about the fettucine alfredo we had that evening and that I'm salivating NOW thinking about it, it wouldn't be enough to do it justice. The ship has sa tremendous kitchen, full of people who really bring the flavors and technique of fine Italian cuisine to the table. The service, once again, was just amazing (BIG shout out to Julia!). The house manager was sweet, accommodating and made it an easy decision to eat all of the carbs.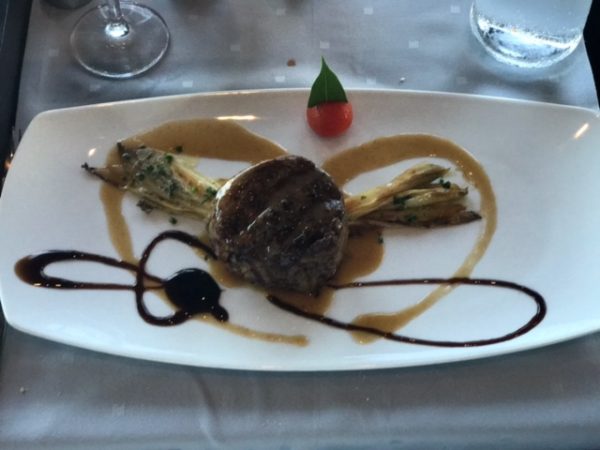 Speaking of carbs, be sure to take-in all of the pizza, made from a wood-fired oven onboard. When I say all of it, I do mean all of it. There isn't one bad version of the hand-crafted pizza (trust me, we ate our way through it). For those looking for something a little bit different, you can grab on-the-house snacks from the bowling alley/sports bar, or stop by the buffet for a wide-range of pastries, cheese and meats, and hot foods. For us, we spent the mornings grabbing freshly baked, hot croissants (particularly the chocolate ones, because YUM) and staring out at the beautiful views.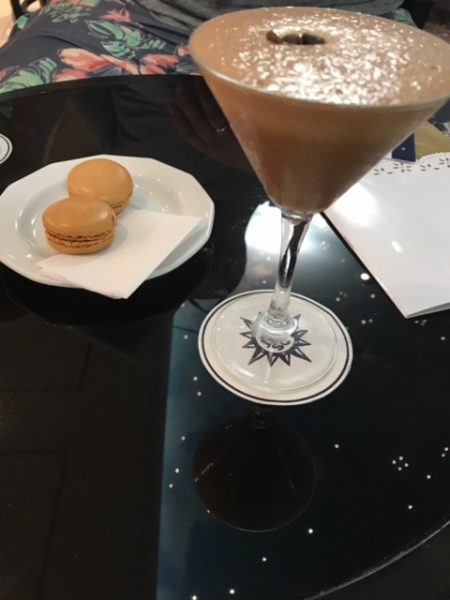 Lastly, I can't forget to mention what turned out to be one of our absolute favorite places to stop at any time (particularly the morning "snack," though). The Palazzo is the place-to-be. Morning macaroons are a thing, right? We'd stop there for some Lavazza coffee and macaroons to get us going before disembarking the ship (the pistachio one was our clear favorite). Excellent place for a night-cap, an early-morning drink (coffee with or without Kahlua) or stop by in the evening to hear live talent, or take-in some shopping.
THE SPA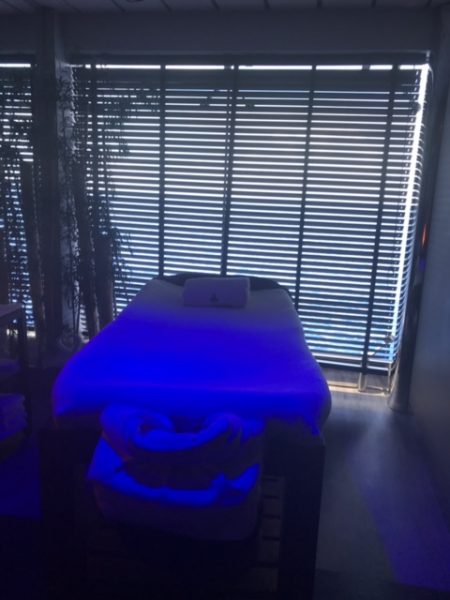 I'm what some (my husband) may call a spa junkie. I live for a good spa experience that relaxes you from start to finish. While I love it, my husband…not so much. However, after our joint couples massage and facial, he's changed his tune. Being on a cruise is naturally relaxing, but when you're coming off of planning a wedding (which is super stressful), sometimes you need that extra push to fully slip into relaxation. We spent about two hours in the spa and felt completely immersed in nothing. Nothing can sound like a scary word, but when you're just looking to unwind together, it's exactly what you need. The massage was the perfect pressure, the facial was the perfect amount of time, and we were in our O'm zone.
ACTIVITIES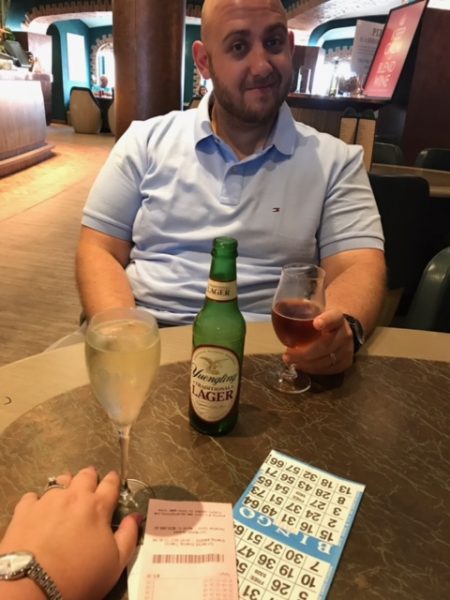 One thing we for sure wouldn't miss was Bingo! It sounds odd, but we loved hopping into the beautiful theater for some fun.  With so many things to do, we relied heavily on the newsletter the night before to help us decide how to split our time. We hopped from trivia game to trivia game, to the indoor/outdoor hot tubs and pools, over to the VR experience and back again.
THREE POOLS
A world of advice – get to the pool early if you'd like to secure a seat. We enjoyed the adult pool in the front of the ship with the infinity pool that allowed us to look out at the ocean while we soaked up the sun. Pool service is excellent and there are people around to help with you whatever you need, whenever you need it. The second pool is in the middle of the ship, and perfect for those with families, or those who love demonstrations and entertainment (as that's where the stage is). There's always something fun happening out there! We loved the pool in the back as well, because it allowed for our one cloudy day at sea to not impact our pool time. With a retractable roof, a little rain didn't scare us away from hanging poolside.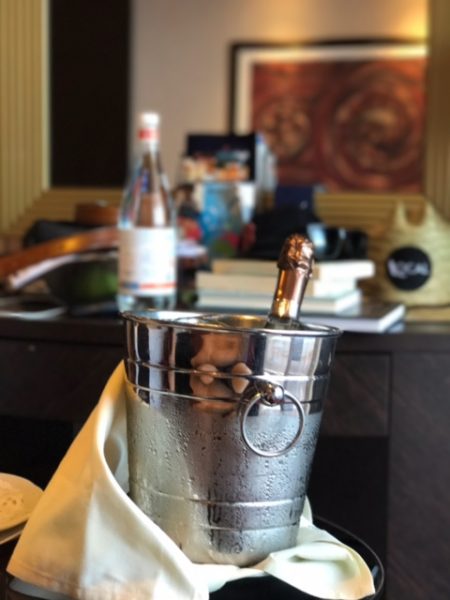 We had no idea that the first night of hospitality would extend the entire seven days. Each night before dinner, we were greeted with chocolate covered strawberries and champagne or prosecco. There were roses on the bed one evening, a towel animal (they do an contest with all of the employees that is awesome to watch) and personally signed card from the captain, the head of the restaurants, and MSC. It was truly an incredible experience we're happy to have shared onboard the MSC Divina.

For more information or to book your honeymoon, second honeymoon or even pretend honeymoon visit MSC Cruises