Yes, I said UP!
The newest (and hottest) spot to hit Huntington Beach is not with your toes in the sand, but instead closer to the clouds. Take the elevator up to the 9th floor atop the new Twin Dolphin Tower of the Waterfront Beach Resort and head straight to the Offshore 9 Rooftop Lounge.

Panoramic Views
Boasting full panoramic views of the Orange County coastline paired with hand crafted cocktails and delicious bites, it will make you forget all about your workday as you relax and gaze out at the scene before you.
A hidden oasis under the coast skyline, the outdoor deck features a centralized 76" flat-screen television perfect for game days, fire pits and lounge seating with a front-row ocean view. The new Offshore 9 opens daily at 3:00 pm and welcomes both hotel guests and the general public year-round for intimate gatherings or larger private parties.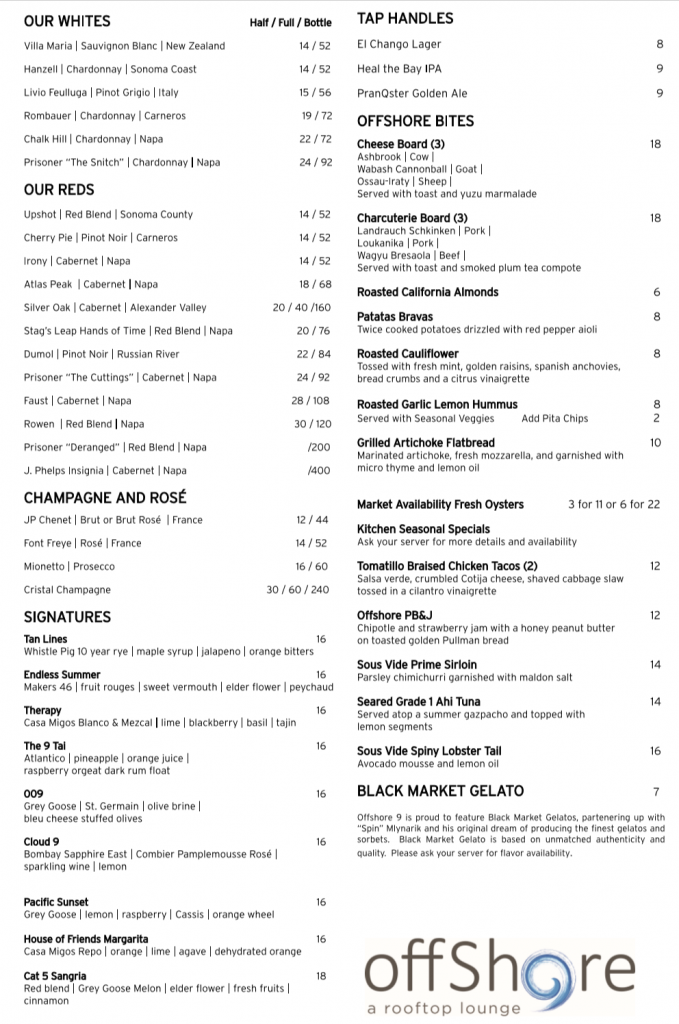 Food
With a rooftop menu featuring coastal-inspired farm to table dishes including Seared Ahi Tuna, Seared Scallops, Cheese and Charcuterie Boards, the Offshore PB&J with Chipotle Strawberry Jelly, and more, you find plenty of choices to delight your foodie nature. Make sure to order one of their high-end California wines or champagne, or hand crafted specialty cocktails such as "The 9 Tai" or House of Friends Margarita.

Valet parking at the hotel is complimentary for any Offshore 9 guests.
The Waterfront Beach Resort is located at 21100 Pacific Coast Highway, Huntington Beach, Calif.
For reservations, call (714) 745-8000 or visit https://www.waterfrontresort.com