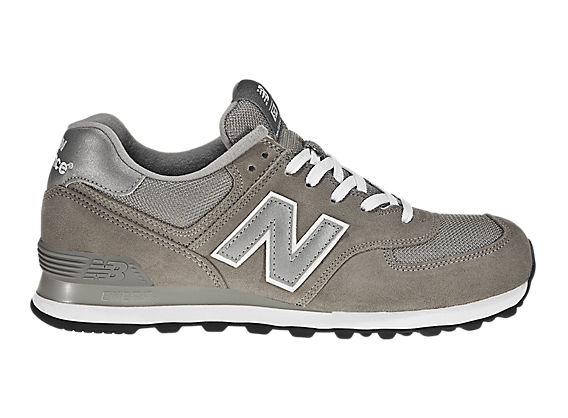 New balance has been dedicated to providing support for demanding people for a while-mainly athletes, who need footwear that won't let them down! Getting the fit right if important for New Balance; all the sizes of the shoes are made very well to fit to the foot.
The M574 trainers have a nice vintage look to them, which contrasts nicely with the small 'New Balance' brand logos on the sides of the shoe and on the heel. The mixture of suede and textiles gives them a really good American converse feel, and the styling feels effortless-I don't think they're likely to go out of fashion anytime soon! The colouring is very nicely done, clear and bold colouring makes them stand out (but not in a too loud or "look at me!" way!) although I will say that it might be a good idea to spray them with a stain-resisting or waterproof covering before you wear them, to make sure that they resist dirt and the elements and stay looking nice.
They're made for running and for streetwear, and they don't disappoint on either count-they're comfortable, fit the foot well and stay true to their roots by being well-fitting and cushioning when you're jogging or running-they distribute and absorb shock more than adequately when your feet hit the ground. The midsole is designed to be as ergonomic as possible, and the now-ubiquitous (among these kinds of shoes at least!) synthetic/mesh combination upper ensures breathability for the feet. Various complicated technologies like   'Stability web' and 'ABZORB' have gone into the shoe to make it as comfortable as possible.
New Balance shoes have been popular for a while now; more and more people seem to be realising the quality of the shoe. I found that they tended to be a little on the expensive side in the shops, but as with most things at the moment you can get good deals online on quality products to help offset that high street mark-up. For example, the range of New Balance at Foot Asylum is a good one and you can find a few different kinds of M574's there.