The nights seem to be getting longer, and that means that I'm cuddling on the couch with a little something to munch on. I've decided that while I do go out often, that staying home with Mr. S and Clem is a treat, and because of my Netflix Stream Team ambassadorship, it's EASY. Of course even BEFORE they asked me to be a part of the team, I was a Netflix subscriber. Do you remember my Orange is the New Black updates on Facebook as I was watching?
So, what's on my 5 MUST see list for this month?
1. If you haven't seen Orange is the New Black, it's one of my ALL TIME favorite shows. I'm eagerly waiting the next season! You can do what I did and have an OITNB marathon, or savor the episodes slowly.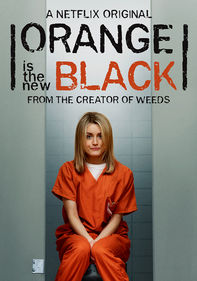 2. Dexter – I missed the ENTIRE last season. It's time to catch up on the final one (please no spoiler alerts for me)
3. Fargo – One of my faves, and it's perfect for the cold nights. There's something so clever about the Coen Brothers.
4. Anything starting Philip Seymour Hoffman – I'm on a PSH roll, and can't get enough of him.
5. House of Cards – OK, I'll admit that I haven't seen ANY of this Netflix series yet, and Ben keeps telling me to watch. I will, I promise!
Help me find new flix & shows on Netflix
What's on YOUR must-see list for November? I need suggestions
We received a year of Netflix and an Apple TV for our participation in the Netflix Stream Team. All opinions are strictly our own.