Clem although male is quite the diva when it comes to good food!  He is no vegan; au contraire, he suffers only the best raw venison, wild caught salmon, ahi ahi au rare, and various and sundry treats, all coming from Chew.com.  Clem knows that Chewy.com carries all the best dog treats, that have no recalls, that are raw dehydrated or full of no gmos or other ingredients that will make him unhappy!  Why do I eschew CHEWY.COM?  Because I know the best for my dachshund.  Do you?
One of Clem's favorite brands is FROMM, a home based company owned and operated by the Fromm family out of Wisconsin.  All ingredients are from the USA, and Clem LOVES their OVEN BAKED salmon with sweet potato recipe treats for dogs.  Salmon is the first ingredient and these are awesome treats.
Another favorite is The Honest Kitchen another home based company with human grade ingredients started by Lucy Postins.  I have used The Honest Kitchen since its inception and you simply cannot get better ingredients than this in dog food.  They have just come out with Proper Toppers, a dehydrated super food for dogs, which boosts taste and nutrition with NO ingredients from China.  With only five ingredients, the list is amazing:  dehydrated chicken, dried apples, dehydrated pumpkin, dehydrated chard, and dried blueberries.  Sounds like something I should be eating for lunch!  Made with 90% real human grade chicken, and full of antioxidants Proper Topper can be sprinkled on top of your regular dog food or splashed with water for a treat.  Use two tablespoons per day for a 20 pound dog!  Very cost effective.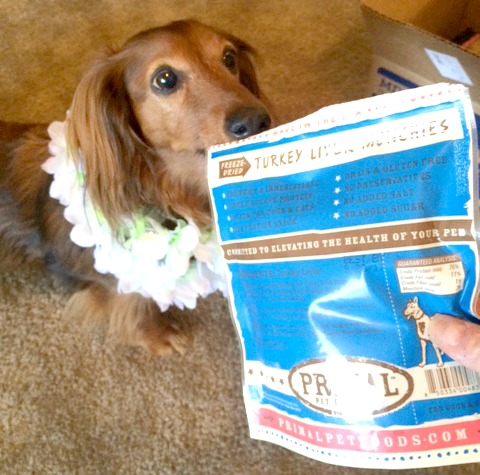 And then there is Primal, one of my favorite raw food companies.  Also using ingredients from the US, the turkey in Primal Turkey Liver Munchies is raised in the USA without hormones or antibiotics.  The ingredients?  TURKEY LIVER!  That is it!!!  They are freeze dried raw and absolutely delicious to Clem.
I also use these companies for their dog foods.  Fromm carries a good kibble.  I buy The Honest Kitchen dehydrated raw food for Clem and Primal raw venison as a daily meal and he is happy and healthy.
Thank you Chewy.com for giving me a fast, safe way to find my favorite brands only carried in specialty dog stores.  I love the fast service.  But mostly I love my healthy dog!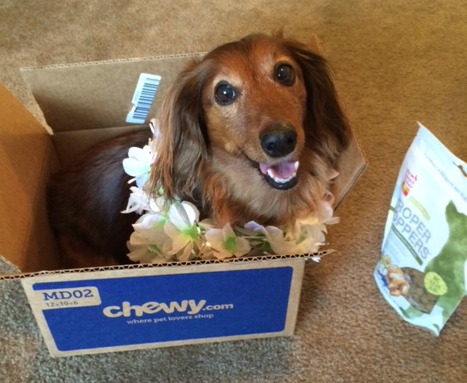 Ratings are based on a 5-star scale 
Overall: 5
Review by Broad "A" 
We received a product to facilitate our review. All opinions are our own
DETAILS
All products in this article are available at Chewy.com