OLYMPUS HAS FALLEN
The first months of 2013 have released a slew of action movies that pine for an apparently forgotten era of American history: 90's action cinema.
The most recent to longingly recall the DTV catalogue of Steven Seagal is Olympus Has Fallen, in which Gerard Butler plays Mike Banning; head of the Presidential detail and best friend to the first family.  We're introduced to Banning as he's sparring with President Asher (Aaron Eckhart) in a boxing ring [a plot point that never pays off] and having perfunctory banter with the President's son about the security Protocols [also does not pay off later].  On their way to some billionaire shindig, an act of nature causes a car accident on an icy bridge and Banning is forced to make a choice that causes the death of the first lady.
Even though he saved the President he's immediately disgraced and sent to a boring desk job at the treasury nearby the White House.  Convenient for when North Korean terrorists attack the capital and as all hell breaks loose, Banning leaps into action.  Some viewers may experience some discomfort at the attack, even if it throws all logic out the window.  A giant, obviously military plane flies way too low in the sky, directly over Washington D.C. which… given specific events in the past (9/11) seems dramatically far fetched for a movie in 2013 but if this is a cartoon then I'm willing to go with it.  Next thing we know it's got mini-guns sticking out the side and shooting down planes, fending off missiles with flares and killing every pedestrian in D.C. in a scene that is brutal, violent, senseless and very silly.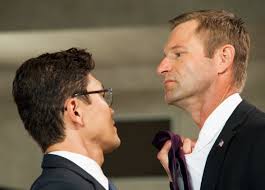 This is followed by tourists revealing themselves to be soldiers on the ground, blowing up busses, killing dogs, taking the White House hostage and creating a military perimeter around the White House.  All of it set up in order to kill every last possible secret service agent and block the military from making any move and leaving Gerard Banning the last man standing inside.  We're treated to how much this disgraced hero is really such a badass that even current Special Forces troops look foolish by comparison to his know-how.  There are plot twists, betrayals telegraphed from a mile away and the leader, Kang (Rick Yune), has some deeper motivations but they're breezed through especially quickly, it might have just seemed like a throwaway line about his family before he returns to shooting another cabinet member in the head.  The movie could give a damn about any current political climate concerning North Korea as long as it treats you too another cartoonish action set piece.
Some competent action, nothing too flashy although Butler does get to be very matter of fact about his skills, there's an interrogation scene that is effectively brutal, to the point, and Angela Bassett's character even gives us the prerequisite "This is how badass he is" speech.  He knows all the hidden passages and layout of the White House so he's able to sneak around unnoticed and score a few small victories.  It's not shot with crazy obnoxious shaky cam which I appreciate but I think the violence should have been more on a Paul Verhoeven level to match the sillier action.  Although, I suppose that would be a better complaint if you can make out any of the action happening on screen.  The movie is so dark at times you barely know what's happening.
I assume the reasoning behind it is because the movie had to have been rushed through production [Probably to beat out a similar film, WHITE HOUSE DOWN being released later this year, to the punch].  The color timing is completely off.  Nothing looks consistent except for how badly it's shot, the graphics and effects look cheesy, unfinished and there is some distractedly digital blood effects.  It made me wonder if someone sent the rough cut to theaters so they could make it to the release date.  Time and money were not on this movie's side. Maybe if they didn't invest in such an illustrious cast:  Gerard Butler, Aaron Eckhart, Melissa Leo, Robert Forster, Dylan McDermott [I also saw STOKER over the weekend which had Dermot Mulroney in the cast, needless to say the confusion continues!], Angela Bassett, Cole Hauser and Morgan Freeman.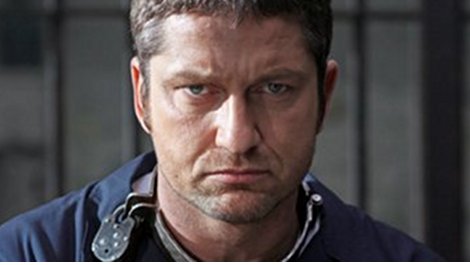 Most of those are cameos at best.  Freeman personally appears as though someone just woke him up out of bed and when he asked for a cup of coffee I could swear that they just had the camera still rolling before the take even started.  It's weird that the way his character was set up [seems pissed off after leaving the President's office, was told to "go fuck himself" by Banning in the past, is temporarily President after most of the cabinet is held hostage] to have ulterior motives or at least some larger relationship with Banning but it never pays off.  When he asked for a cup of coffee I could swear that they just had the camera still rolling before the take even started.  Maybe it's because he's been downgraded to Speaker of the House and only given the position during a crisis.  Regardless he handles himself with the same calm, well-reasoned demeanor one might expect, even if he gives in to every demand the terrorists have.
Despite its faults I had a blast.  I enjoyed it for what is: Direct-To-Video, B-level action fluff.  OLYMPUS HAS FALLEN is a shameless, fun time at the movies.

Review by Bro' J – Jonathan Killoran