If you follow Broad Z in her "other" life over on Champagne Living you know that she was recently in the big apple as a guest of Disney and Dreamworks screening the War Horse premiere, checking out the hot Broadway Musical Mary Poppins and seeing  Beauty and the Beast and Tangled Ever – both arriving at theaters near you in 3D – TOGETHER!
Z has a tough time not blabbering all over the place, so she wanted YOU to know about these fun new movies for the ENTIRE family as well.
Tangled Ever After takes us to the next step, following that wonderful full-length animated movie Tangled. If you're the type of 3D fan who loves the "in your face" excitement that donning a pair of 3D glasses bring, you won't be disappointed. This short sequel takes us to the wedding of Rapunzel and "Eugene" where it becomes a chase after a set of wedding rings (before the bride & groom even find out the bands are missing) adventure. The simple and silly plot, makes this so enjoyable that you'll be laughing out loud.
Tangled Ever After is just the appetizer to the wonderful Beauty and the Beast now in 3D.With the Disney glamour of this traditional tale, the movie stays true to the original Disney film, adding 3D effects the way they SHOULD be used…to enhance your experience rather than to make you jump out of your seat. The 3D scenes add depth, rather than fancy "tricks" the viewer is magically drawn in to this classic tale.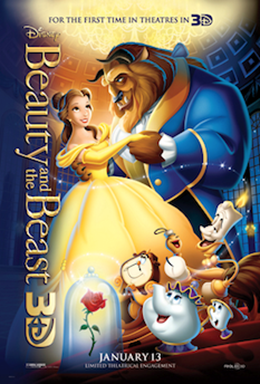 You'll laugh out loud at Tangled Ever After! It was fun, fast and fabulous.
Beauty and the Beast really came to life in the 3D format. You'll find yourself magically whisked in to the Beast's castle, with Belle and the cast of wonderful characters that only Disney can bring to life.


Ratings are based on a 5-star scale 
Review by Broad "Z" – Zippy
I was a guest of Disney in NYC in order to screen this, War Horse and Mary Poppins on Broadway. All opinions are my own.