SLEEPING BEAUTY DIAMOND EDITION
Blu-Ray, Digital HD and Disney Movies Anywhere (3 disc set)
Finally releasing from the Disney Vault, Disney's ultimate princess fairytale classic "Sleeping Beauty" will be available for the first time on Diamond Edition Blu-ray, Digital HD and Disney Movies Anywhere on October 7, 2014. Experience all of the pageantry and power of this wondrous tale on Blu-ray – and for the first time on Digital HD – with incredible high definition picture, thrilling, soaring sound, and all-new Diamond Edition special features that make this a must-own for every family's classic collection!
The Good, the Bad and the Ugly
The GOOD:

Princess Aurora (16 year old both beautiful and good), daughter to the King and Queen
King Stefan (he's a dad!)
Queen Leah (she's a mom!)
Three Good Fairies (Flora, Fauna and Merryweather) (who give gifts of beauty and song to the princess, but before Merryweather can give her gift Maleficent arrives with a curse)
Prince Phillip (who gives the KISS to wake SB up!)
BAD and UGLY:

Maleficent (the evilest of the evil, this bad lady places a curse on SB – when SB turns 16 she will prick her finger on a spinning wheel and die).
THE MAGNIFICENT: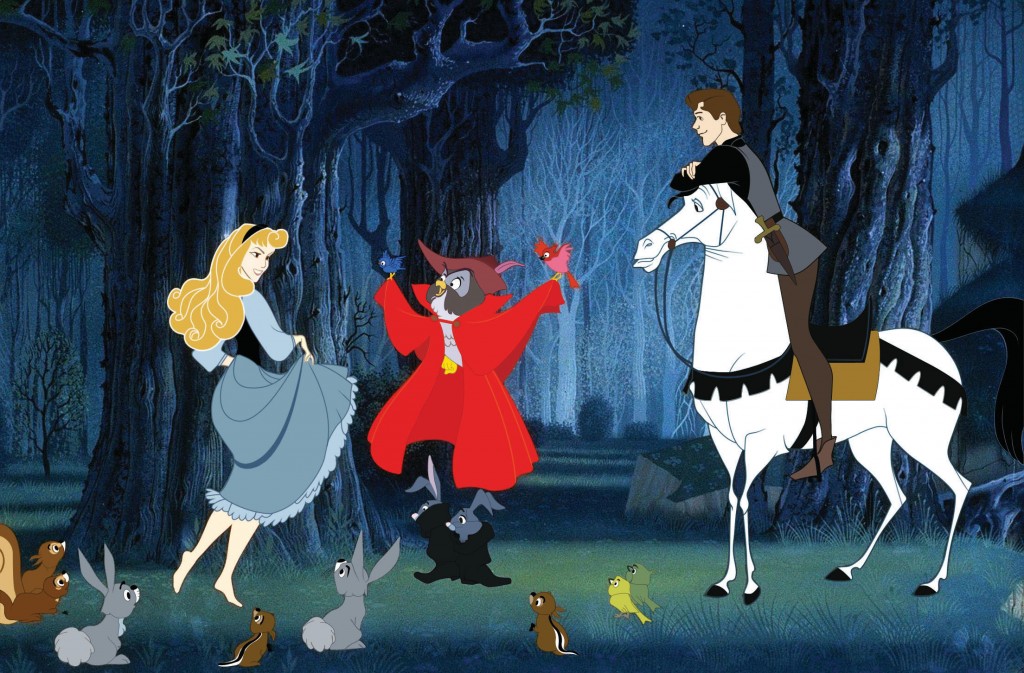 This classic is so beautifully woven and presented in this Diamond Edition that it takes your breath away and then takes your breath away again! Classic Disney and magnificent this is one Diamond Edition you do NOT want to miss!
ONCE UPON A TIME: The Story

King Stefan and Queen Leah have a happy event when their little daughter is born, and she is named Princess Aurora. She as is the tradition of the land is betrothed to handsome and good Prince. The celebration of the betrothal is attended by the three good fairies, Flora, Fauna and Merryweather who come to each give her a gift. However, when the evil Maleficent finds that she has not been asked to attend the ceremony, she explodes and casts a death spell on the baby. When Aurora turns 16 she will prick her finger on a spinning wheel and die.
The three good fairies are appalled and place all their powers together to change the spell from death to a deep sleep. This sleep can only stop when Princess Aurora is given love's first kiss.
The King and Queen justifiably are terrified and send their infant to live with the good fairies in their little woodsy cottage until after her 16th birthday. And sadly no magic can be used by the fairies to protect their little darling as any magic will immediately bring Maleficent to their door.
Briar Rose (as the fairies call her) grows into a beautiful teenager, meets and falls in love with Prince Phillip. But suddenly it happens: Briar Rose pricks her finger and falls under the spell of sleep. As Maleficent ponders what to do, she decides to find the Prince and hold him hostage, but of course he escapes with the good fairies help. And then Maleficent becomes an evil dragon to stop Briar Rose and the Prince from escaping her. All goes well however, and as the Prince kisses Briar Rose, tenderly, she awakens and becomes Aurora again and the Prince and Princess live happily every after.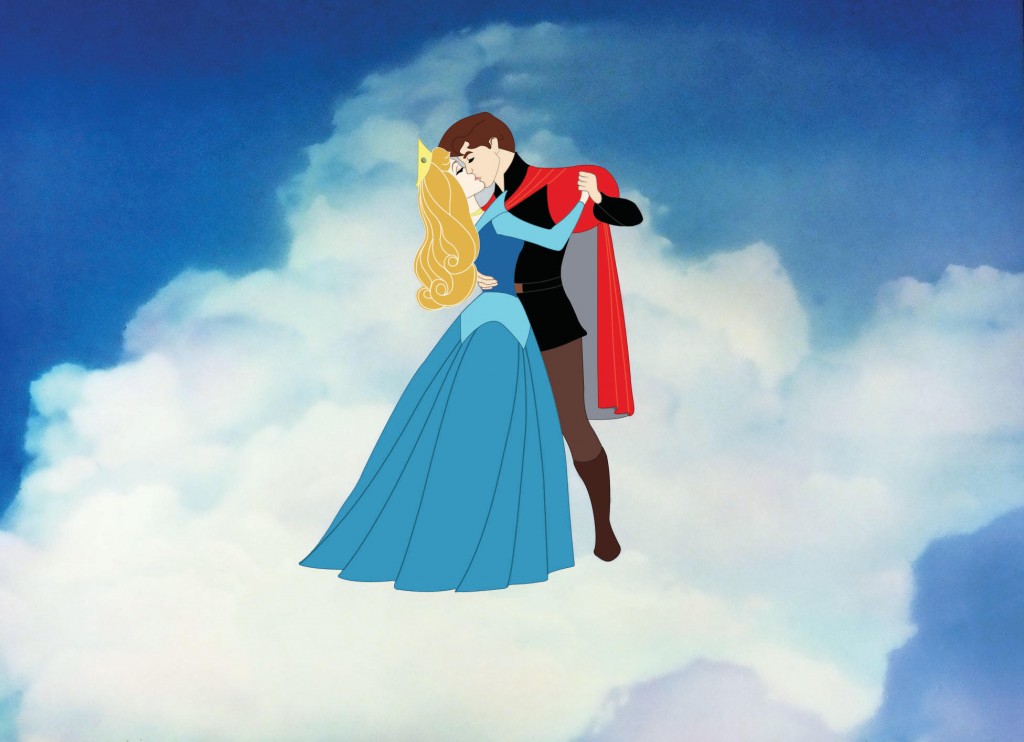 Bonus Material Specials:

'Once Upon A Parade' (Starring Sarah Hyland) – Behind every attraction, event and parade at the Magic Kingdom is a unique story. Join Sarah Hyland from ABC's "Modern Family" as she tells us the tale of Walt Disney World's new Festival Of Fantasy Parade. This magical "in world" short film goes behind the scenes of the new parade and shows how the residents and characters of Fantasyland created this parade to tell their stories.
Art of Evil: Generations Of Disney Villains – This legacy piece spotlights Disney's favorite villain animator, Marc Davis and his infamous creations of characters such as Maleficent and Cruella. Throughout the piece, we will talk to modern day animators like Andreas Deja and also the new generation of Animators (Lino DiSalvo Animation Director of FROZEN) on how Marc's designs and characters influenced what they do today.
DisneyAnimation: ARTISTS IN MOTION (Extended Edition) – Join Walt Disney Animation Visual Development artist Brittney Lee as she goes through the process of creating a three dimensional sculpture of Maleficent, completely out of paper. In this extended edition, go deeper into Britney's process
Never Before Seen Deleted Scenes:

The Fair (With Deleted Character – The Vulture) – In this version of the story, the fairies do not take the Princess to live with them in the forest. Convinced that King Stefan's order to burn all the spinning wheels in the kingdom will not prevent Maleficent's curse, the good fairies put a magic circle around the castle and cast a spell: "No evil thing that walks or flies or creeps or crawls can ever pass these castle walls."
The Curse is Fulfilled – The three good fairies have just returned Aurora to the castle and give her a crown. They leave the room to give Aurora some time alone…but Maleficent pays her a visit.
Arrival Of Maleficent (Alternate Scene) – Maleficent arrives uninvited to the christening of the Princess Aurora.
BEAUTY-OKE "Once Upon A Dream" – Sing along to this kinetic text video of Aurora's signature song.
Classic DVD Bonus Features Include:

The Sound Of Beauty: Restoring A Classic – This featurette covers the creation of the 7.1 mix of the score of Sleeping Beauty that was done for Blu-ray, using the source tapes from the original recording sessions resulting in an audio experience of superior quality with greater detail and fidelity that you have ever heard before.
Picture Perfect: The Making Of Sleeping Beauty – Discover the behind-the-scenes magic that transformed a beloved fairy tale into a cinematic work of art. Legendary Animators, actors and film historians reveal the secrets behind Disney's masterpiece.
Eyvind Earle: A Man And His Art – Early in his career, renowned American Artist Eyvind Earle worked as a background painter at the Walt Disney Studio. Walt Disney liked his work so much that he entrusted him with the assignment to be the Art Director for Sleeping Beauty. This was the first time that one artist was given the responsibility for the entire look on one of Disney's animated features. This piece follows Earle's development as an artist and his years at the Studio.
Audio Commentary by John Lasseter, Andreas Deja and Leonard MaltinBonus Materials Overview for These Products:
DVD
Ratings are based on a 5-star scale
Overall: 5
Review by Broad "A" – Ava
We received a copy of this blu-ray for our review. All opinions are our own
Sleeping Beauty: Diamond Edition (2-Disc Blu-ray + DVD + Digital HD)
 is available on Amazon.com and other DVD retailers.