One of the primary obligations that come with managing a fleet of company vehicles is ensuring that expenses are kept to a minimum. The expense of maintaining a fleet of company vehicles as well as things like fleet insurance coverage will likely be one of the most expensive costs a company will have to deal with.
In this piece, we will examine some of how you may reduce the costs of operating a fleet to a minimum while also ensuring the safety of both your drivers and the other motorists and pedestrians who share the road.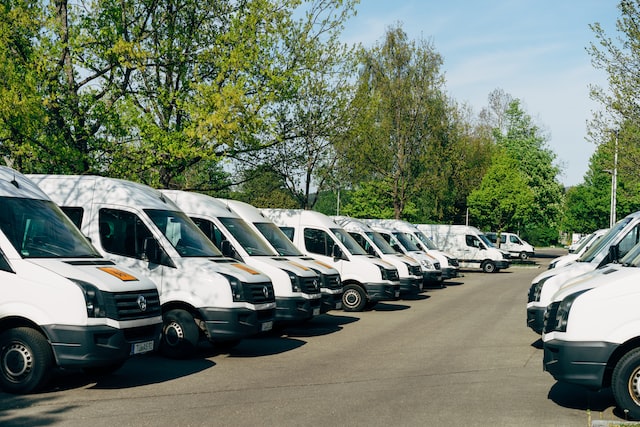 Consider vehicle acquisition.
The primary cost that is connected with operating a fleet is the cost that is incurred when purchasing vehicles. Rather than purchasing or leasing their automobiles outright, many businesses opt to do one of two things instead.
Each of these two choices has both advantages and disadvantages. Purchasing automobiles requires a significant outlay of funds, which can be tough in the early stages of developing your firm. As a result, you may need to take out some form of loan to meet the costs associated with purchasing a vehicle.
Leasing is an alternative that you might want to consider if having complete ownership of your fleet is not a high priority for your company.
It is far simpler to create a budget for this method of vehicle procurement, and it is more likely to provide you with access to a newer and wider selection of vehicles than you would obtain if you were to buy them outright. As a result, there has been a shift toward this method of vehicle procurement.
Maintain a close check on your vehicle's upkeep expenditures and make a mental note of when they begin to escalate in relation to the vehicle's age. In addition, it is important to consider the terms of the manufacturer's warranty and how they will impact the total cost of ownership. Gain an understanding of the vehicle's residual value, the changes that have occurred in the market for used vehicles, and the optimal time to sell the vehicle to maximize profitability for a fleet.
Make sure your vehicles have the right specs

.
It is essential to have a solid understanding of the obstacles that will be encountered by each vehicle. Spend some time planning how you will use your automobile. Doing so will help you keep your expenses to a minimum. If you under-specify a vehicle, such as a car, van, or truck, depending on how it will be used and the load it will carry, for example, you will have maintenance issues along the way, which could have an impact on your budget.
Similarly, using vehicles with excessively high specifications may unnecessarily drive up the costs of fleet. When looking into replacement vehicles, it is best to consult with your fleet management business, if you already have one, based on utilization, working conditions, what is being transported, and so on.
Prevent maintenance
Vehicles that are regularly serviced and inspected reduce the likelihood of unscheduled repairs and the amount of time spent off the road. Alternating the oil, rotating and/or inspecting the tires, and performing general safety checks are all examples of preventative maintenance tasks that may be performed. 
Always remember to rotate your tires and perform general vehicle inspections consistently, even whether you are using an oil life monitor or changing your oil at a predetermined mileage interval. All too frequently, this is the only time a vehicle has been inspected thoroughly in every way to ensure that all of its components, including fluid levels, air pressure in tires, lights, and so on, are operating at a level that is acceptable and safe. 
Manage gasoline costs
When a firm has a fleet of vehicles, the cost of fuel can become a significant expense. This is often the second highest expense after the price of the vehicle itself, and if you are able to minimize it or manage it more effectively, you will be well on your way to making significant savings. Signing up for a service that provides fuel cards is one option for accomplishing this goal.
A fuel card is similar to a credit card in that it may be used for purchasing gasoline and other products with associated prices, including oil and windshield washer fluid. They make it possible for you to keep track of exactly how much money you spend on fuel, as well as when and where your staff is refueling their vehicles. This gives you the ability to exercise complete command over the management of your gasoline.
They also have the potential to be utilized as a method for combating fraud. Your drivers will not be able to falsely report using more fuel than they actually have or fill up vehicles that are not a part of your fleet if you provide them with fuel cards to use. Because there is no need to deal with receipts and invoices for refunds and reimbursements, using a fuel card will also help you reduce the amount of money you spend on administrative costs.
Encourage your drivers to operate their vehicles safely and effectively.
Because of this, you may incur additional expenses in the near term, such as paying for additional training for your drivers; but, the effects that this has on you in the long term may be beneficial. You can save up to 15 percent on gasoline by encouraging your team to improve their driving habits and drive more safely, which will also lessen the likelihood that they will be involved in an accident.
The following are some of the things that you may want to encourage them to do:
Always make sure that your tires have the appropriate amount of air pressure in them. Not only can improperly inflated tires be dangerous, but they can also be expensive because they will wear out faster and need to be replaced more frequently. It also dramatically raises the amount of fuel that is used. It is important to check the pressure in your tires on a regular basis, but especially before or after long trips. You might wish to give drivers portable tire pressure monitors and make it their obligation to check their tires on a regular basis. Another option would be to make this a requirement for them.
Utilizing gears in a more effective manner: When increasing speed, the engine revolutions should be kept under control, and the gears should be switched at the appropriate time and in a block—for example, from third to fifth, rather than moving up the gearbox—in order to maximize the vehicle's performance. When shifting down the gears in order to slow the engine down, the same principle should be followed.
Turn off the air conditioning. Turning on the air conditioning in a vehicle can be a welcome relief on a sweltering day, but it also causes a large increase in the amount of fuel that is consumed, particularly when the vehicle is traveling at slower speeds. Although it is important that your drivers feel safe and comfortable in their vehicles, you should encourage them to keep the windows open as much as possible so that they can stay cool. However, it is essential to make use of the air conditioning on a regular basis in order to guarantee that it will function properly in the event that your drivers have no other option.
Make sure the engine is turned off: Long-distance drivers have a greater chance of being stuck in traffic for extended periods of time. Turn off the engine if you are going to be standing still for more than three minutes and it is safe to do so.
Get rid of any unnecessary clutter: Make it a habit to regularly clean out the trunk or the back of the vehicle, and only keep the necessary equipment or tools in there.
Predicting the conditions of the road: Drivers can reduce the amount of unnecessary braking and accelerating they use and make greater use of their vehicle's natural traction by looking ahead and better forecasting the conditions of the road. Encourage the drivers to examine three or four vehicles ahead of them and think out what kind of maneuvers they should perform as far in advance as possible to avoid taking any rash moves at the last minute.
Reduce your speed: The quicker your employees travel, the more gasoline they will consume, and the greater the possibility that they may be involved in an accident that could have been avoided. You can earn some significant financial gains and lessen the likelihood of being involved in an accident by reducing your speed by as little as a few miles per hour.
Maintain vigilance over your organizational structures and conduct routine audits of them.
No matter how many precautions you take, even the most well-run commercial fleets can be derailed by external forces beyond their ability to influence. Taxes, rising fuel prices, and recently passed legislation are examples of these. These factors will, of course, have an impact on the total cost of maintaining the fleet of vehicles and paying the drivers. However, you must keep an eye on these developments and consider the aspects of the scenario over which you do have influence in order to determine how you may save costs.