SNAILS KIDS safe nail polish

I just received a package to review from – Athens, Greece!  What's this? I thought.  And when I opened it, there were two small bottles of ravishingly bright nail polish.  HMMMM, I thought.  I don't WEAR nail polish.  But my granddaughter Libby does!  And does she EVER get angry when she smooshes the nail polish and has to do it over.
THIS nail polish does not ruin your children's nails, it comes off WITH water, and comes in 18 colors.  I personally would also use a nail polish that has no harsh chemicals in it, as my nails are fragile, and I don't like nail polish removers that are smelly and hard on my nails.  SO Libby got her nails done, and then she did mine!
A high five for companies like SNAILS who are coming out with not only environmentally friendly but non chemical products that we put on our skin, nails and hair.  We have to start somewhere to get the chemicals OUT of our environment and it is companies like SNAILS that provide a quality and SAFE product.  It's never too soon to let our children know: chemicals are NOT good for us!
From the SNAILS KIDS website:
Time for little ladies to emulate mummy and explore exciting cosmetics with the world's safest nail polish. SNAILS Kids range will delight imaginations with 18 vibrant colours, each with a glorious high quality gloss and deliciously gentle fragrance. But the beauty of our custom-formulated children's nail polish extends beyond skin deep.
Despite the name, Snail Kids products are also popular among women who prefer a washable nail polish that doesn't contain toxic chemicals.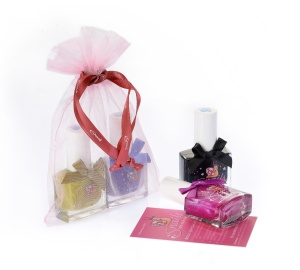 You can buy SNAILS with absolute confidence because every polish is 100% European made. This means we satisfy the world's strictest cosmetics laws. Our children's nail polish is lovingly made using our revolutionary three–ingredient formula. With SNAILS Kids nail polish there are no harsh harmful chemicals, so there's no risk. Just genuinely natural nail polish that is safe for girls of all ages to enjoy.
Revolutionary formula: SNAILS Kids is made of three safe, simple, main ingredients: water, acrylic polymer and non–toxic colorants.
Biodegradable: all SNAILS Kids nail polishes are packaged in recyclable bottles and boxes
Eco friendly: we never test on animals and our products carry enhanced green credibility.
Completely soluble: no harsh solvent–based remover needed. Simple soap and water effortlessly remove SNAILS Kids nail polish.
Hypoallergenic: SNAILS nail polish for children is purely chemical and toxin free. So little nails are kept safe, sound and splendidly coloured."

This nail polish also has a sweet smell to it, and makes a wonderful gift for all girl pajama parties, those sweet birthday parties, and just as a wonderful gift to make your little girl feel like the Queen Mother!
Ratings are based on a 5-star scale
Overall: 5
Review by Broad "A" – Ava
We received product to facilitate our review.  All opinions are our own
SNAILS is available for purchase online and at LOCATIONS around the world.