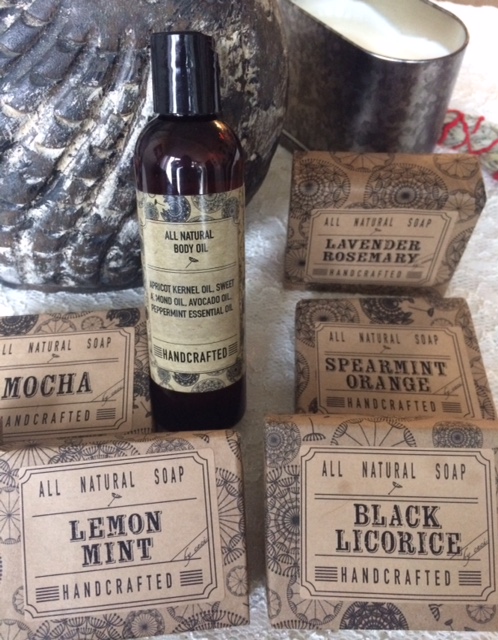 If you have been reading The Review Broads, you know how I simply subsume and love ALL natural products for the bath, face and body!  Part of my new regime to take care of myself is to give myself lovely soaps and great body moisturizers, as I am one of those people who get caught up in taking care of others instead of myself.  It just seems easier to help others, because I have to really WORK at giving myself things, even good health care!  So I am a poet waxing poetic over the new soaps, body oils, and lip balm that I just received from By Ceci. They help ensure that I take the time to love ME and to give my body the love it deserves!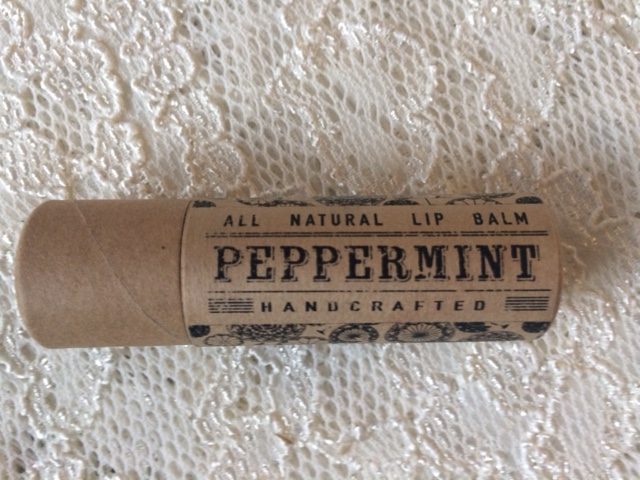 CECI HUDDY is a real person in Brooklyn who conjures up these winsome, ethereal scents and puts them into her soaps, oils and lip balms.  The peppermint body oil with ESSENTIAL peppermint oil, and peppermint lip balm offers up a pristine, pure scent that turned me into an immediate fan.  I have been using the body oil as a face oil for the last week, and my face has never been softer, never so moist and smooth.  All handmade, always with essential oils, totally all natural, these body and bath products are too amazing for words.  I just went and ordered two more bottles of oils and a bag of "bath tea" – I'm afraid I will run out of my new face moisturizer.  I have always been a fan of oils rather than cream on my face and the delightful peppermint smell helps me fall asleep nights.  I feel like I had three wishes given to me by The Genie and all three came true: peppermint lip balm (it is not greasy at all, nor slimy like some lip glosses.  This one is almost creamy rather than waxy but smells so good I keep putting it on my lips, which are moister than they have ever been!  The peppermint body oil is my second wish come true, and the soaps are the third.  Thank you CeCi I am in an All Natural Bath Night Heaven!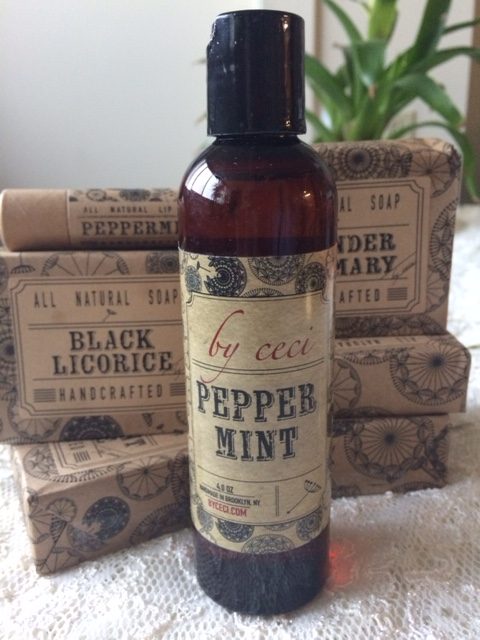 BY CECI's Story (from BYCECI.com)
"Behind all By CeCi creations stands Cecilia. Growing up in Europe as part of an Italian-Bosnian family and having a chef as father, along with two Italian nonnas, creating with her own hands is a virtue she adopted from childhood. It first developed through art and theater, but after moving to America she found love in the ability to make her own things. While researching truly natural products for household and beauty, she started making her own soap, and fell in love with it, maybe because math and chemistry used to be her favorite subjects, or maybe because being able to create something useful and at the same time beautiful just seemed to speak to her essence. She is excited to go on this journey of owning her own business and bringing her joy for creation from her Brooklyn soap kitchen into your home".
PRODUCTS: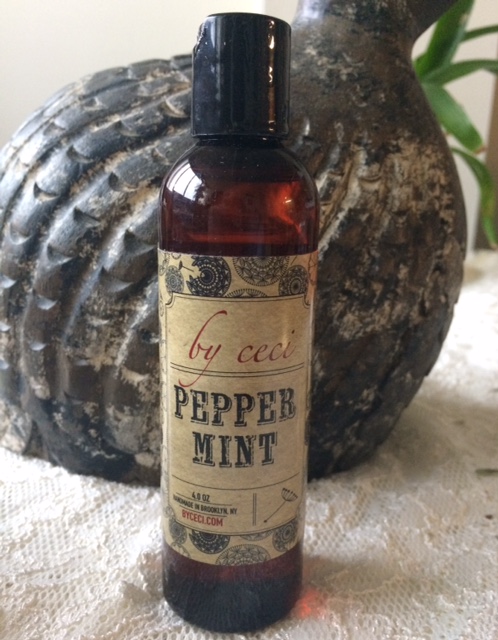 PEPPERMINT ESSENTIAL OIL BODY OIL – The fresh and invigorating peppermint essential oil leaves your body tingly and cool all over. A perfect mood booster for a hot summer day. We love this as a massage oil or added to a nice hot bath. It is truly vitalizing. Made with Apricot Kernel Oil, Sweet Almond Oil, Avocado Oil, and Peppermint Essential Oil, this body oil leaves skin that moans with silkiness and softness.
Besides Peppermint Body Oil, other byCeCi body oils are:
Breathe Deep Body Oil, Hint of Vanilla Body Oil, Lavender Mint Body Oil, Rose Garden Body Oil, Sweet Lavender Body Oil
SOAPS:
Scented with all natural essential oils, which are generally expensive due to their processing method (concentrated liquids extracted from plants by steam distillation or cold pressing), by CeCi soaps do not have any synthetic ingredients, fragrances or colorants.  The soaps are colored with natural botanicals and herbs (turmeric, charcoal, indigo, kelp, etc.).  Never anything synthetic!  AND no man made chemical preservatives.  My products are preserved with essential oils, vitamin E or rosemary oil extract.  Although the shelf life may not be as long as commercial products, these all natural ingredients do wonders for your skin!
BATH TEA AND BATH SALTS:
All natural herbs and petals, cotton bag included for soaking in the tub!
So give yourself an amazing trip to byCeCi.com and take care of your body this winter!  And mark off another bucket list resolution: TAKE CARE OF ME in 2017!!
LIP BALM:
I have the peppermint lip balm made with Organic Extra Virgin Coconut Oil, Beeswax, Sweet Almond Oil, Organic Shea Butter, Castor Oil, and Essential Oil of Peppermint and packaged in a large tube of natural packaging.  It is amazing! Unlike other lip balms there is no greasy after affect and it stays on a long time on my winter hikes!
Other flavors include chocolates, unflavored and orange spice.
Ratings are based on a 5-star scale 
Overall:  Huge 5 for this Perk My Body Up all natural body boutique! 
Review by Broad "A" 
We received a product to facilitate our review. All opinions are our own

Find these and MORE natural products at: by CeCi