A clean and well-looked-after bathroom can really make your home feel and look much better, and no matter whether you have a small bathroom or a large one, keeping it clean is essential. With that in mind, keep reading to find out how to do it so your bathroom always looks great and lasts for as long as possible.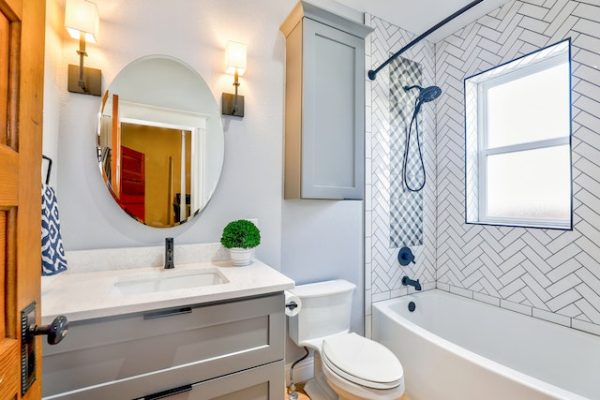 Clean Your Tiles Properly 
The tiles in your bathroom play a huge role in the overall look, so it's wise to look into how to clean them properly if you want your bathroom to look good in general. The problem is that over time, soap scum, grime, mineral deposits, and even hair can accumulate on the tiles, making them look unpleasant and dirty. The best thing to do is to invest in a high-quality tile cleaner that's suitable for your specific type of tile – remember there are many different types of tiles, such as ceramic, porcelain, natural stone, and others, and choosing the right cleaning solution will make a big difference (plus, it won't accidentally damage the tiles either). 
Equally important is choosing the right cleaning tools. A soft-bristle brush or a microfibre cloth can be great things to use when it comes to removing dirt and grime from your tiles, and if you have tiles on the floor, you should look for the best floor buffer for home use to keep them shiny. For hard-to-reach places, use an old toothbrush or even a grout brush if you prefer, and in that way, you can be sure you're cleaning every inch. 
Organise And Store Toiletries 
Clutter in the bathroom doesn't just look untidy, but it can make cleaning more challenging too – you might even decide not to do it at all. So, to keep your bathroom clean and tidy, it's wise to look into how you might organise and store your toiletries. 
One great option is to buy bathroom organisers like shelves, cabinets, or perhaps laundry baskets (depending on how much space you have) so you can keep everything neatly arranged. If you use clean containers to keep things in, you won't have to root around in boxes making a mess when you need something, and labelling will help too. Plus, make it a habit to declutter your bathroom once a month or so to help you keep things tidy. 
Have Good Ventilation 
If you're wondering why your bathroom gets damp and mouldy or it never seems to feel dry – perhaps the walls are constantly wet, for example – it might be that you have an issue with your ventilation, and that can cause problems when you're trying to keep your bathroom clean. 
When the ventilation doesn't work (or doesn't exist), the air stays damp, and that leads to mould and mildew on the tiles, curtains or blinds, shower curtains, towels, grout, and anything else that's in there. Not only does it look bad, but it can cause health issues too, so you'll need to get rid of it as soon as possible. 
Of course, to prevent the mould from returning, you'll need to make sure your ventilation is better. If you have a fan, make sure it's used before, during, and after you have a shower or bath, and always clean it to ensure it's working properly. If you don't have a fan, install one if possible, but if not, keep your windows open when you're using the bathroom.