Creating an outdoor deck that is perfect for entertaining can be a fun and rewarding project. However, it can also be a bit daunting, especially if you are not familiar with the process. That is why we have put together this comprehensive guide on creating the ultimate outdoor deck for entertainment. We will walk you through each step of the process, from planning and design to construction and finishing touches. By following our tips, you can create a beautiful and functional deck that will be the envy of your neighborhood!
Start by Determining Your Needs:
The first step to creating the perfect outdoor deck is determining your needs. Knowing what you want out of a deck will help you plan, design, and budget accordingly. For example, consider how much seating you need, if you'd like an attached or detached structure, and the size of the deck that would best fit your space. You should also consider other elements such as storage areas, built-in grills or fire pits, potential shade options, and even any required permitting for building a deck in your area.
You might also consider the materials you want to use for your deck. Some popular options are wood, composite, and PVC, each of which offers its benefits. Wood is a classic look that can be stained or painted in any color, composite requires less maintenance than wood but can still be stained and comes in various colors, and PVC is almost effortless to maintain and requires no staining.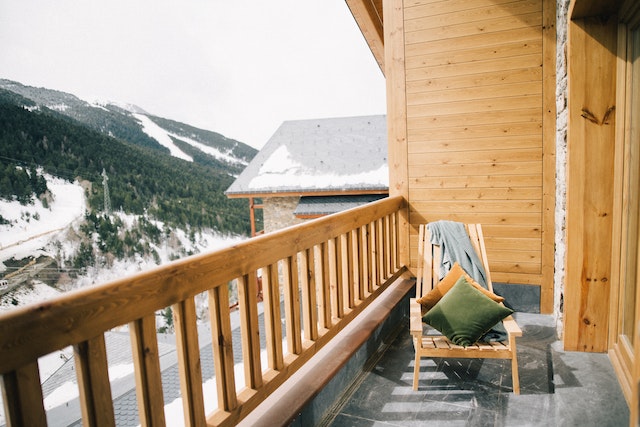 Create a Design Plan:
After establishing your needs, it's time to create a design plan. This will help provide structure as you move through the process and ensure that your deck is exactly what you envisioned. Start by sketching out a basic outline of your deck, including measurements of the space and any desired features. Next, ensure that your design complies with local building codes related to size, placement, materials, etc. Additionally, consider how you would like to arrange furniture and other decorations on the deck for entertainment – this will help determine how much room you'll need.
Determine what type of decking material you want to use. There are a variety of options available that range from wood or composite to synthetic or natural materials. The type chosen should complement your home's style while offering durability and longevity in the outdoors. Certain types may require more maintenance than others, so make sure you research accordingly before making a final decision.
Think about the activities you would like to use your deck for. Consider installing a built-in barbecue or smoker if you're an avid griller. If entertaining is your style, plan for plenty of seating space and maybe even an outdoor bar or a fire pit for conversation and relaxation. You could also add lighting options such as solar-powered lamps, path lights, tiki torches, etc., which will create a cozy atmosphere when night falls.
Select the Right Tools and Materials:
Once you have a design plan, it's time to select the right tools and materials for the job. You will need essential construction tools such as saws, drills, hammers, and screwdrivers. Depending on your project, other specialized tools, such as circular saws or routers, may also be required. Make sure to use quality materials so that your deck is built to last – ask questions of your local supplier if needed.
The type of material you choose will depend mainly on what you are looking to achieve with your deck. Many options are available, from traditional wood boards to composite decks made from recycled plastic. Be sure to research each material's benefits before making a final decision.
Construct The Deck:
Now that you have all the tools and materials, it's time to start building! Begin by laying a foundation – this could be anything from concrete footings to wooden beams depending on your design plan. Next, make sure to use the appropriate screws or nails for attaching joists, deck boards, and other pieces of hardware. If you are unsure of how to proceed at any point, consult with professionals for advice before continuing.
Keep things level as you go, and double-check your measurements often. It is important to get each step right, as there will be no room for mistakes when constructing an outdoor deck. After everything is in place, inspect the entire structure and make sure all pieces are secure.
Once your deck is finished, it's time to get it ready for entertaining! Start by applying a sealant or waterproofing product to protect the wood from moisture and other elements. This will also help maintain its longevity and appearance.
Add a Little Extra:
Adding pergola shades to your outdoor deck is an extra touch that can really spruce up the look. It adds a nice, elegant aesthetic to the area, and pergola shades provide significantly more protection from the sun's harmful rays than umbrellas alone. This makes them ideal for those hot summer days when you still want to enjoy outdoor time without getting too much sun exposure.
Pergolas are also great if you're looking for shade while entertaining guests on your deck. They'll give you and your guests an oasis of cool during an otherwise-hot day outside! Pergolas come in all shapes and sizes, so ensure you get one that fits your outdoor space perfectly.
Not only are pergola shades great for providing some much-needed relief from the sun, but they can also be used to give you a bit of privacy from your neighbors. If you don't like the idea of your guests being on display for everyone to see, pergola shades can provide a nice bit of coverage without blocking out the view completely.
Creating the ultimate outdoor deck for entertainment is an achievable task. With careful planning and precise execution, you can create a beautiful space that will make your backyard the envy of the neighborhood. Don't skimp on materials or tools – use quality items for best results! Be sure to add pergola shades as well for additional shade and privacy. Following these steps will get you on your way to a fabulous outdoor space that will be perfect for entertaining.