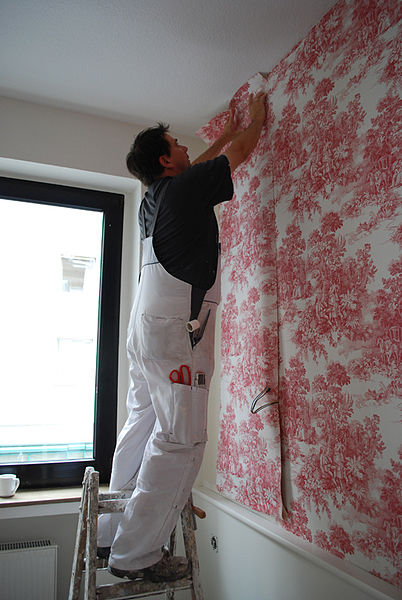 Whether you're planning a big redecoration project or simply looking to freshen up a particular room in the house, it's important to choose the right wallpaper for your purposes. The cheapest way to change the appearance of any room is to repaint or paper the walls, and you can alter the furniture to match with a simple coat of paint or stain. There's so much choice on the market in terms of styles, colours and textures of wallpaper, but don't get intimidated. Allow your personal preferences and the physical attributes of the room you're decorating to guide your decision and you won't go wrong.
Finding Inspiration
It's very important that you choose wallpaper that you're going to still like as the weeks and months go on. Bold, pattered papers may seem like a great choice in the store but you may tire of them quickly. The best thing to do is to browse selections online and pin samples to your walls. Leave the samples there for a couple of weeks and ensure that you can live with them. It may also help to create a physical or online pin board with different styles and colours of wallpaper that you've picked out. You can draw inspiration from this and compare papers easily in order to decide on the best one for your particular tastes and needs.
Small Rooms
If you're decorating a small room, make sure you choose a paper that suits this kind of space. Mylar and foil papers are great choices for smaller spaces that have little or no natural light, due to their reflective qualities. However, it's important to remember that these papers have shiny surfaces that tend to accentuate any imperfections on the surface of the wall. Papers will vertical stripes or patterns will make any ceiling appear higher, whereas horizontal stripes will widen the room and make the ceiling seem lower. Choose smaller prints or geometric designs for rooms with limited space, as you don't want the wallpaper pattern to overwhelm the room.
Larger Rooms
You can definitely get away with a darker colour of wallpaper in a large room. Take advantage of wallpapers with bigger, more romantic patterns on them, like those available from Wallpaper Sales. If you're unsure about committing to papering the whole room with a busy design, just choose a single wall to feature. Flocked papers are those with raised, tactile patterns on them and they can look very effective in larger spaces. They do need to be hung professionally, but they are great for covering up minor surface imperfections on walls.