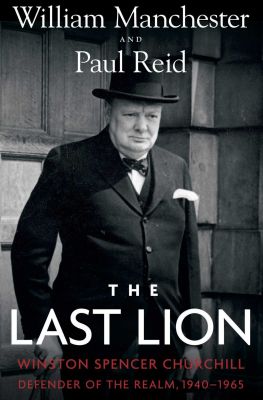 The Last Lion: Winston Spencer Churchill: Defender of the Realm, 1940-1965
By William Manchester and Paul Reid
This last in the great three volumes detailing Winston Churchill's life and times was begun by his biographer, the great William Manchester.  As Manchester was dying and only started on this last of the trilogy of England's Best, he asked Paul Reid to finish the manuscript.  And he has done a wonderful job.
As Churchill assumes the prime ministry of England to face the demons of Hitler seemingly alone, he says only never Give Up.  As we see the true man behind the myth, we see a man arrogant, strong willed, aristrocratic, sometimes demeaning and mean to his staff and others, a wonderful family man and deeply in love with Clementine, his wife and children, his daughters.  The complexity of the man makes this biography so compelling, so thought provoking and so full of the rich and mysterious victory of Churchill's will to bring his England to its full glory and fall Hitler that every page reads like fiction.  But don't misunderstand: Manchester and Reid have caught every nuance, every pettiness, every act of kindness after every pettiness, every brilliant strategy of the man Churchill, called the Old Man by everyone who knew him.  He was only 65 when he became prime minister and he held onto his power as long as he could, until his second stroke debilitated him.
This thousand page arena of a war that would have been lost without Churchill at the helm of England reads like fiction.  It is that good.  Every nuance of every meeting is detailed in a manner that interests instead of bores.  This is not just a book to place on your end table.  This is probably one of the best biographies of not just Churchill as man and leader but of all the men and women that played into the parts of the war machine: the Queen, Roosevelt, the generals, the strategies, the cryptographers; and as a delightful aside, Reid gives us the real man, Churchill, in all of his cruelties, his imbibing, his great will that England could not be diminished.  Absolutely and incredibly, Reid has put the times, the War, Hitler, the Allies and a man on paper.  And succeeded.  Manchester would be proud.
Powerfully presenting the full arena of all aspects of the political situation both in England and Hitler's Europe as well as his skill at calling Roosevelt into the war as an ally, this is a voluminous but fascinating history of not just a great man but a time of great crisis and military strategy on both sides.
A not to miss gift for yourself, your family and the men in your life, all of us really that admire the conquest of the greatest evil of our time by the genius of one man: Winston Spencer Churchill.
Looking at Ansel Adams: The Photographs and the Man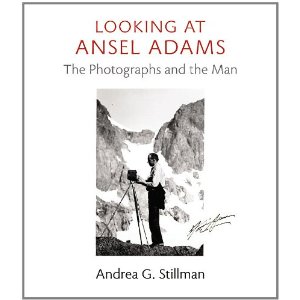 By Andrea G. Stillman
Steiglitz, O'Keefe, Edward Weston, Wallace Stegner, John Marin, Paul Strand – all contemporaries and friends of Ansel Adams are memorialized in Adam's letters, photographs of the artist at home and on site, and his life dwells within every page of this compilation of one of the greatest artists of our times,  Ansel Adams.  Stillman, Ansel's former assistant and expert on Ansel's work, presents not only the photographs that we know and love, but photographs Adams took of his friends, his life, and details of the world that surrounded him.  Adams did not call himself a landscape photographer; he was too complex and curious for any kind of label.  In this spectacular edition, Stillman has caught Adams from the lens of his friends, his wife, as well as the man himself.
Every artist is a person, and we forget that their lives are full of more than one dimension, their art.  If anyone has presented Adams on the page it is Stillman.  The twenty photographs in the volume are presented with the stories behind them.  Adams stories, his letters, others letters to him, along with Ansel and Virginia's giant trove of hoarded papers allow us to see the man as he was, and is today, not just as a genius.   We also hear of Ansel's true love, a model that he almost left Virginia for, and yet their relationship was chaste.
Pictures of the family, Virginia, Anne, his daughter, Michael, his son and Ansel himself depict the depth of family that Adams held dear.  Adams was not only an artist; he was an active leader and statesman of the modern environmental movement.
An astounding book and a beautiful one, Looking at Ansel Adams allows the reader into the heart and home, as well as studio, of one of our most celebrated artists of his time.
By: Hunter Davies
This is not a volume on the trivia of John Lennon and Yoko Ono, although their letters to each other are prominent in the volume.  Rather, this is an in depth collection of John's letters from childhood to his death collected from all over the world.  A deeply complex man, John's loves were deep; and yet he and Paul wrote ferociously to each other about the desertion of John from the Beatles.
Each of John's letters come with his funny illustrations and depict a man who could be childish, trivial, deep, committed and loyal to a fault.  And yet John always put John first, as he saw himself as the leader, a role he would never compromise no matter how he felt about the person or persons trying to take that control away.
John's first marriage to Cynthia and his desertion of his son Julian comes out in his letters and his yearning that he could have done better.  From his childhood, we see his family, his parents, his sisters, and each letter details the man whom John would later become.
This is one of the most fulfilling books on Lennon that I have read.  Many of the letters are written in John's own languages, with puns to friends that Davies has put in context.  If you want to know who John Lennon really was, this is a volume both beautiful and extensive that gives us a view into the life of a quirky and sometimes difficult, sometimes overly romantic man who wrote the best songs of his generation.
Reviews by Broad "A" – Ava
We received a copy of this title for our book review. All opinions are our own.