Topping the gift giving charts this year is a smartphone and who doesn't want the COOLEST phone on the block? Whether you're a teen with your first phone or someone like ME who can't imagine being without my phone, text, e-mails and internet for a hot minute, everyone wants this year's upgrade.
This season I've had the opportunity to play with everything from the iPhone5 to the new Nokia Lumia 920, and my heart belongs to this new windows phone. Funny, I had no clue that Nokia was even MAKING phones anymore (I remember my first Nokia phone fondly), so when my funky black & white phone with colorful window tiles arrived I was psyched to PLAY!
And PLAY I DID…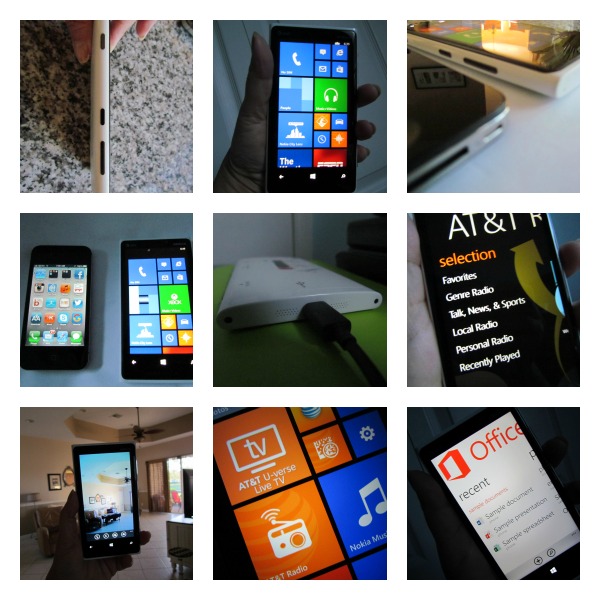 Being an iPhone enthusiast I figured that the new Lumia 920 was pretty, but wouldn't give me the function that I'm used to. Before the iPhone, I was an android. I thought I had found the BEST but…
COLOR ME WRONG
As I began playing with the fun tiles that dot the phone's home page, I realize that I can customize them to my hearts desire and change them as often as I change my accessories (which can be multiple times per day).  My favorite option is being able to access Microsoft's OFFICE programs – something that I've been wanting in a smartphone, but never had.
SIZE
It may not be bigger than a breadbox, but this windows phone towers in size over the iPhone and has some weight to it. I thought that thin was in, but I'm thinking that Reubens had it right….a little weight makes you look good.
STYLE
I know that a smartphone is supposed to be all about function, but I'm all about style and this phone certainly matches my taste. With tiles that can be changed to reflect what you want on your front page, to changing the colors and the outer shell, this phone can be ordered in some hot colors. Of course personalizing this phone is completely up to YOU. One look at the screen and you'll see just how vivid it is. It is sunlight enhanced, so unlike my "other" phone, I can see it even in our bright Florida sunshine, and it adjusts automatically.
LOVE
My favorite features include the AMAZING camera that takes sharp photos. It doesn't hurt that it has a built in ZEISS lens and stabilization – something that I desperately need when I'm taking drink photos 😉 Whether I'm using it in low lighting or with a flash, I get very consistent pictures.
Microsoft Office on my smartphone is JUST what the doctor ordered. I can update and get my docs on the fly, and there's even the ability to upgrade to the Sharepoint  and Exchange, allowing me to leave my tablet at home.
NOT SO MUCH
While it's packed with incredible features and entertainment, including XBox games, music, movies, tv and more – all of that runs on a battery that seems to drain a bit quicker than I'd like. I'm hoping that there is a Mophie case for this model for this model soon, as I need protection AND extra battery life.
WANT MORE INFO?
Head over to your local AT&T store or visit AT&T online and get the gift that Santa forgot.
I received a Nokia Lumia 920 from AT&T to facilitate this post. All opinions are strictly my own.