Sometimes the strange becomes the joyous!
Adult Art Therapy
Subscription Art to Relax By (for your Inner Kid)
This subscription service is totally awesome! 
Every month, you receive 4 Art Therapy Issues and different pencils and markers and pastels to PLAY and color – the magazines also contain lots of healthy hints on relaxing and playing to relax.  For $19.95 per month, you get FOUR different Art therapy "books" for YOU!  As you receive your magazines, you will also build an amazing set of coloring utensils and supplies for coloring.
And you can upload your finished pictures on their gallery page right on their site!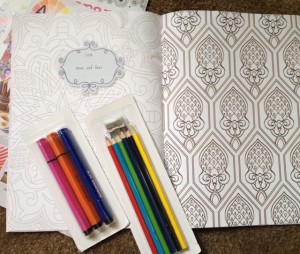 "Receive your monthly dose of relaxing coloring! Every month, get inspired with 4 Art therapy

Each magazine is packed with gorgeous coloring designs plus creative coloring techniques and relaxation tips. You'll also build an amazing coloring set as you go, with the high-quality coloring supplies provided with every issue.

Pencils
Coloring pencils: We've selected artist-quality coloring pencils with superior pigments to transfer the color to the paper quickly and evenly. They blend together easily to create a wide range of subtle shades.
Pastel pencils: The rich colors can be easily blended or smudged and can be sharpened to a point for fine detail. The pigments are encased in a solid, round wood barrel for a clean use.
Metallic pencils: These great pencils will give a fantastic shimmering effect and add some sparkle to your designs.
Watercolor pencils: These pencils can be used dry or transformed with a few brushstrokes to give a watercolor finish to your designs.
Markers

With both brush and extra-fine tip, the vibrant shades of these markers are perfect for adding details and highlights to your coloring work."
THIS ITEM rocks for Christmas! 
Or anytime!  Color by numbers, artist's visions, and beautiful mandalas: find your creativity in this wonderful idea to keep yourself young and creative.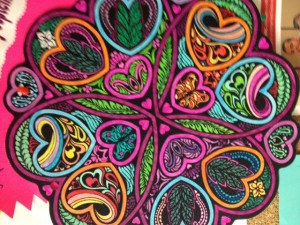 P.S. Wondering what your Senior would like for the holidays?  THIS IS A TRULY SPECIAL gift to put into their stocking!
WHAT I WOULD LIKE TO SEE:
More pages of art to color and more pages in each issue.
Ratings are based on a 5-star scale
Overall: 3
Review by Broad "A" 
We received a product to facilitate our review. All opinions are our own
Details