It's a Dirty Job but Someone's Got to Do It
I am a cleaning freak.  I am not on the OCD scale, but close.  I like my bathroom to sparkle like newly cleaned teeth, I like my sink to smell like roses.  And I am constantly collecting cleaning products to test them out.  I have NEVER come across a product I like as much as Frosch – Germany's "Most Trusted Brand (Reader's Digest, 2001-2015)." Most important to me, Frosch household cleaners are ALL NATURAL.  FROSCH is now making its US debut with these ecofriendly products that are GREEN and SQUEAKY CLEAN.  I am going on record and making a bold statement when I say that I loved using these products.  I did not have to scrub at all, they left a stunning gleam to everything that they touched, all of them, and they made my cleaning day a joy.  Wonderful light scent also, no harshness and my throat didn't ache when I cleaned my stove.
Green is important to The Review Broads.  Let's face it – we all need to pay attention to GREEN, our environment and the chemicals that are constantly around our home and environment.
FROSCH offers GREEN – with no compromise.
I received FROSCH grapefruit kitchen cleaner, FROSCH bio-spirit glass cleaner, and FROSCH Lemon Shower and bath cleaner.  All three products are amazing.  I live in an old apartment building in downtown Salt Lake City, and although the apartments are huge and quaint, they offer old bathtubs with built in water rings and sinks.  I was astonished that the Frosh Lemon Shower and Bath Cleaner gleamed into my tub and took away ALL THE WATER stains around the stopper that had been there for the two years I have lived here.  I didn't scrub, and my tub glistened.  I have never used a better product in my life.
The scents – lemon in the bathroom cleaner and grapefruit in the kitchen cleaner are fresh, not tart, and not overwhelming. After I cleaned the toilet and flushed, the scent lingered very lightly, almost an aftertaste of a delicious tart, or the hint of a favorite perfume.  It is easy to wax poetic about these products – they have made my cleaning duties easy and fun.  Like all tasks, we like to see an amazing result and housecleaning is no different.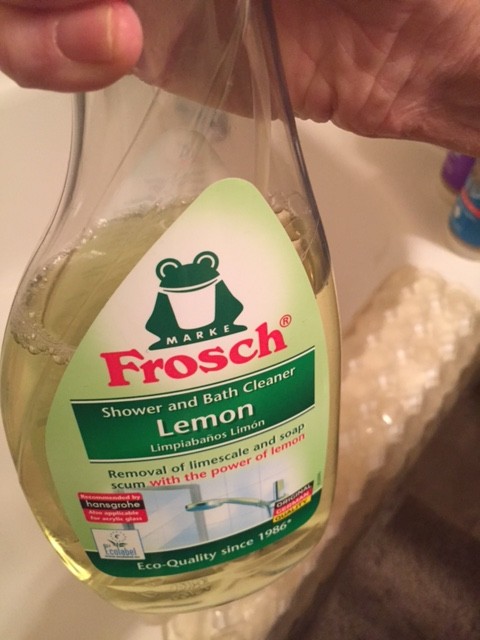 These products speak for themselves and can be obtained at Frosch online. 
Frosch offers 13 different products with no harsh chemicals, no harsh chemical smells and lung inhalation, no breathing in of hurtful chemicals.  Frosch offers" green cleaning without compromise" for every single corner of your home.  WITH ONLY NATURAL ingredients, these products are wonderful if you have children, pets, and humans living in your home!
Some Cleaning Hacks from Frosch:
Clean from the top down, starting at the ceiling/windows and finishing with the floors
Dust first (before decorating) and vacuum last
Keep your home healthy with green cleaning products
Use reusable microfiber cleaning cloths instead of disposables
Prewash entertaining glassware and platters to ensure a sparkling clean for your guests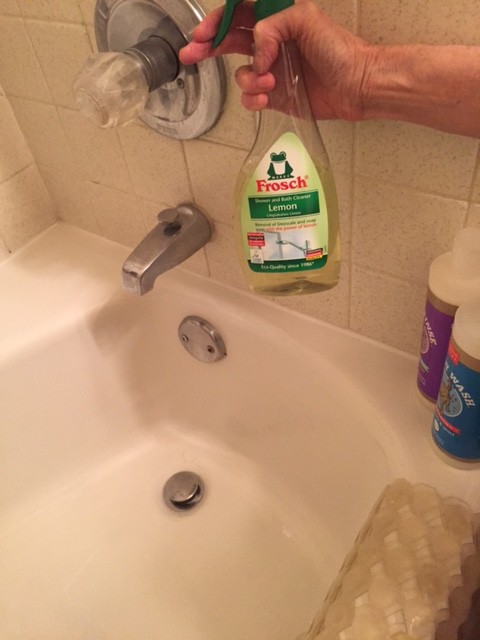 INFORMATION on the three products I used:
Lemon Shower and Bath Cleaner (500 ml)
Removes lime scale, soap scum and water stains in the bathroom
Features a lemon acid formula that is ideal for general bathroom cleaning
Eliminates unpleasant odors and leaves a fresh, lemon scent
Awarded in Europe with C2C Gold VEGAN
Grapefruit Kitchen Cleaner (500 ml)
Efficient cleaning of all kitchen areas
Powerful formula with grapefruit extracts removes grease, persistent dirt and residue surfaces (it cleaned my oven surface too!!!! I was amazed).
Ideal for ovens and grills
Leaves a pleasant, fruity light grapefruit smell
FOOD SAFE
VEGA
Bio Spirit Glass Cleaner (500 ml)
Formula with powerful, grease cutting alcohol provides a streak free sparking cleanliness in a natural way (and no harsh smells!)
Leaves surfaces clean and brilliant
TEST WINNER in German Car Magazine Autobild
VEGAN
I especially loved this glass cleaner because I did not have to go back over and over to catch the "little streakies" that my normal, brand name glass cleaner misses.  THIS glass cleaner does not streak and you don't have that "glass cleaner sniff and scratch" smell that I hate!
These products are absolutely the best that I have ever used.  I am going to the website and ordering the Baking Soda All Purpose Cleaner (500 ml) – because I have to have it!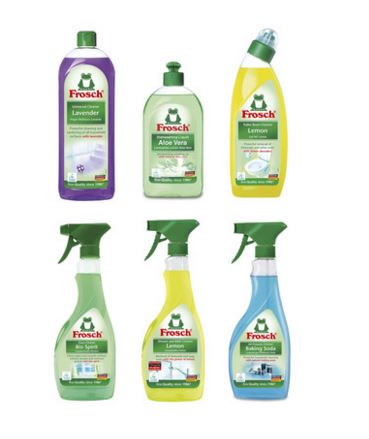 MY ONLY COMPLAINT
I wanted the bottles to be bigger!  I wanted MORE!
DETAILS
For more information or to order Frosch products visit FroschUSA
Ratings are based on a 5-star scale
Overall: 5+++++
Review by Broad "A"
We received product to facilitate this review. All opinions are our own