IN TAUNTINGLY DELICIOUS NEW FLAVORS
That's what I'm talking about!
Sweet Mint.  Cinnamon Bun.  Vanilla Biscotti.  Spiced Chai.  Cinnamon Streusal.  Lemon Chiffon.  Peach Cobbler.  Crème Caramel.  Sounds like a round up for a Sunday Brunch at the Hilton, no?  But guess what?  These are all NEW Simply Indulgent flavors from Red Rose naturally flavored premium black tea blends!  And they come in single serve packages of 12 for Keurig Brewers (except Vue brewers) as well as packages of 20 tea bags!
Now, mostly I am a coffee freak, as is Z!  But when Red Rose showed me the flavors, I went wild (as wild as one can in Utah, which means to stop staring at the cold, snow covered mountains, and turn up the thermostat) – so I thought TEA!  TEA is what cheers me up in Utah's gloomy, freezing snow bound weather (I refuse to think of those who are at Sundance skiing – my budget only allows for beverage highs!).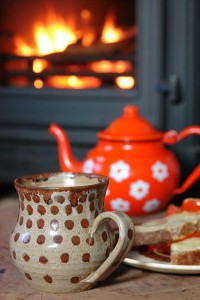 These flavors are so natural, so tart and tingly – stunning flavors in the mouth!  What a wonderful gift too for any hostess who knows how to get rid of the winter chills! Best of all, for those starting their New Year's dieting resolutions – we're talking ZERO, ZIP, NADA for calories. You can INDULGE with this wonderful flavors without worry about the diet.
My favorite?  Spiced Chai of course!  Although Vanilla Biscotti tingles the tummy as well as the taste buds!
Zero-calorie (tea bags) and low-calorie, all-natural flavors are great alternatives to your readers' favorite desserts
Simply Indulgent Teas are available in tea bags and single-serve cups for Keurig® makers
Tea bag flavors include Cinnamon Streusel, Crème Caramel, Peach Cobbler and Lemon Chiffon
Single-serve cup flavors include Vanilla Biscotti, Cinnamon Bum, Spice Chai and Sweet Mint
Affordable at only $5 for 20 bags of tea and $8 for 12 single-serve cups;
It only takes a few moments to prepare
Thank you Red Rose for giving me a ray of sun in this cold brittle winter of Utah!  It's as good as it gets.
AND it's gluten free (my new diet includes ONLY gluten free foods – Try it!)
 Red Rose Teas are available in grocery stores near YOU.
Ratings are based on a 5-star scale
Overall: 5
Review by Broad "Z" – Zippy
I received product to facilitate this review. All opinions are strictly my own. 
Photo credit: H is for Home / Foter / CC BY-NC