I only wish Old Guys Rule would come up with an Old Divas Rule Better line of sport t-shirts, hats, and a LOT of cool product on their website. Come on, Guys, we need some of the same stuff!
I wanted an Old Guys Rule hat and shirt for a friend (older) – guy – who is having his 80th upcoming birthday and is still hiking 10 miles up the Alta canyons. What else would suit him? Unfortunately, the shirt size that arrived was a medium and not a large, so I decided that my grandson, Chas, could have it – because he would NOT leave my house without it! He immediately pulled it on and posed – well, Old Guys Rule, it may not have been the picture you had in mind, but Chas loved it! These are heavy duty cotton T-shirts and extremely well made. Not only that, they make me laugh! The logos are colorful and the shirt just has the GOOD QUALITY feel and look about it!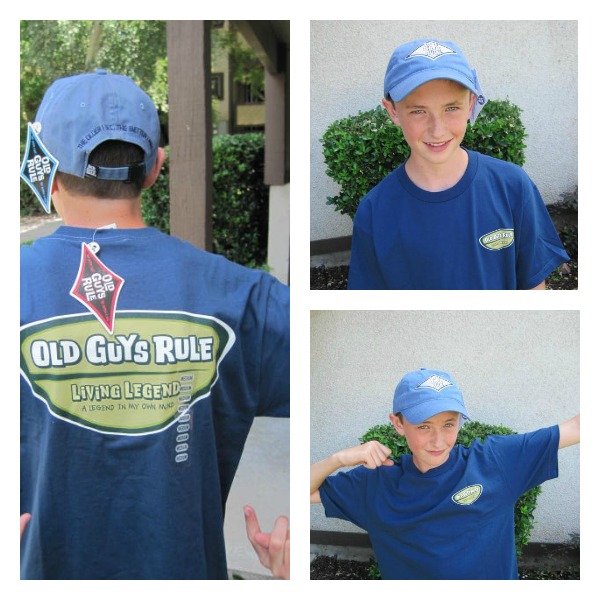 Now the HAT! Well, Chas tried to grab that out of my hands but NO THIS ONE IS MINE! I love this hat! It is the best fitting "cap" style hat I have ever had on (and it makes me look gorgeous!). It is large enough to be comfortable and really well made in heavy denim cotton and I got more attention when I wore this hat hiking than I have had in – well, years. LOVE YOUR PRODUCTS Old Guys Rule! With Christmas just around the corner, you all had better run to their website and check out their Einstein and John Wayne collection – they are hilarious! Don't get me wrong – Old Guy Rules have a golfing line of amazing shirts, fishing, and every sport out there. They are not just fun they are so cool and unusual! LOVE OLD GUYS RULE!
Old Guys Rule products are available in stores across the US or via their online store.
Ratings are based on a 5-star scale

Overall: 5

Review by Broad "A" – Ava
We received product for this review.. All opinions are our own.