This is a lean machine of a down jacket.
I ordered it in Large although I usually wear a Medium because I like to wear hoodies under my coats in the Utah balmy-NOT 10 degree winter weather. I usually buy Patagonia, which is a great coat.
The Free Country coat had some features that I really liked:
Like slit zipper pockets, an inside fleece zipper lining so that you could leave the outer shell unzipped if you got too warm. The Free Country was warm, warm, warm and the sleeve linings in fleece were perfect. What I enjoyed also about this jacket is that although it is form fitting and sleek on the body, it is not tightly fitted like the Patagonia jackets. I don't ski, and yet I like a ski jacket for warmth, and Patagonia of course is made for skiing and outside hiking, etc. I like a bigger fit than the Patagonia, as I said, so I loved that the Free Country was fitted, but roomy, and does not body hug so tightly that I can't layer. (Again, I bought a size larger than I usually wear, but I do that with all my down jackets).
I have only worn this out a few times, and the only caveat I have is that the hood, while beautiful, is not tight to the head, and in the wind it can blow off the head. However, that is a small thing as I don't usually wear a hood anyway.
I apologize to my readers for not taking a personal picture as I have just moved and can't find my camera! But I felt model pretty in this very attractive jacket. AND you cannot beat the prices on the Free Country Arches coat! My coat is white, and still makes me look thin – I know, not really an important comment, except I HATE bulky down jackets that make me look like King Tut on a bad day!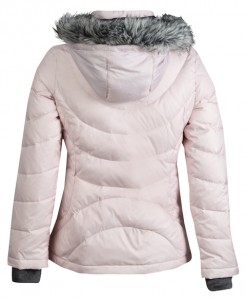 From the Free Country website
"The Arches coat from Free Country's Power Down Series features upbeat smile quilting in poly cire down shell. The cire look and hand is at once luxurious and complimentary of this shapely design. Resort and street chic, Arches still delivers winter performance with down fill, a detachable, faux fur trim hood, and double zip, front closure with signature butter pile bib, butter pile back lining, collar, and hand gaiter. Interior cell phone, music, and basket pockets add utility".
Very nice. I LIKED this coat – a lot!
Free Country Power Down Series Women's Arches Down Jacket is available for purchase both online and in stores around the country.
Ratings are based on a 5-star scale
Overall: 4
Review by Broad "A" – Ava