We received product to facilitate this review. All opinions are those of the reviewer.
Elite Serum Rx Eye Care

Yes, I have reviewed Elite Serum before because it is my keeper for eye wrinkles! As I age (yikes Review Broads don't age they just mellow!) I start feeling like a pickle around the eyes. So I reach for my Extra Strength Elite Serum by Skin Pro (pharmacist tested) to target those eye wrinkles, dark circles and puffiness!
When I first got this product to review from SkinPro Int., I was very excited to try it as all the reviews on Amazon were positive – extremely positive. I checked on at least five other online review sites, some for skin creams only, and all reviews agreed that Elite Serum RX works. It is difficult to review the "effects" of a facial product on any blog as we only try it for 2 weeks to a month and sometimes the effects do not show as products have different timelines for use and improvement, especially on wrinkles and aging skin. I have always used StriVectin, and I wanted to try Elite Serum RX to see the difference. I am at the month's end, and I did see results. The puffiness under my eyes decreased and the wrinkles around my eyes decreased. Since I am 63, the decrease was not dramatic, but it was noticeable, and with time that might change. The release cap is extremely useful as it is an on-off top and it primes the exact amount (about the size of a pea) onto your finger for usage and a small amount goes a long way.
My questions for all skin creams are
What is the level of ingredients, how powerful are they, and will they work?
Why does it work? 
I am no scientist, but with eight peptides as ingredients all I know is IT WORKS and KEEPS WORKING!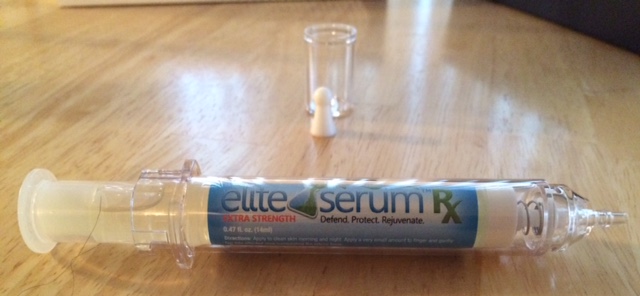 According to Consumer's Guide
The amount of peptides is the important question, as most skin creams on the market contain too little to have an effect on the skin.
I really did like this product and will continue to do so, and it also prompted me to do research online about ingredients and to call companies and ask questions. Bottom line: Go to the website, read, and research, call the company. Check out consumer reports. Do your homework. I also wish that other companies would let us know the amounts of the ingredients in their products so that we have some idea if these ingredients are in quantities that work. I did see that Elite Serum RX claimed to have enough of the Argireline to do its job. They have several other ingredients that are explained on their very inclusive website, and the amounts are noted as strong enough for clinical trials, which I took to mean enough to do their job as stated.
I do recommend this skin care for me as I have seen a noticeable improvement every day that I use it. And the improvement is much more dramatic than StriVectin. I can honestly say that it works. Also, another thing I like about Elite Serum RX is that the company had a winner on its hands – the original Elite Serum – and then made enhancements to the product to produce a stronger strength product in Elite Serum RX. I find that this is a company that cares about the quality of their product line.
From the Elite Serum RX website on one peptide in Elite Serum RX:
"Argireline®

Argireline® is the brand name for Acetyl Hexapeptide-3. It is considered by experts to be the best needle-free alternative to cosmetic injections. Argireline® has been shown to reduce wrinkle depth, especially around the forehead and eyes. This was proven in a study published in the International Journal of Cosmetic Science in 2002. In this report, it was demonstrated that a cream containing 10% Acetyl Hexapeptide-3 used by healthy women volunteers reduced wrinkle depth up to 30 percent after 30 days of treatment.

In another study by Center Chem®, an open label-trial of 5% Acetyl Hexapeptide-3 cream applied twice daily on 10 women demonstrated a 27% improvement in periorbital rhytids after 30 days as measured by silicone replica analysis. Theoretically, this peptide may mimic the effects of cosmetic injections."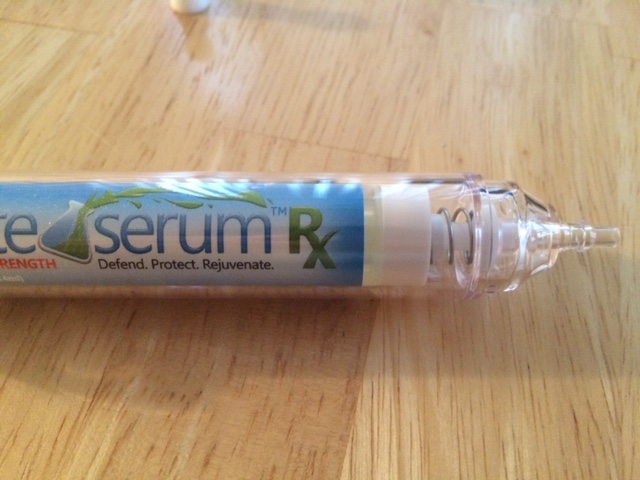 I also suggest that you go to the website as each ingredient is well defined, research is given, amounts are given and the effects of each ingredient are also given. I wish more companies would do this, as consumers can research the AMOUNT of ingredients in the product for efficacy. I LOVE that Elite Serum RX includes a huge amount of SPECIFIC information on their website.
Elite Serum I love you!!!!!
Review by Broad "A" – Ava
We received product to facilitate this review. All opinions are our own
Elite Serum Rx – Extra Strength – Defend. Protect. Rejuvenate.
is available on Amazon.com and directly from SkinPro International other retailers.