I first caught this movie in theaters on opening night. Not because I wanted to see it but because some coworkers did. I remember my father calling me and telling me it looked good enough. Honestly I was never big on the trailer of this film, it really didn't catch me in any way. But upon entering a packed theater and having to sit in the third row a man behind me took his shoes off and put them on the head rest next to me. A man's dirty disgusting feet inches from my face. This completely ruined my experience. I tried to ask him nicely without disturbing anyone that what he was doing was impolite, but that just did not work. I was the asshole that got the usher to disturb patrons so this ass bag would take his feet off the chair next to me. That was my first experience with this stylizing of Snow White.
So, I'm skipping the synopsis because well if you don't know Snow White and you are reading this you should be euthanized. This movie is very inconsistent the first act gets by on tits the second act gets by on midgets and the third act uses both tits and midgets and war. I did not walk out of this film in the first 20 minutes just because Charlize Theron is absolutely a beauty; really she is insanely hot here. However her roll called for a ton of over the top shouting, it was an odd juxtaposition.

The Dwarves owned this movie. They're fantastic, they're funny, and they steal every scene to the end. And they're played with delight by the likes of McShane, Hoskins, Winstone and Frost. Honesty every time they were on screen this film was a delight to watch. And some of the creature work (mainly the troll) is amazing.
The problem in this film lies with Stewart, the script and the pacing. First off, the film feels about an hour longer than it actually is. Every moment in this film that hits is followed by a moment that sucks (such as a bad one liner, or cheesy cgi). That's just because this film is very overly ambitious.
The blu-ray is of the highest quality here. The movie looks and sounds great in 1080p. The special features are pretty cool too. There is an extended edition of the film that I saw no differences from the theatrical cut but it was 4 minutes longer. There is a decent audio commentary, a u-control feature with picture in picture track, and some 3D set tours that were all pretty cool. There are about 6 EPK features that all kind of fell flat except for "A New Legend Is Born." Which flourishes here.
While the sleepy (acting and character) leading lady of Stewart really made this film tough to watch there were moments of greatness all around this feature as well. I really can't hate this film because it does try to do a lot but it also fails at some of those ambitions. This is a quality rental!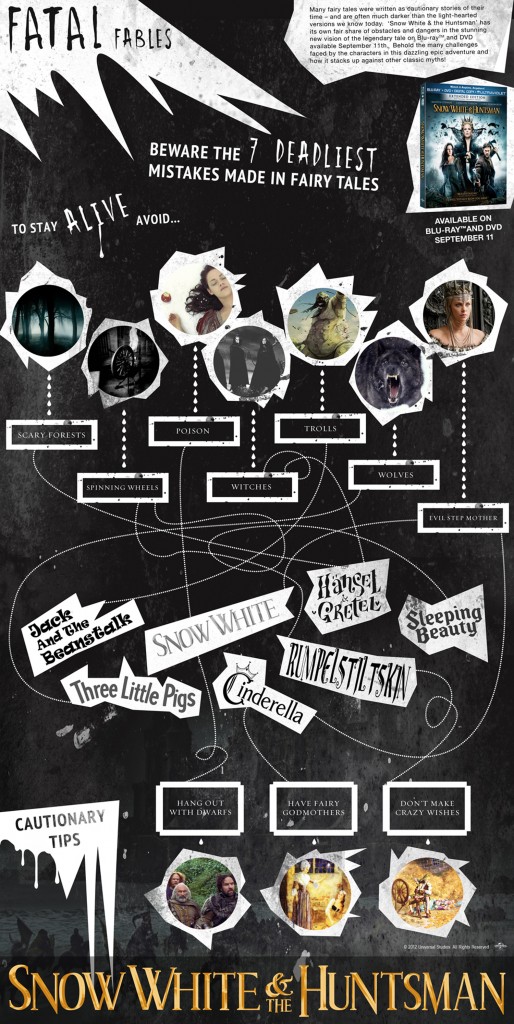 Snow White and the Huntsman  is available for home purchase.

Ratings are based on a 5-star scale

Overall: 2.5 Bridge Trolls out of 5
Review by Bro' B – Ben
We received product for our review. All opinions are our own