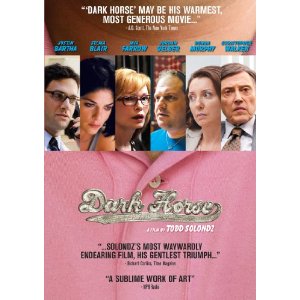 Dark Horse
Being someone who has seen most of Todd Solonz's movies, you know what to expect from him. Growing up his movies traumatized me. I remember seeing Happiness, Storytelling and Welcome to the Dollhouse and really exploring what a "Dark Comedy" was. Solondz has a way of finding the worst in his characters and then taking it even darker and more negative. More on that later now we have
And a synopsis
The story revolves around Abe, a thirty-something who works for his father, pampered by an extremely loving mother, having a highly accomplished doctor as his brother, and having a passion for collecting toys. When he meets Miranda, a strangely damaged soul going through some serious depression, he begins to think of getting out of his desperation by having her as a partner. They eventually enter into a seriously unstable relationship, where you even begin to question whether there really existed any element of a relationship between them.
With "Palindromes" Solondz already expressed a firm stance: blaming the victim for being unable to escape traps solely because others may have escaped similar traps is a fallacy rooted in a very specific type of optimism. For Solondz, destiny is always fixed, Abe's demise should be treated as a priorty and Abe doesn't triumph simply because Abe does not triumph. Anyone in his exact situation would have met the same fate. It is not his fault. It is simply a slow, inexorable inevitability. Forces – social, familial, genetic, psychological, emotional, whatever – are at work here which require huge counter forces to escape. Can Abe muster the energy necessary to escape? He thinks he can, he comes close at times, he maintains throughout much of the film a fiery, heated sense of optimism.
Solondz leads this "Horse" well, but he can't make it drink. He doesn't disappoint, but he doesn't really surprise us either. The performances are uniformly fine. Gelber in particular does a good job of walking the tightrope of character between genuinely unpleasant and sadly unaware. Blair gets credit for playing Miranda as something other than a carbon copy or even a reverse negative image of Abe. Miranda is sadly aware of the pathetic nature of her life, and her bluntness in dealing with it is refreshing.
Overall this film wasn't great but it was Solonz's most accessible feature by a long shot. You could say that this film is the "Dark Horse" of his career. This is still a very difficult movie to digest but it still worked for me!
Dark Horse
is available for purchase from Amazon.com
Ratings are based on a 5-star scale

Overall:  3 scuffed toys out of 5
Review by Bro' B – Ben
We received product to facilitate this review. All opinions are our own.