I participated in an Influencer Activation on behalf of Mom Central for CRYSTAL LIGHT. I received a gift card to purchase CRYSTAL LIGHT products to facilitate my review as well as a promotional item to thank me for my participation.
What is better than CRYSTAL LIGHT when you want something to drink?  Country music by Miranda Lamber, that's what!  Now,  CRYSTAL LIGHT and Miranda Lambert have combined as a duo to bring you some great free goodies when CRYSTAL LIGHT  Presents Miranda Lambert Platinum Points to collect when you purchase your CRYSTAL LIGHT products at WALMART!  There is lots of free Miranda Lambert gear and songs that you can gather as you sit and listen to Miranda's songs and drink your delicious CRYSTAL LIGHT! You can even earn an EXCLUSIVE Miranda Lambert song download just buy buying ONE CRYSTAL LIGHT product at Walmart.
HOW DO I GET TO PARTICIPATE?
Participation is easy: 1,2 3.  Purchase your CRYSTAL LIGHT products at your local WALMART store.  Save the receipt.  Then go to the Platinum Points website and on the left side there are several tags in purple.  Go to the third tab, SNAP and put in Walmart.  Under "Take Photo" take a copy of your receipt and upload it into the UPLOAD pictures or on your smartphone, use your scanned picture.  I did it, and believe me, if I can do it anyone can!  So simple!
The CRYSTAL LIGHT Platinum Points Loyalty Program runs this fall and after you sign up as described above, you can earn all the points you need by purchasing CRYSTAL LIGHT at any WALMART store.  The easiest way is to scan the code on Walmart's receipt on your smartphone, but I took a picture, downloaded it into my computer and that worked just as well if you do not have a smartphone.  There is tons of swag to be had: mugs, Tshirts, a song download and if you are really thirsty, a guitar!!
STEP BY STEP:
Go to the sign up page: Earn Platinum Points
Click SNAP
Then: WALMART
Choose: TAKE PHOTO
Snap a clear photo of your receipt and "UPLOAD THIS PHOTO"
Choose YOUR favorite rewards!!!
The array of flavors are AMAZING (but as you can see below, I love the standards). Also for those of you who prefer a NATURAL sweetener…check out the new CRYSTAL LIGHT PURE with Truvia.
Click on this link :  PLATINUM POINTS to go to the Platinum Points site, and sign up for the CRYSTAL LIGHT Platinum Points Loyalty Program just like I DID! Scroll down for a SPECIAL CODE to get 30 FREE POINTS! Don't forget to visittyour nearest Walmart store and purchase your very favorite CRYSTAL LIGHT products and save your receipts to scan on your smartphone or upload into your computer.
SPECIAL SPECIAL SPECIAL SPECIAL
Use the Promo Code

mirandaic

to gain 30 extra free points.
Refer a friend and you'll get ANOTHER 10 FREE POINTS and your BESTIES will earn 25 points instantly for signing up!
Here is what I bought as I am planning on winning that new guitar with my Platinum Loyalty Points and I want to download a song also!!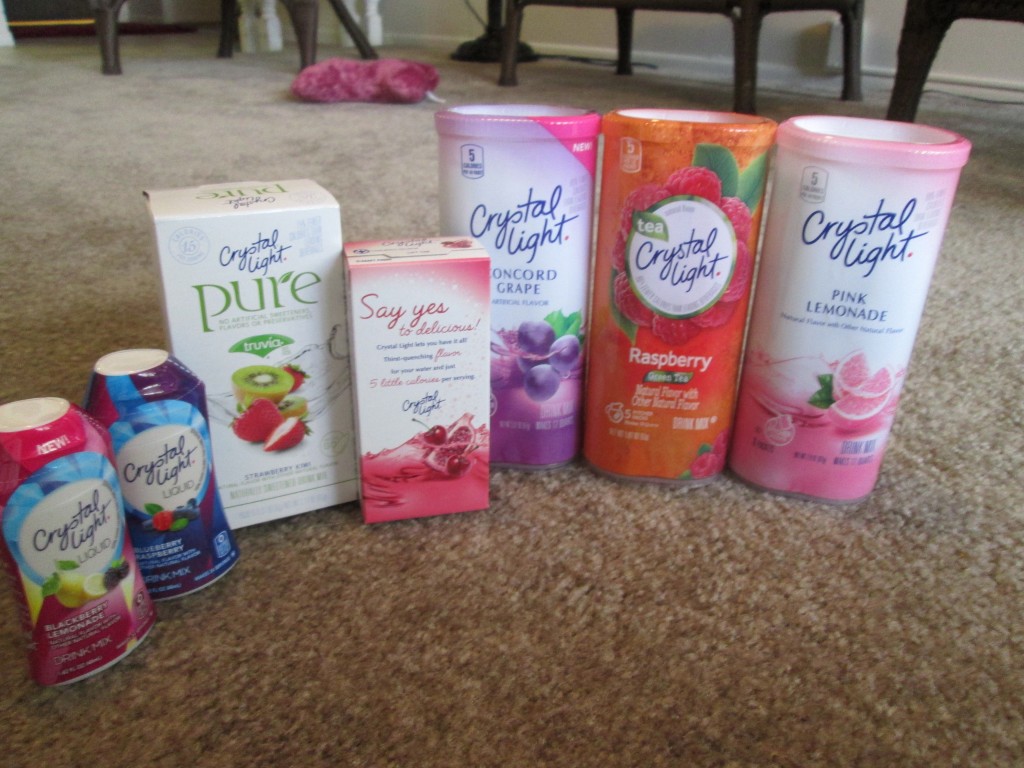 So come on, readers, don't forget that the guitar is autographed!  Continue to buy CRYSTAL LIGHT products at Walmart all fall long, and upload your receipts to gain the points you need to put Miranda Lambert up front and personal in YOUR living room! Besides, who doesn't LOVE a big glass of CRYSTAL LIGHT pink lemonade (my fave)?