"Ever wish you could fly? Leap tall buildings in a single bound? Ever wish you had superpower? Ben Rudnick and Friends are here to tell you that you do have superpower, and it's called LOVE.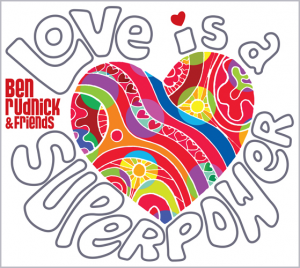 With their tenth release Ben Rudnick and Friends fill in the colors of family music. From the high-octane soul of the title track through the gentle finger-picking musings about scribbling and flights of imagination, Love is a Superpower leaves the volume up and the windows down in every minivan in town!"
With 11 songs, each song exposes your little ones to different instruments:  horns, strings, fiddle and bass as well as harmonica and percussion provide a background for these happy and adorable songs from a great group.
With 6 Parents Choice Awards, Ben Rudnick and Friends choose explosive energy to titillate your children's happy energy into some great and imaginative children's songs.  The beat is up, the songs are so full of lyrical energy and fun, I can't imagine that your children won't be begging you to play this CD day and night!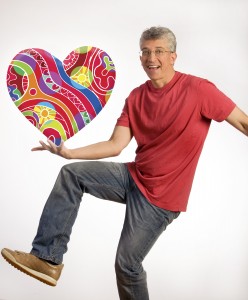 "Ben Rudnick and Friends take pleasure in introducing kids and families to music that reflects the many hues of our cultural fabric.  On Love is a Superpower can be found music inspired by classic performances of the 70's soul and funk, The Beatles, The Allman Brothers, T. Rex, and the Grateful Dead, paired with an intelligent retrospective of earlier, thoroughly American musical styles that include traditional bluegrass and country and western swing.  This is a CD to sing along with, dance around the living room with the kids, and to teach children about our musical heritage while entrancing them with imaginative and KID beloved lyrics!  I loved it!
Love is a Superpower Track List:
 A Little Boogie
Love is a Superpower
Where Are the Dragons? (my favorite – where HAVE all the dragons gone?)
Wake Up Happy (Beatles!)
Ray
Chicken Soup Ballad
Prime Time
Wheels
My Horse
Swinging Along
Scribbling,
Here Comes the Sun (another beloved Beatles song with Rudnick radiance)
Jenny Jenkins
(Rudnick's previous children's audio DV, A Frog Named Sam, is also amazing!)
Running Time:  44:11
Love is a Superpower
 is available for pre-order at Amazon.com and BenRudnick.com
Ratings are based on a 5-star scale

Overall: 5
Review by Broad "A" – Ava
We received product for our review. All opinions are our own