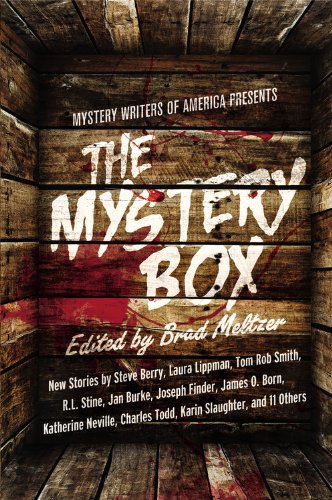 Brad Meltzer, reknowned author of mystery, including The Fifth Assassin and The Inner Circle compiles a delicious anthology of writers with one theme: THE MYSTERY BOX.
"There's nothing more mysterious than a locked box. Whether it's a literal strongbox, an empty coffin, the inner workings of a scientist's mind, or an underground prison cell, there are those who will use any means necessary to unlock the secrets of…THE MYSTERY BOX."
With 21 new stories from a list of today's most prominent mystery writers, this is a book not to miss! Mystery is my genre; I love it. Each of these stories uses the theme in its own strange and unique way.
The Amiable Miss Edith Montague by Jan Burke: The sweet, kind Miss Edith Montague never has a mean word for or about anyone. When she is murdered, her only heir, her nephew Mr. Montague, discovers a hidden box, where his Aunt's savage inner thoughts are shown. And the surprising murderer is found.
Waco 1982 by Laura Lippman: A young reporter stuck with a seemingly mundane assignment on lost and found boxes unwittingly discovers a dark crime.
Heirloom by Joseph Finder: A scheming neighbor frightens the new couple on the block with an unnerving tale of buried treasure.
High Stakes by R.L. Stine: A man on his honeymoon gets drawn into a bizarre bet involving a coffin, where he lies buried, waiting for death.
Each story, compelling and rich with tales of murder and horror, seep deeply onto the pages of these talented and world reknowned writers! A not to miss for all mystery and crime fiends! Like me!
Mystery Writers of America Presents The Mystery Box
 is on bookshelves at your local stores now.
Ratings are based on a 5-star scale
Overall: 5
Review by Broad "A" – Ava
We received a copy of this title for our book review. All opinions are our own.