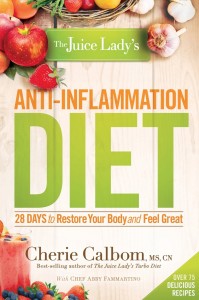 I LOVE the JUICE LADY!
Her name is Cherie Calhoun, MS, CN and I am a big proponent of juicing.  I do forget to juice 4 days out of 7, because I am THAT flaky, but I always feel better after a great juice drink from my juicer!
So when The Juice Lady's Anti-Inflammation Diet came my way, I pounced like the proverbial kitten and read it – and then reread it!  Since I have an autoimmune disease (I have yet to have my doctor tell me what kind, but what the hey) and all I know is that if I eat fatty or fast food, I lie in bed all day instead of reviewing the great stuff that comes my way.  NOT GOOD.
In The Anti-Inflammation Diet (28 Days to Restore Your Body and Feel Great), I found over 75 great recipes and lots of information on the effect of inflammation on our bodies and souls.
"There are many factors in our modern lifestyle that pull us away from the health we want, the health we need to complete our purpose.  In this book you'll read about a number of factors that contribute to disease and inflammation.  Of them all, diet is undoubtedly number one for most people in Western countries."
Cholesterol deposits, Alzheimer's, cancer: these are diseases in the news daily and they are on the rise.  According to Ms. Calbom, "chronic inflammation may be the engine that drives the majority of the most feared illnesses of middle and old age."  We all know that our food is not the quality that it used to be, and that many additives are now in prepared foods – and we don't know about them.  It makes sense to me to eat raw organic foods when I can, and to use good recipes and ingredients to keep my body healthy.
Doctors today prescribe pills – nonsteroidal anti inflammatory drugs are widely taken.  These NSAIDs have side effects.  Some of the diseases involving inflammation are acne, Alzheimer's, Crohns Disease, Cellulitis, Diabetes mellitus, Cystitis, the common cold, Celiac, Cancer and many more.  Whew!  I'm glad this book came along.
With daily menus created by Chef Abby Fammartino, this book also contains a shopping list with every menu for the ingredients.  The recipes call for fresh vegetables and good oils" olive oil, grape seed oil, etc.  Quinoa and chickpeas, celery, raw honey – Chef Abby makes her ingredient lists healthy.  A morning smoothie calls for baby spinach, chard, beet, carrot, cucumber, ginger root and lemon: and it looks delicious!  Apple cider vinegar is used in many recipes and it is excellent on the body~!
Full of delicious dishes with great photographs, easy instructions and lots of healthy ingredients give this book a High Five in the eyes of this Review Broad!
Ratings are based on a 5-star scale
Overall: 5
Review by Broad "A" 
We received a copy of this title for our book review. All opinions are our own
The Juice Lady's Anti-Inflammation Diet: 28 Days to Restore Your Body and Feel Great
is available on Amazon.com as well as booksellers nationwide.