Echo Lake
Author: Letitia Trent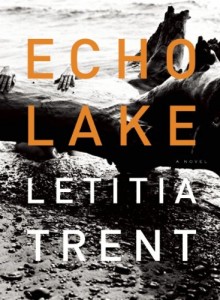 Echo Lake undulates with eerie locale and noir plot.  With language that cracks at the edges, then curls back into itself, Letitia Trent's debut novel sends thrills down the spine.  Neo-noir, haunting and pure, the locale remains the main character in the novel.  For Echo Lake kills.  Trent's protagonists, Emily and Connie Collins,  tell their stories back to back in a thriller that rivets us to the page.
The pivot of the horrible secrets of a tiny town, Echo Lake sends the town raveling around its judicial secrets.  The prose is succulent, perfectly pitched, and is juxtaposed against the dark horrors of a town that skews its own sense of justice.
As Emily Collins returns to Heartshorne, Oklahoma to claim her great aunt's house, she feels the bones shivering from the house into the bordering lake.  She has never been to the place her mother, Connie, was born, and now her mother is dead as well as her only known relative, her great aunt Fran.  She receives the key in the mail from an unknown attorney in Heartshorne, and leaves for Oklahoma to claim it.  She is driven: she must know why her mother left Heartshorne, for Connie hated the town.  When she finds out that her great aunt Fran was murdered, she demands to know what made her family leave Heartshorne after generations, and why her mother refused to let Emily know of any family that remained.  Connie left at 13 and became a fearful vagabond dragging Emily along from place to place.  All that Emily can remember of her mother's slow death from cancer is Connie's constant rage at whatever fate threw at her.  At whatever Heartshorne threw at her.
Knowing no one in Heartshorne, Emily begins to meet a few of the closed in townspeople: Levi Richardson, the pastor of a small church; a clerk at a local store who knows the story of Emily's family and their departure, and a kind store owner of a "new age" shop, Jonathon, who helps her find the secrets that drove her family out.  The secrets of Echo Lake.
Eerie, haunting, written in verse so elegant that it is poetry, Echo Lake responds to Emily's questions with its own sense of justice.  A dramatic and searing read – a piece de resistance from new author, Letitia Trent.
Ratings are based on a 5-star scale
Overall: 5
Review by Broad "A" – Ava
We received a copy of this title for our book review. All opinions are our own
Echo Lake: A Novel
 is available on Amazon.com and booksellers nationwide