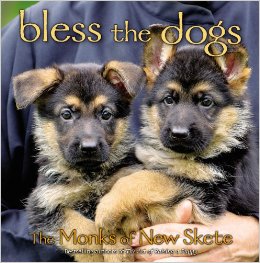 Bless the Dogs
Author: The Monks of New Skete
Once again, the Monks of New Skete have delivered in the world of dogs. Authors of the bestseller, The Art of Raising a Puppy, these dog-wise monks have delivered. Bless the Dogs, a beautiful photographic and philosophical book on the beauty and joy of dogs is unsurpassed in its elegance and wisdom.
With meditations from their book I and Dog, coupled with breathtaking canine photography, Bless the Dogs becomes a must have for the people out there, whom, like me, adore their dogs – and all dogs. Inside the meditations come lessons: my favorite was
"Listen carefully to your life and you'll find that good companionship with a dog touches the broader issues of our relationship with all of creation and the Creator."
A German shepherd mother with her newborn puppy held in the hands of a Monk; a little boy holding his best friend; dogs at play with each other; a Canine Companion for Independence with a soldier with a blinded eye; dogs at play in the water; dogs at the beach. With breathtaking photography and meditations that apply to our everyday, lives, the Monks of New Skete have once again proven that they are the experts in the field of spirituality – and dogs.
"If we had power over the ends of the earth, it would not give us that fulfillment of existence which a quiet devoted relationship to nearby life can give us." Martin Buber
Buy it for yourself; buy it for your dog; buy it for your friends; buy it for those on your Christmas list who love not only their version of God but their dogs.
Enlightening and forceful, this is an empowering and lovely tribute to life, relationship, community and our dogs.
Ratings are based on a 5-star scale
Overall: 5
Review by Broad "A" – Ava
We received a copy of this title for our book review. All opinions are our own
Bless the Dogs: The Monks of New Skete
is available on Amazon.com and booksellers nationwide