Pretty Is
Author: Maggie Mitchell
"Mitchell is on her way to a place at the femmes fatales fiction dais with Megan Abbott,…" Library Journal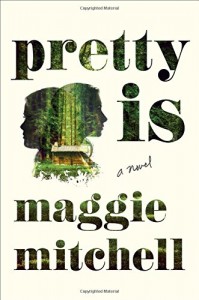 In the same tradition as Megan Abbott (Dare Me) and the earlier Kate Atkinson novels, Mitchell writes about two young lost girls.  With Ms. Mitchell, however, there is a difference.  Mitchell's lost girls face their demons and find themselves in her debut novel, Pretty Is, while Abbott and Atkinson rely more on psychological tension to keep their characters in the labyrinth of loss and lost.
Carly May is twelve, and beautiful, with blonde curls and blue eyes.  Lois, also twelve, is a striking brunette, darkly petite.  They live in different towns.  One day, a handsome stranger in a truck stops beside Carly May and asks her kindly to get in.  She does.  They drive across the country, stopping in another small town and pull up beside Lois.  The man asks Lois her to get in the truck also.  Lois sees a man and his possible daughter, and does not hesitate. Yet at some level both girls know they are being kidnapped.  And they go willingly.  Carly May is a pageant child, pushed hard by her mother, and wins many child pageants.  Lois is quiet, raised in an inn owned by parents who ignore her and cater to their guests. Lois lives in the library.
The seduction of Carly May and Lois is in the form of an attractive man, a boring life, uncaring families, and small town ennui and it goes both ways as the girls are as aware as the man.  The man, whom the girls call Zed, takes them to a hidden cabin and treats them gently and kindly, although he keeps his psychological distance.  Both girls feel loved for themselves, which they did not in their families. Carly May flirts naturally, and is a free spirit, comfortable with Zed and their household activities.  Lois feels neglected, not as pretty or outgoing as Carly May, and when they have been in the cabin for 6 weeks, Lois attempts to seduce Zed by appearing at his bedside.  Zed gets angry and rejects her.  The next day Zed shoots himself as the girls are rescued.
The strange dance that the families and the media play with the returned girls is also part of a seductive dance of rejection, for the girls have supposedly "lost their innocence," although Zed never touched them. The families are uncomfortable, the girls are treated like exhibits.
Twenty years later, the story resumes when the girls are thirty and trying to deal with their lives, Mitchell thrusts us into their psychological dramas of both guilt and abandonment.  What are the girls chasing?  Carly is a renamed actress and Lois has kept her name and is a professor.  They both seek dramatic anonymity, Carly in her new name, Chloe Savage, Lois in her lackluster life.
When Lois writes a bestselling novel "Deep in the Woods" about their time with Zed, the novel gets picked up for a movie and Carly May, now Chloe, is picked for a major part.  Lois has distorted the story but Carly May knows Lois wrote it. Lois decides to go to the set to see if Carly May is still the same.
As they meet, on the movie set, Mitchell's brilliant drama brings together the dynamics of pre-puberty first love, and the bond and friendship between Carly May and Lois, who have been chosen to be loved if even for a small amount of time by Zed.  Envy, lust, jealousy, companionship, love and hate ride the roller coaster of the lives of Lois and Carly May as they meet and face their twelve year old fantasies and fears, and in the end find their own resolutions to their strange abductions.
Exquisite
"Dare Me,(…by Megan Abbott) seemingly about teenage girls with no parental presence trying to control their only world, cheerleading, relies on taut psychological theory to sustain Abbott's Lost Girls. Actually, everyone is lost in Dare Me, for there is no pivot of intimacy in any of the triangular relationships, just fear, emptiness, control, power and game," The Review Broads
Ratings are based on a 5-star scale
Overall: 5
Review by Broad "A" 
We received a copy of this title for our book review. All opinions are our own
Pretty Is: A Novel
 is available for purchase on Amazon.com and at bookstores nationwide