KILLORAN'S BEST MOST FAVORITE MOVIES OF ALL TIME…
FOR NOW…
OF 2012 LIST!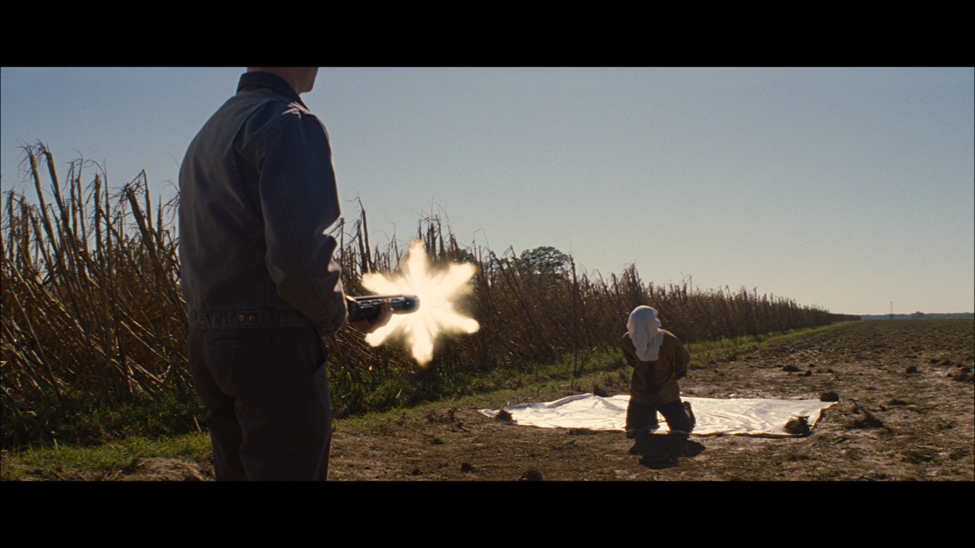 I'm finally, after much deliberation and constant second guessing on some of these choices ready to compile the list.  I kept re-arranging and going back and forth, with only my #1 movie was unquestionably keeping that spot.  It has remained there since I saw it in theaters 3 times in one day.  This year started off rather slowly, but then the last few months there seems to have been good movie after great movie showing up and I got a little overwhelmed trying to see them all.  That's not a bad problem to have and I enjoyed myself immensely going to the movies in 2012.
Out of 200+ movies, a few certainly fell through the cracks.  I have completely given up on including Zero Dark Thirty this year, since it hasn't opened near me yet.  These may not necessarily be the highest technical achievements of cinema but they are the ones I most enjoyed personally.  From time to time I love discussion but know well that you, dear reader, definitely will disagree with my choices and those choices might change in hindsight. Just know that you are not me and these are my picks, feel free to recommend or defend some of your choices but let's not get all bent out of shape.
Missed this year:
The Ambassador, The Act of Killing, Branded, Compliance, The Loved Ones, Red Hook Summer, Rust and Bone, Safety Not Guaranteed, Smashed, Zero Dark Thirty
Honorable Mentions:
21 Jump Street, The Avengers, The Bay, Beasts of the Southern Wild, Chronicle, Cosmopolis, Dredd, Frankenweenie, Headhunters, The Impossible, Jack Reacher, Kill List, Klown, Moonrise Kingdom, The Perks of Being a Wallflower, Sinister, Sound of my Voice, V/H/S, Wreck-It Ralph.
Most otherworldly awesome movie involving a Tae Kwon Do rock n' roll band fighting evil Biker Gang Ninjas running a drug trade in Miami: Miami Connection.
Runners Up (The Top 20 in no particular order)
Argo – A tru-ish story that still manages to have some tense thrilling moments.

Beyond the Black Rainbow – Hypnotic and an intricate "trippy" quality
Bullhead – Great story of masculinity disguised as a crime movie.
Cloud Atlas – The Wachowskis and Twyker pulled off something remarkable. Super obvious about its themes but still succeeds in displaying the interconnectivity of our fellow humans.
The Grey – A masculine survival tale and ultimately cathartic film, Neeson gives his best. Just wish I could see that wolf getting punched in the face Carnahan!
John Dies at the End – What a blast! A perfect blend of Coscarelli's style and source material, all it's lacking is production value. Someone give Coscarelli a budget!
Lincoln – Daniel Day Lewis absorbs the very soul of Lincoln for an amazing performance.
The Master – Fascinating. I could watch Phoenix and Hoffman talk for hours.
Seven Psychopaths – A violent, fun version of Adaptation. Sam Rockwell steals the entire movie with his manic energy.
Skyfall – How has Deakin's not won a cinematography Oscar yet? He lays down the best argument for digital I've seen and it just happens to be in one of the Best Bond movies. They focused on a more human, wounded Bond and created a great villain.
THE TOP 10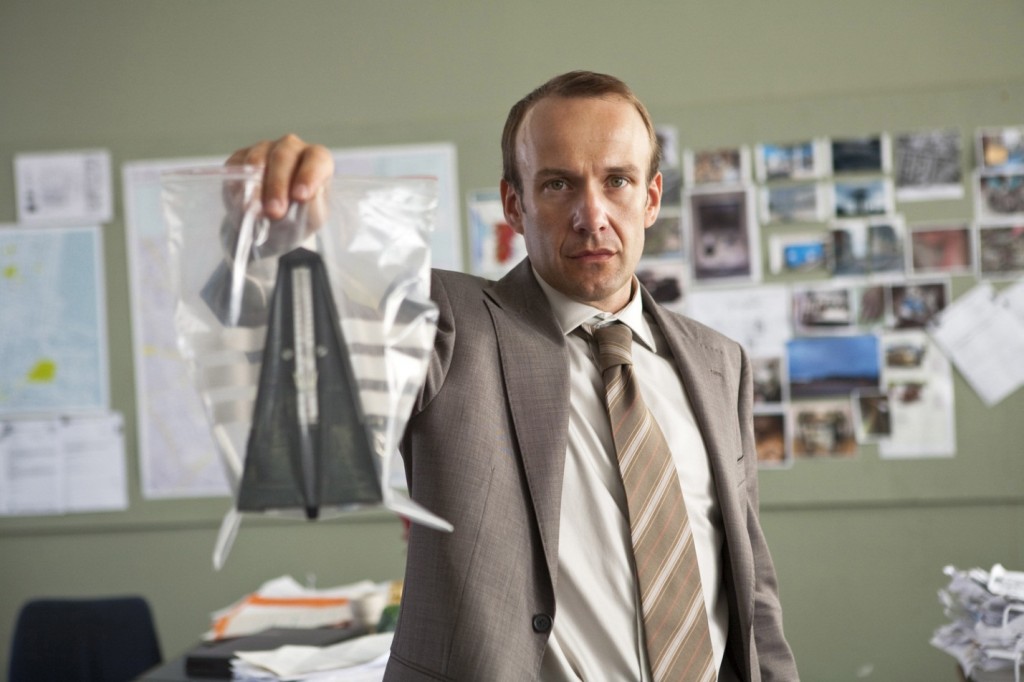 10. SOUND OF NOISE
"Everybody be cool. This is a gig!"
Musical terrorism is the best way to describe this.  Six percussionists run around a city creating a soundtrack from nothing but ordinary items, surgery room, bank robbery, construction equipment, etc.  Each of the drummers has their own unique style and quirks, you get a strong sense of how these people exist in the world.  It's essentially a heist movie right down to the beleaguered cop doggedly tracking the members of the gang down trying to stop them.  Music is the ultimate goal, defying the rigors and rules of traditional compositions to create something that just brightens your day.  I highly recommend this to some of my more musically inclined friends.
9. PARANORMAN
"Sometimes when people get scared, they say and do terrible things."
A great use of stop motion to disguise a gruesomely fun zombie flick with, an at times disturbing, yet poignant story to tell.   Adults have a tendency to destroy what they fear or refuse to understand – and that blindness has repercussions.  That's dark for what's been sold as a kids movie.  There are plenty of nods to the greats of horror, though it misses out on a fun FRIGHTENERS riff by dropping the established lingering ghosts instead of utilizing them for the plot.  The amazingly crafted stop-motion is breathtaking and almost unbelievable. With such a range even background characters are all doing so much that the amount of time that went into creating this must be staggering.  Norman is a weird kid, he's a weird kid I connect with, he loves old horror movies and monsters and some people don't get him.  It's about accepting that weirdness and embracing it fully to move forward.
"This is not f*cking Baseball! Do you wanna make the playoffs or not?"
There are few good sports movies I enjoy, even less good Hockey movies.  Goon is both while also managing to be funny and kind of heartfelt… about as heartfelt as you can be in a movie where a guy is paid to be an assassin on the ice and beat people to a bloody incoherent pulp.  It's got the tropes of the underdog sports move down to a T, where the young rookie has to take his shot at the veteran champ.  I love hockey and if you can't get any of the on ice action because of the heinous lockout with the NHL this movie isn't a bad place to get your fix.   It hits that visceral, feral joy one gets at watching a hockey game, especially the fights and I was on board from the moment the puck dropped.
7. HOLY MOTORS
"3! 12! Sh!t!"
A transformative piece of cinema that's best left as an experience to wash over your mind rather than trying to dissect it.  I don't believe we're even meant to truly know what the movie is about because it's about so much.  Denis Lavant gives so many great performances as the mysterious Mr. Oscar descends into  multiple narratives, changing appearance, style and tone.  All the while an unspoken, deeply personal, tragic subtext from director Leos Carax underlines the proceedings.  This movie is at times challenging and completely hypnotizing as it plays its difficult balancing act going from horror, to comedy, to pure joy, to utter melancholy.  It's a dream, or in some cases a nightmare, brought to life.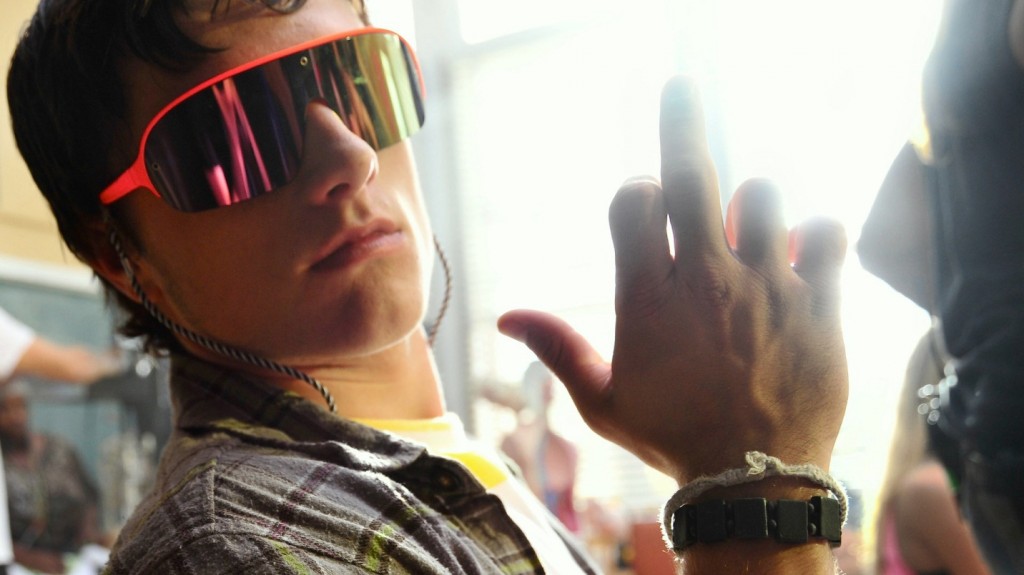 6. DETENTION
"Clapton don't dance."
Joseph Kahn rocks, and this movie is awesome.  He has tapped directly into the ADHD generation where the audience needs to absorb as much information all at once, all the time, in order to keep our frazzled attention spans from looking away.  The movie is edited in the blink of an eye.  It moves at hyperspeed, ridiculously turned up, and it has the audacity to throw everything at you, kitchen-sink style.  It's a ton of fun.  Imagine a 90's obsessed, horror/slasher/science fiction genre movie version of Scott Pilgrim and The Breakfast Club shot, yet written like Torque.  That's exactly what it is and so much more.
"I'm sorry. I couldn't resist."
I'm biased, my love for the Spaghetti Western genre automatically won this film a spot on my list but it still went out of its way to earn it.  Watch the movie and tell me it's not something special.  Jamie Fox really makes Django an excellent character.  Leonardo DiCaprio chews every bit of scenery in his path, really reveling in the slimy depths that Calvin Candie has to offer.  Truly all my love has to go to Christoph Waltz as Dr. King Shultz.  It is incredible. I hope he works with QT forever. The cadence, his dialogue always takes its poetry in motion and it's brilliant to watch. This movie's only major flaw seems to be the cut, the pacing seems oddly off.
Sally Menke, Tarantino's other half, tragically passed and would never get the chance to take her crack at the story.  I'm really curious to see the official final or director's cut.  This spot on my list is a tentative one, it may belong higher or lower on my list but it's still one of my favorite movies QT has ever made, it just could be greater.  Tarantino is one of the greatest American directors working today.  His "revisionist" movies are always a great deal of fun and catharsis, exposing disgusting material and taking such joy in tearing history apart.  I admire his willingness to not shying away from the ugliness of America's past, slavery and the slavers are treated as a poison.  Luckily, the cure seems to be a violent blood-letting with practical squibs the flow higher and faster than geysers from gunshots that crack out like canon fire. Fantastic.
4. THE RAID: REDEMPTION
"Pulling the trigger is like ordering takeout."
All you really need to know is that this movie kicks an unbelievable amount of ass.  Sometimes that is all it takes.  It's honestly one of the best action movies I've ever seen.  There is no fat on the bone; a simple plot with clear stakes allows for the brutally choreographed, near endless martial arts fights to breathe a little bit, and strut their stuff.  The four on one hallway fight with the door frame, or the ridiculous final fight with Mad Dog might be the standouts for me.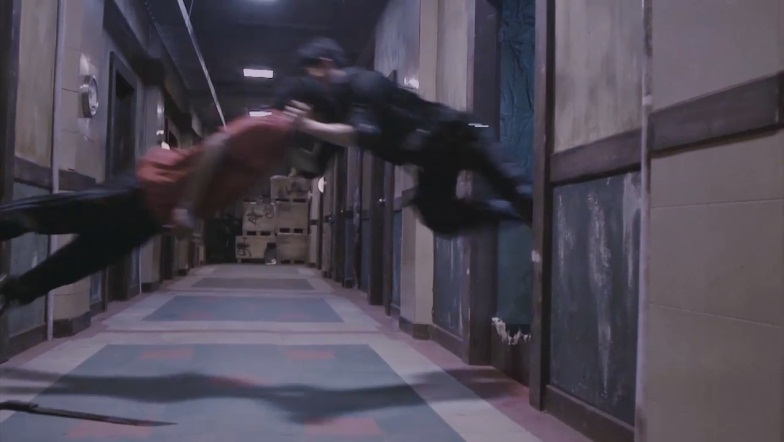 You know this is not going to end well for someone.
3. KILLER JOE
"You insult me again, and I'll cut your face off and wear it over my own."
This movie is pitch black, oozing darkness out of every orifice.  It's as though William Friedkin, returning with BUG writer Tracey Letts, has channeled a sort of dark comedy, country friend Coen Brother's style for his crime story then drained any moment of levity from its veins.  When Chris Smith falls into life-threatening debt he convinces the rest of his estranged family to murder their mother for the insurance money.  There's humor in the movie, but it's usually just because you have to laugh at the terrible luck these characters have as they keep stumbling head first into their own graves.
McConaughey is having a really good year for someone I had essentially written off as one note, and his performance as the title character might be his best.  He plays a calm methodical man who is very good at what he does and doesn't like being jerked around.  When it calls for, it he can be seething with rage and can tip the scale to an angry, frothing monster at any moment.  His interrogation of Sharla is so uncomfortable, so brutal, that it had me holding my breath to see just how far Friedkin was willing to go with the moment and some of it still rattles around in my brain.  KILLER JOE is allowed to traverse some very ugly ground and it's a greater movie for it.  It will haunt your mind for weeks.
2. CABIN IN THE WOODS
"I'm never gonna see a merman."
Insane.  Drew Goddard's film long gestated on the MGM shelves. When Chris Hemsworth took on the role, he was still just some unknown, during their bankruptcy. But at long last it was released through Lionsgate,and it was glorious.  I saw it a few times with friends. I couldn't resist.  Whedon's fingerprints and signature flair can be felt throughout the movie, especially with some of the cast, but it is Goddard that deserves credit for bringing everything together.  The two lovingly dissect horror tropes with glee, tearing them apart at the seams and studying what makes them tick.  Then when all is said and done, they reconstruct this film into something altogether fresh inside of the genre.
There are two stories going on in CABIN IN THE WOODS, your typical isolated friends in the woods horror film that is equal parts humorous and scary which takes place topside.  While behind the scenes our real main characters are in some strange ho-hum day at the office.  Each has their own spark but it's when these worlds collide that everything ignites and tears the entire genre asunder.  It is a deconstruction, reconstruction, homage, satire, everything all rolled into one with a reflexive quality of how we, as an audience, interact with horror.  We are the Ancient Ones and we must be appeased.  That means that this movie isn't for everyone, certainly, you kind of love it or you find it insulting.  An excellent send up to horror film with an amazing underlying story that drives the plot to a climax filled with pure chaotic madness
.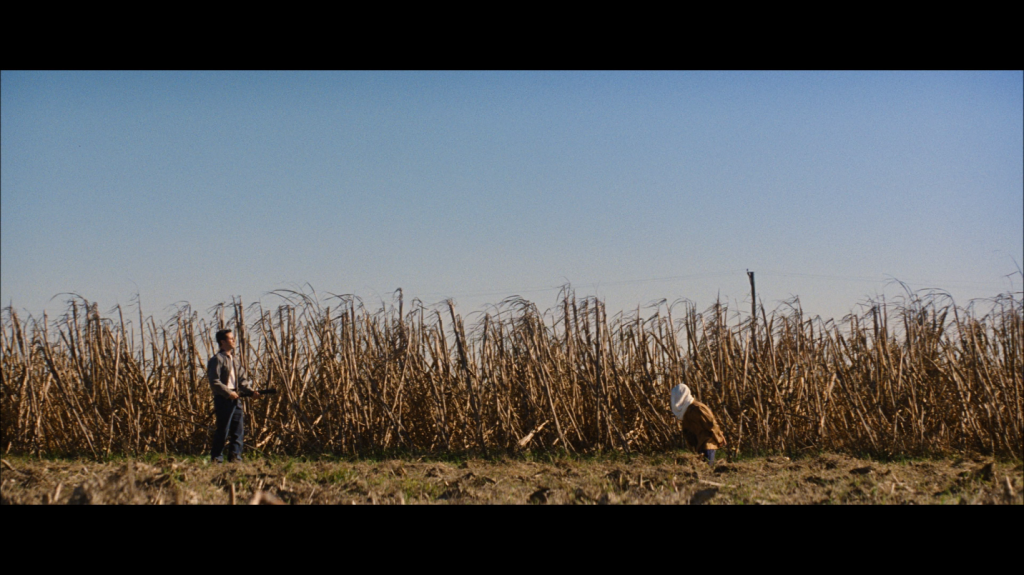 1. LOOPER
"This time travel crap, just fries your brain like an egg…"
There was never any doubt.  I walked out of Looper for the first time so energized, so ecstatically in love with this movie that I couldn't resist seeing it again and again… and again.  You can ask anyone I dragged along to the theater to go see it with or my co-workers, who would catch me just studying scenes on my break.  I was obsessed.  Rian Johnson is now 3 for 3 and he gets bonus points for shooting it on Anamorphic 35mm.  Imagine TERMINATOR but instead Kyle Reese has to hunt an older, vengeful version of himself.  Oh, and there are kids with telekinetic powers.
Everything about this film just fires on all cylinders.  Nathan Johnson's industrial soundtrack for the film is incredible, he explains it better: http://www.youtube.com/watch?v=3rA5gPqdJq4 .  It creates a haunting, propulsive movement that feels fresh compared to usual action movie scores.  Levitt does a fun, young Bruce Willis but brings his own sensibilities to the role.  The entire cast puts in some great work and Willis looks more awake and vibrant in the role than he's been in years.  Looper is one of those magical sci-fi movies that just works.  It's not a precise, time-travel puzzle like PRIMER.   Johnson wisely sets up the time travel aspect as no more than a cinematic MacGuffin, and effortlessly side steps into a beautiful character drama about the choices we make, the sacrifices we'll make for the people we love, and how we are forged by it.
See you in 2013.
Cheers.
Written by Bro' J – Jonathan Killoran